Feeding the Community Through Family Recipes
With restaurants both old and new, Walla Walla has a flourishing food scene for a town its size. While the work of opening and maintaining a restaurant is time-consuming and stressful, it is worth it for many of Walla Walla's locally owned restaurateurs. While the vibrant wine and tourism scene are positive aspects of owning a restaurant in Walla Walla, the supportive community is what many restaurant owners site as being one of the things that keep them in Walla Walla. These small businesses all bring family recipes from their own unique backgrounds to feed Walla Walla. The pizza of Flour + Water, the curries and noodles of Soi 71 and the tacos of Grandma's Kitchen are all rooted in family tradition and sharing this sense of family with the local community.
Flour + Water: Bringing the best of Italy and Montana to Walla Walla
A new player in the Walla Walla restaurant world, Flour + Water, boasts the title of "the best pizza in Montana in Walla Walla." Owners Kaleigh and Engjell Vrapi have found a home for their family and their passion for pizza in Walla Walla, but their story starts in Italy.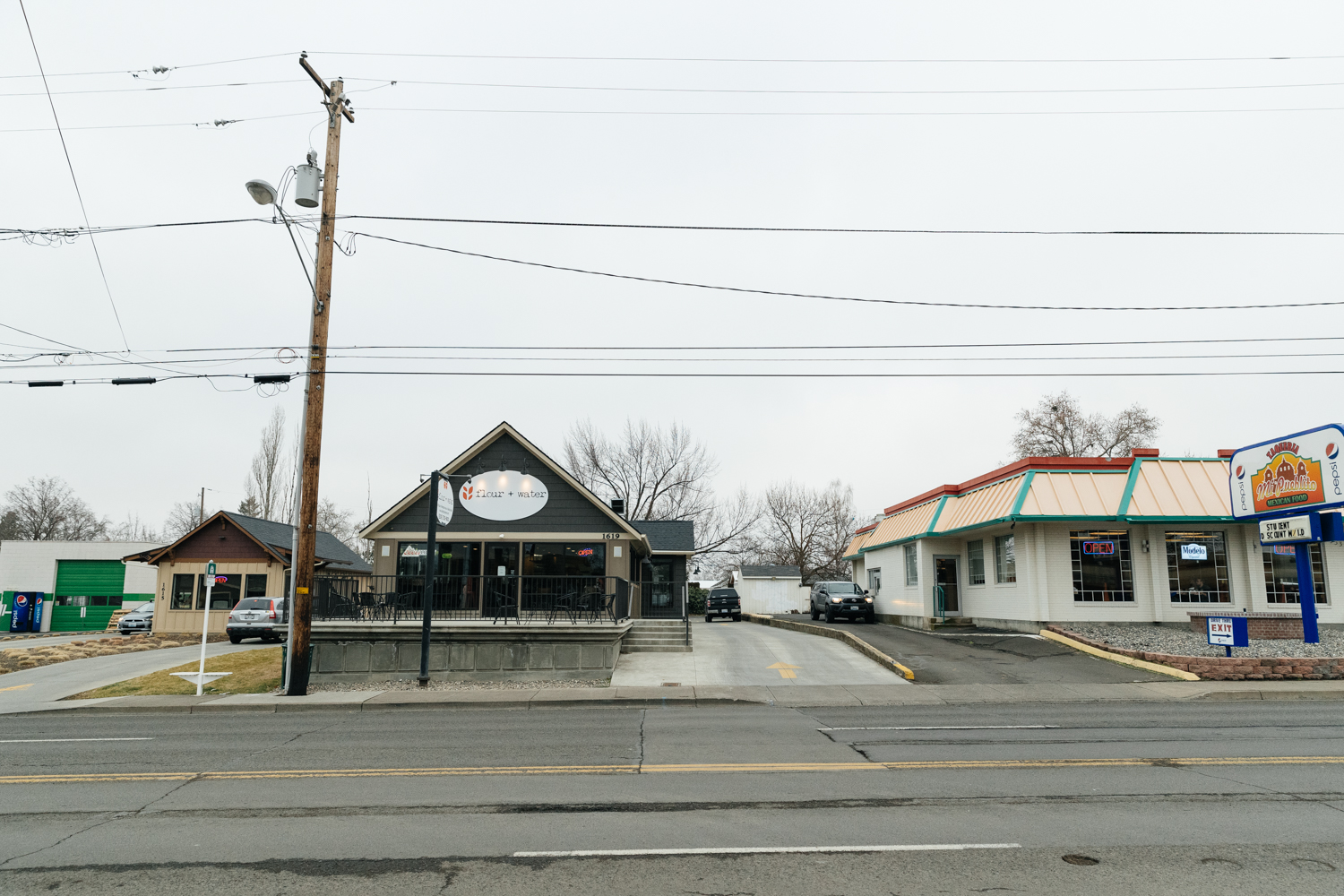 Engjell Vrapi grew up in Italy and met Kaleigh while she was studying abroad in Rome. As the couple began their family in Rome, they realized the passion they had for eating and making pizza.
"If you're Italian pizza is part of your heritage. It's a really strong component of being Italian. So I think [Engjell's] always had a strong love for pizza and then we just sort of fell into it. You know… everybody loves pizza! And some point you realize you don't just love pizza, you're obsessed with it," commented Kaleigh.
The next stop on the Vrapi's journey was in Bigfork, Montana where they opened and ran two restaurants: one a fine dining Italian restaurant, the other a pizzeria. During their time in Montana, their pizza was named "the best pizza in Montana" by Food Network Magazine and won second place twice at the International Pizza Competition in Las Vegas.
Leaving their restaurants behind the Vrapis and their three children embarked on a two-year journey around the world. Traveling from places as far as Hong Kong to closer New York, the family searched for the perfect pizza.
"Everywhere we went, we traveled for two years, we had pizza everywhere. We had Pizza in Dubai, Hong Kong, in Borneo. We had pizza everywhere and the best pizza coincidentally was in Naples," explained Kaleigh.
Upon their return to the United States, the Vrapis searched for where to next call their home.
"We have a friend here who owned a winery, Gordy Venneri who used to own Walla Walla Vitners, and I work in wineries so I was gonna come work for Gordy and he just retired and sold his winery, so I got a job at Long Shadows Winery. We weren't intending to stay, we thought "Oh we'll just work a harvest and then move on" and we ended up really loving it here, so we decided to stay," said Kaleigh.
With the couple's passion and talent for pizza and the reduced stress compared to a fine dining restaurant, opening a pizzeria was a natural choice.
"We were like: "Pizza is so fun! Pizzas so fun for everybody, not just for us." So we thought we'd love to just spend a lot of time focusing on pizza."
After three months of preparing the restaurant for opening day, Flour + Water sold its first slice this December. The restaurant specializes in whole wheat thin crust pizza and serves local wine on tap. Despite the rumors that January is a bad month for restaurants, they have been overwhelmed by the level of support Walla Walla has given them.
It seems as if Flour + Water may be filling a gap in what Walla Walla has to offer. With only a handful of pizzerias in town, Kaleigh commented that she thinks many families were looking for a good go-to pizzeria.
"I don't want to comment on anyone else's restaurants or pizza, because we just do what we do, but it feels like people have been really receptive to us saying "Oh! We've needed a really good pizza place." And whether you have a favorite or not, it seemed like people were really looking for a place. You know when you're a family and you grow up having pizza a lot and you probably always went to the same place. You kind of need a place where your family goes and I think people were really looking for that."
Soi 71: A Lesson on Thai Street Food
For two years, Thai restaurant Soi 71 has been giving the Columbia Valley lessons on authentic Thai street food. Inspired by his family's home cooking, chef David Cook, who's mother was from Thailand and taught him to cook, aims to offer a menu that is both exciting and accessible. The restaurant offers dishes that many people are already familiar with from Phad Thai to a Thai Noodle Soup similar to Pho, but also aims to allow customers to learn more about Thai cuisine through trying new dishes and reading the Thai names of each dish on the menu.
"When we speak to our servers and stuff like that, we try to give education on why we do the food the way that we do it and the reason we do it," said Cook.
Although most of the dishes are family recipes, Soi 71 integrates dishes from many regions of Thailand. Cook's family is from the northern region of Thailand which gives him many of his curry dishes.
"So we take from a lot of places, but the spin you get here is that it's the family recipe," said Cook.
The family recipe's are guided by Cook's mother who moved here from Thailand and provided Walla Walla with a taste of Thailand through her catering service and now through her position as the Chef de Cuisine at Soi 71.
"She's not there at the restaurant, but she's who I consult with. Basically going over the menu and what it is that we are going to try next. Or we will play in the kitchen and put stuff together and see how easy it is to execute at the actual restaurant," said Cook.
While the food being made in the kitchen is rooted in family tradition, Cook hopes that the restaurant can serve as a space and a means to support local non-profits and create a safe space within the community.
"Anything that will keep the money in the community is what we'd like to work with," said Cook.
The restaurant creates positive connections to many non-profits in the area through innovative fundraising at the restaurant such as monthly dance parties and helping Whitman's Kappa Kappa Gamma sorority raise money for Mr. Whitman through a Pho night.
Along with supporting local non-profits such as Planned Parenthood and Blue Mountain Heart to Heart, Cook aims to create an environment where all feel welcome.
"Were just trying to create and inviting open space for people. You know there's no airs or pretentiousness about our food or our price point. It's an everyday accessible safe space for anybody who wants to come in and eat. We don't have any judgments about people for their creed, race, religion, sexuality, anything like that," said Cook.
Within the restaurant, there are a variety of spaces designed to fit the diverse needs of customers. While small groups can relax in the main garden like dining area and larger parties can get a little rowdier in a secluded party room. This September, a bar extension was opened to allow another space in which people can enjoy the restaurant. The bar focuses on tropical flavors and Cook emphasized that creativity levels were high due to his inexperience in running a bar.
When asked if he plans on expanding his business, Cook responded that an increase in size might be nice, but overall he is happy with how it is now.
"It's a dream come true, so it's just kind of nice to kind of enjoy it instead of doing more than I need."
Grandma's Kitchen or Cocina de la Abuela: One with the Family
True to the name, Grandma's Kitchen or Cocina de la Abuela's owners Manuel Perez and Josefina Cruz want to create an atmosphere where guests feel as if they are returning home to see their grandmother.
Perez explained that one of his hopes for the restaurant is to create a space where customers can "Have the confidence to walk in and ask Grandma "hey grandma can you fix me something?" Like the regular customers, we don't have enchiladas on the menu, but you can always order green enchiladas with chicken and cheese."
This local Mexican restaurant began in 2007 when upon moving to Walla Walla Perez and his mother Josephina Cruz decided to open a stand at the farmer's market. Their stand was the first stand to sell Mexican food and when in 2014 they opened their restaurant on Colville street they were the second Mexican restaurant in downtown.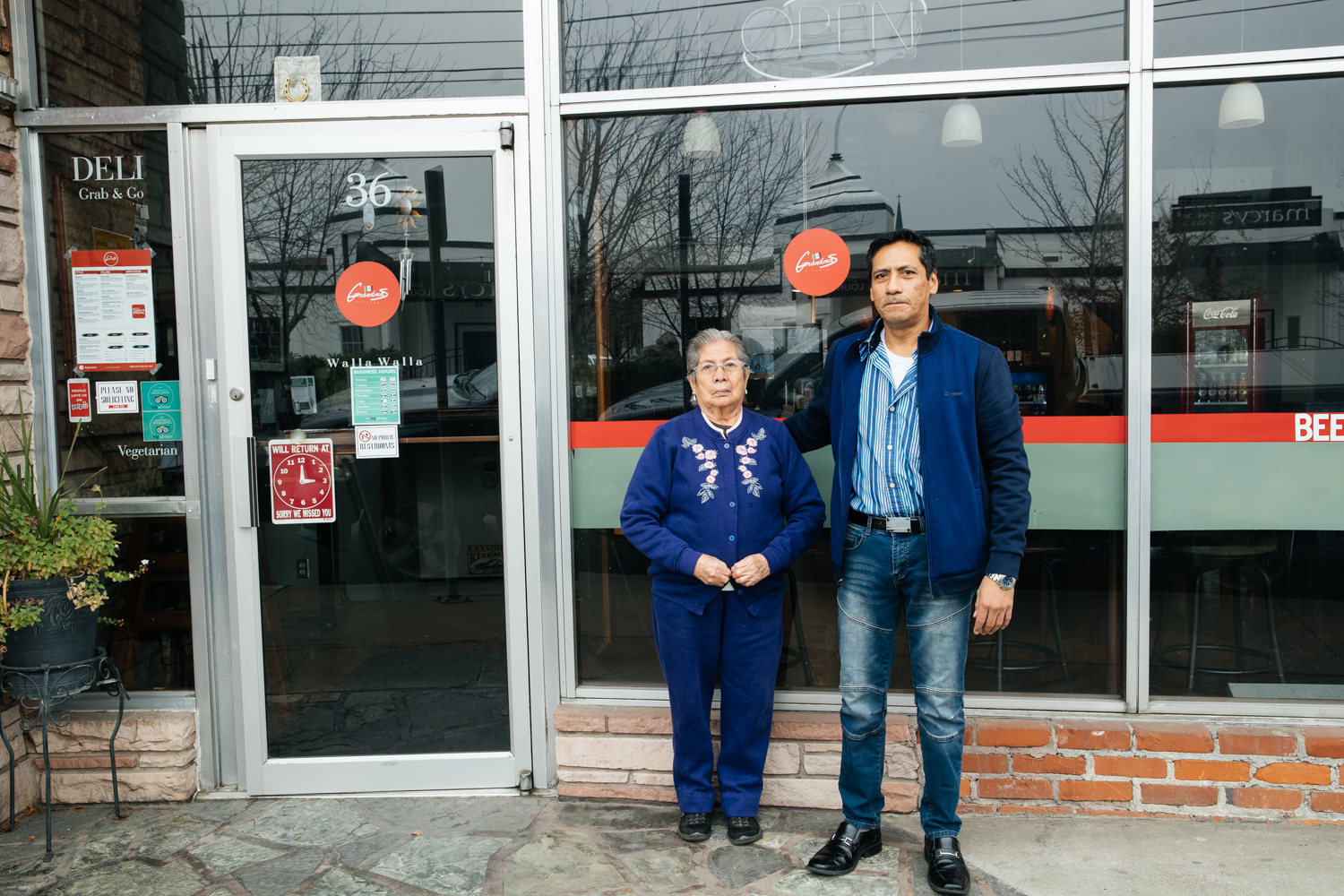 The mother and son pair moved from San Bernardino, California in 2007 and originate from Mexico City. Many of the dishes sold at Grandma's Kitchen are family recipes, but the restaurant also features dishes from different Mexican states. Cruz and Perez are always looking for innovative new ways to improve their dishes and are very flexible with customizing dishes. Although many of their original recipes contain dairy and meat, they can alter dishes so that they are vegan and vegetarian.
The ability to customize a meal for guests that is afforded by owning a small business is one of Perez's favorite parts of owning a restaurant.
"I can please my customers. That I can modify or change the menu as needed versus working for someone else you have to follow it," said Perez.
The restaurant's dedication to customer satisfaction has certainly paid off. Perez noted that over 50 percent of their customers are returning customers. Each customer has their favorites and Perez and Cruz work hard to give customers what they want.
"There's a little kid. I believe he is three years old. He loves the green salsa and just drinks it literally," said Perez.
Others are drawn to Grandma's Kitchen for their unique dishes that are not always available at other Mexican restaurants in the Columbia Valley. Perez described that the traditional dishes Grandma's Kitchen gives a different take on Mexican food than the other Mexican restaurants in town.
"Their style is more Tex-Mex. Which there's nothing wrong with that, but in order to compete with so many of the same style, we have to create something different. That's why ours is more homemade style and more traditional dishes that you won't find at those restaurants," said Perez.
One such dish that stands out from the other options in the area is their cactus dish.
"Nobody has served cactus before us I guess," said Perez.
The cactus dish is served with carne asada or grilled beef, melted cheese, bell peppers and freshly made tortillas.
In addition to the authentic home cooked recipes, Perez aims to improve customer experiences through events and creating new spaces to eat.
Currently, Perez is working on expanding the restaurant downstairs where there will be a lounge available for private parties, concerts and family-friendly dining.
Each year Grandma's Kitchen also offers events for the community ranging from Cinco de Mayo to Day of the Dead.
"[At the Day of the Dead celebration] we encourage other nationalities to present an altar or the way they celebrate the day of the dad. That way we can see the similarities instead of the differences," said Perez.
Perez is also hoping to make connections with the Whitman community by encouraging clubs and groups on campus to perform or host events at his restaurant.
"I would love to see downstairs be a space the community can utilize to experience your talent," said Perez.
Most of all, Perez and his mother are looking to feed the community homemade meals and create a space for people of all walks of life to enjoy and eat.
"I love cooking. If I didn't love it, I'd be in the wrong business," said Perez.