Unconditional Love: How Pets are Shaping the Student Experience
Ask many students what they miss most about being away from home, and they will tell you their pets. Dogs, cats, lizards, horses and chickens are just a few of the creatures that students leave behind as they transition back into life as college students.
However, there is a smaller group of who have taken on the challenge of balancing two roles — student and pet-owner — simultaneously.
Their experiences are wide and varied, from warm- and cold-blooded pets to living in off-campus houses versus in the dorms.
Despite differences, these pet-owners share in similar delights and responsibilities. These furry and scaly friends bring joy to most everyone who gets to interact with them, bringing a piece of home to all those who miss their own pets.
Charlotte Simons
Charlotte Simons is no stranger to animals. An Environmental Studies and Art major from Georgia, Simons has spent much of her life around dogs, cats and horses.
"I trained my own dog when I was 12," said Simons. "I was obsessed with animals when I was little and I watched dog-training shows and trained my friends' dogs."
During the summer before her sophomore year at Whitman, Simons decided to get a cat as an Emotional Support Animal, or ESA.
However, this created one major challenge upfront: Simons is allergic to cats.
Luckily, based in her extensive background with animals, Simons had previously heard of Siberian cats as an option for those with allergies.
"I knew if I was getting a cat and living in close quarters I wanted to breathe, so I found a breeder of Siberian cats," said Simons. "So far it's been great."
Since she was unable to adopt from a shelter, Simons said that it was really important to her to find an ethical breeder. Through some online research, she was able to find one of the best breeders in the world, only an hour away from her house in Georgia.
"I didn't want to go to a backyard breeder, someone who was doing the cat version of a puppy mill," said Simons. "I found this Russian woman – [Siberians are] a Russian breed of cat – who had really healthy animals."
While McKinley is now two years, Simons adopted him when he was a mere 13 weeks old. He has been accompanying her at Whitman since her sophomore year.
Simons said that she can't imagine what life would be like without him now.
"I call him my son, and he's kind of like a little furry therapist," said Simons. "My parents absolutely love him too, they call him their small grandson."
Simons was the first person to have an Emotional Support Animal on campus, and worked with Rebecca Frost and Antonia Keithahn from the Academic Resource Center to create a plan. Under his classification, McKinley is allowed access to housing and planes, as well as outdoor spaces on a leash.
Simons said that she loves having McKinley as a roommate because he is reliable and goofy — two qualities that help her through day-to-day life here.
"He's always so excited to see me when I get back from class," she said. "Everytime I come home he runs over and meows and falls over for a belly rub. It's the cutest thing and it makes me feel so loved and so happy."
Some of Simons's favorite memories with McKinley include taking him to soccer and baseball games.
"He's fascinated by the movement of the ball," said Simons. "When players get close to him he'll crouch down and and look like he's hunting them. It's just hilarious."
Some of her other favorite activities with McKinley include camping and hiking. Simons and McKinley frequent Bennington Lake here in Walla Walla.
"It's really nice because he will get me to go outside," said Simons.
Simons also said that McKinley loves to go camping, and that she feels safer with him there.
"It's always kind of like my little security blanket because bears are afraid of cats," said Simons. "He's chased 200-pound Malamutes before, so I'm pretty sure if we ran into a bear, he would chase the bear."
Simons notes McKinley's bravery as one of his unique charms.
"He's not scared of much," said McKinley. "He's never been scared of a person or a dog."
Along with serving as an Emotional Support Animal, McKinley is also trained as a Therapy Cat. This allows him to serve others in the community.
As a result of his therapy cat certification, McKinley has been able to volunteer at OddFellows, a nearby senior living community, and at Eye-to-Eye, an organization that supports kids in Walla Walla with learning disabilities through art projects.
"A lot of [OddFellows residents] will talk about missing their cats, and they say that it makes them really happy that he can come in," said Simons. "He's happy too; his tail goes up when he's in the nursing home and his ears are forward and he prances."
With the kids, McKinley is incredibly patient and caring.
"If they scream, he's trained to recognize that as a symbol of distress so he walks toward them," said Simons. "He lets them carry him and swing him around."
McKinley's adventurous life as an Emotional Support Animal, camper and therapy cat has led him to quite some fame. His Instagram, @mckinleythecat, has over 4,000 followers, and has received shout-outs from larger pages such as Adventure Cats.
"My dream is to get him on the Ellen show," said Simons. "That's our life goal, but I don't think he knows it's his life goal."
Simons is grateful to McKinley for being a steady source of support and joy in her life, as well as others'.
"My favorite thing about McKinley is how sociable he is," said Simons. "Most cats are not very sociable, but he loves to be where the people are."
PHYLLIS PAWA
When sophomore Phyllis Pawa was diagnosed with Lyme disease this past year, she knew she wanted an Emotional Support Animal to help her through the chronic pain and anxiety that come as a result of the disease. Enter Scout Finch, a Calico cat who Pawa adopted over the summer and brought to Whitman as an ESA.
"I knew I needed to have something I could rely on," said Pawa. "I thought having an animal was the healthiest, best way to do that."
As an Emotional Support Animal, Scout helps Pawa through pain, but also acts as a reliable companion on a day-to-day basis.
"I love that she knows when I need care from her, and knows when she can just be a cat and play and have fun," said Pawa. "She's not trained at all, she's just very aware of how I'm feeling."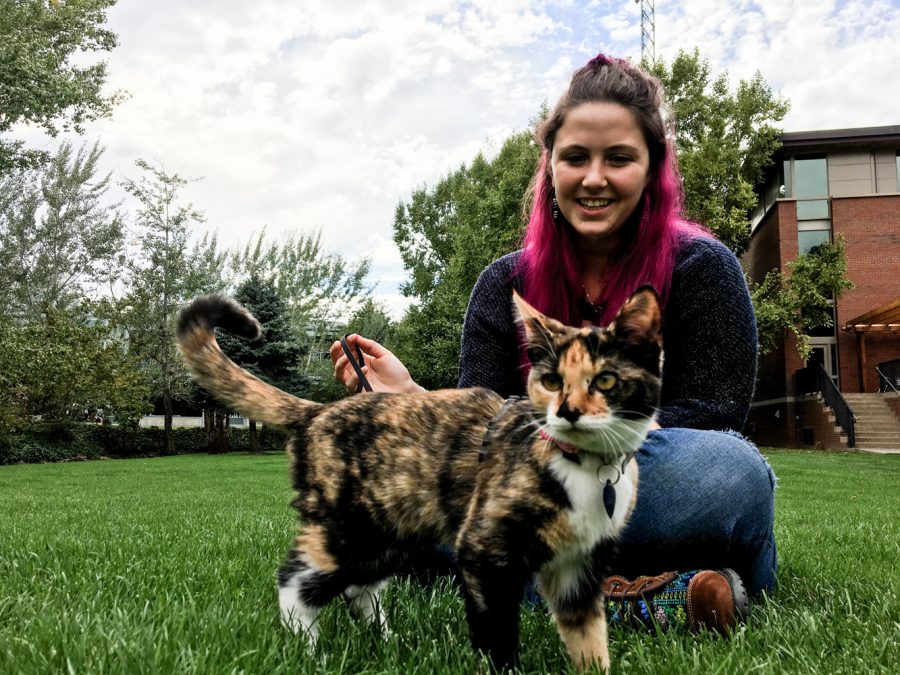 Pawa adopted Scout over the summer after visiting shelters and meeting many cats. While initially expressing an interest in adopting an older cat, she knew that a kitten would be the better option for it's flexibility in travel and dorm life.
Within minutes of meeting Scout, Pawa knew she had met the one.
"They told me she was shy, and when I met her she was walking all over me and wouldn't leave me be," said Pawa. "I called my dad right away."
Even so, Pawa said Scout took a few days to transition into living with her.
"The first few days I had her she was really scared and wasn't eating anything because she was really nervous," said Pawa. "Seeing her get used to being around me and wanting to spend time with me was really cool."
When choosing a name, Pawa knew she wanted to name her after a book character — fitting with her Individually Planned Major in Education and English Language Learning.
"She's named after Scout Finch from To Kill A Mockingbird," said Pawa. "I was about to get another cat and name her Luna Lovegood, but I felt like this name fit her so much better — she's very curious."
Pawa said that she is grateful both to Charlotte Simons for paving the road for students to have Emotional Support Animals on campus and to Whitman for assisting students in diverse ways.
"I think it's great that Whitman lets people get the support they need," said Pawa.
Under her accommodations at Whitman as an ESA, Scout is allowed to be inside Pawa's room or outside on a leash.
"She walks me," Pawa said. "I don't have any say in where we go. She has all the say."
Pawa said that taking Scout out on walks has allowed her to meet many new people on campus.
"It's been a really nice way to meet people and I can always talk about my cat," said Pawa. "It's changed how I interact with campus."
When asked about her favorite thing about Scout, Pawa said she loves her cat's quirky and caring personality.
"She has a big opinion about everything," said Pawa. "She's there for me when I need her, and she knows when I need her, and then she hangs out and has fun otherwise."
BRAHM COLER
Senior Brahm Coler has a lot on his plate, from juggling a BBMB major to a multitude of extracurricular activities. Despite his busy schedule, he still makes time to care for his cold-blooded companions.
Coler owns a chameleon and a bearded dragon at his off-campus house.
"They're difficult as far as reptiles go, but pretty easy to take care of," said Coler.
While not your typical pet, Coler said that both animals are very manageable when dealinkg with the busy life of a college student.
"The chameleon, I could forget about him for three days if I wanted to," said Coler.
His care includes feeding them crickets every few days and making sure they have adequate drinking water.
"They're such low maintenance animals it's not that much work," he said.
Coler said that one of his favorite things about having pets here on campus is that they can liven up any party. If ever there is a lull in conversation, Coler said he asks guests if they want to try feeding the chameleon.
"Watching the chameleon eat is quite the spectacle," said Coler. "Their tongues can reach from one side of the case to the other to catch a falling treat."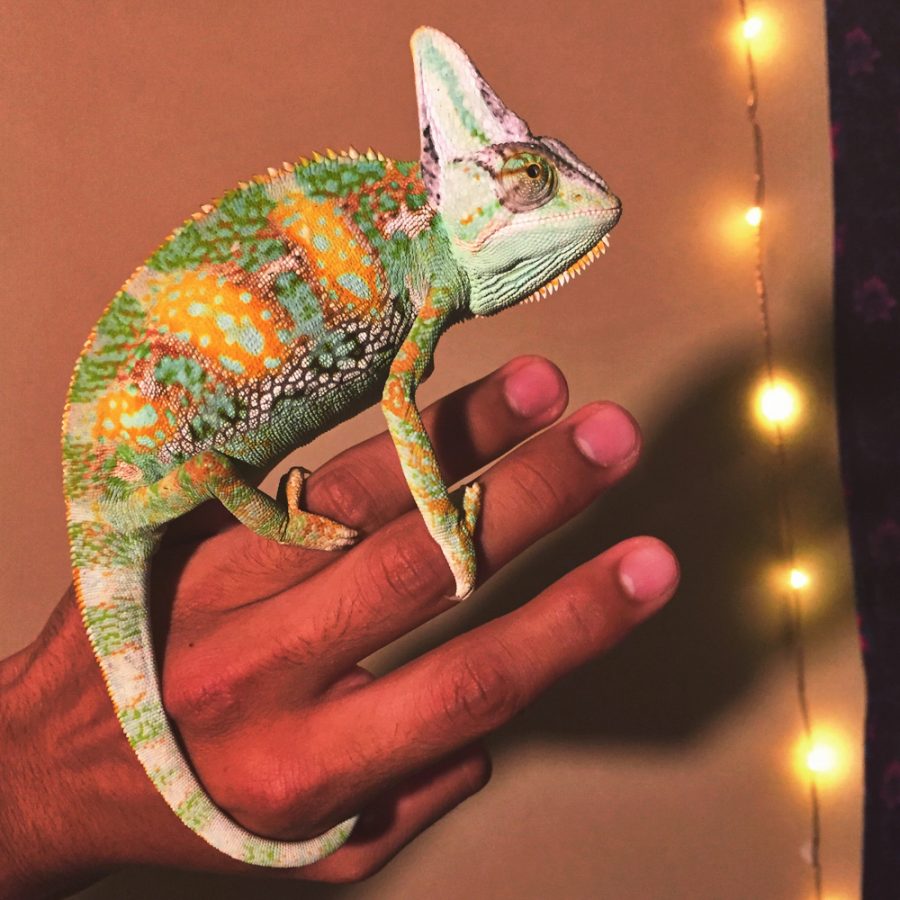 Contributed by Brahm Coler

YE RIM CHO
While Pawa and Simons' experiences are heavily influenced by their animals' statuses as Emotional Service Animals, many Whitman students opt to own a pet once they move off campus.
Ye Rim Cho, a senior sociology major, is one of those students.
In an email, Cho introduced her 5-month old maltese poodle mix, Ewok, who she has had for two months.
"I've always wanted a dog, but never got to have one!" said Cho. "Since senior year and graduating next year will be a huge transitional period of my life, I thought getting a dog would be the one thing that would be stable."
When asked about her favorite thing about Ewok, Cho said she loves how small and cuddly she is.
"It's been really nice coming home to Ewok!" said Cho. "She gets really excited to see me which makes me smile."
While Cho said that Ewok is fairly low-maintenance, she still has greater responsibility now as a pet-owner, including crate-training her dog and taking her for walks during the day.
"I definitely spend more time at home and although it is a big responsibility sometimes, she is so worth it!" said Cho.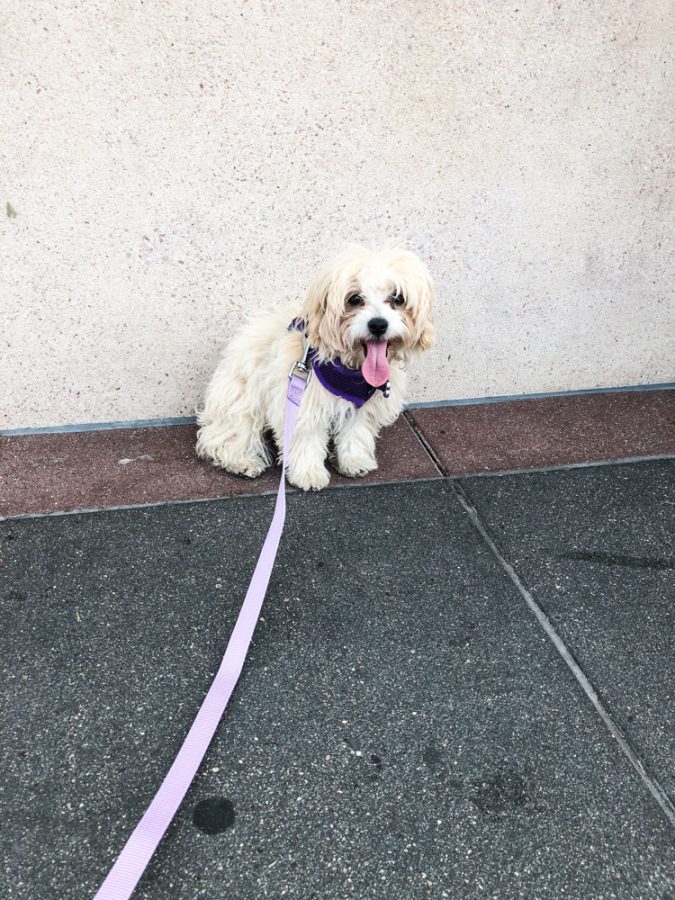 Contributed by Ye Rim Cho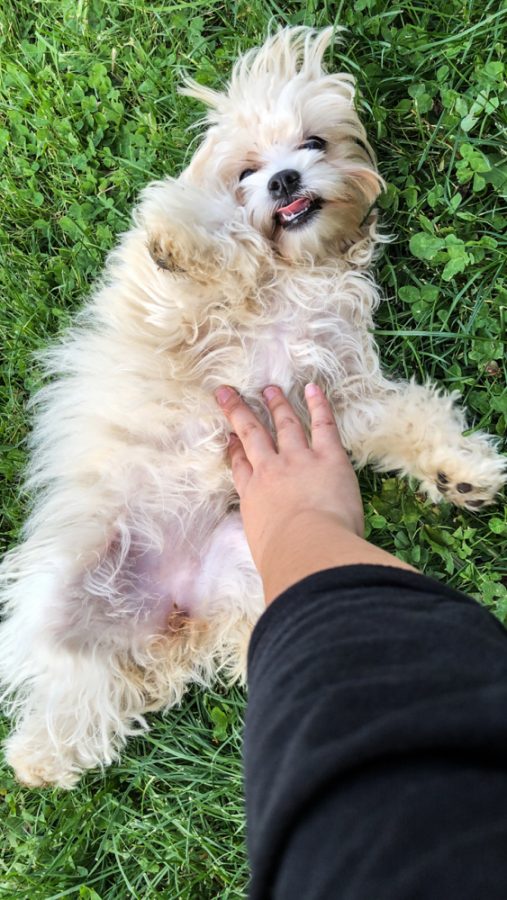 Contributed by Ye Rim Cho