Lincoln High School Mentorship Program
In January 2018, Whitman sophomore Sophia Webb spearheaded a mentorship program between Whitman students and seniors at Lincoln High School–Walla Walla's only alternative high school–to build relationships between the two groups in context of preparing Lincoln seniors for post-grad life.
Rewind back a few years.
In 2006, only four people graduated from Lincoln High School.
The school was plagued by drugs, violence, suspensions and drop-outs.
"It was a disaster, basically," Webb said.
The "disaster" lasted until 2007, when Jim Sporleder stepped in as principal of Lincoln, bringing what he calls a "trauma-informed approach" with him.
Upon starting his term as principal, Sporleder attended a conference on complex trauma to learn how trauma impacts your brain development as a child and how that changes your brain structure. He found that trauma makes people more prone to erratic behavior and a whole range of behavioral health problems as well as emotional regulation and physical problems, including an increase in the likelihood of depression, heart disease and cancer.
"It just changes your brain. It changes your whole body," Webb said.
Webb said that these markers of toxic stress are labeled adverse childhood experiences (ACEs). They include divorce, having a parent in prison, witnessing domestic violence, sexual abuse, a parent having a mental illness and drug addiction in the family.
Webb explained that if a student has four or more of these ACEs, behavioral problems are much more likely.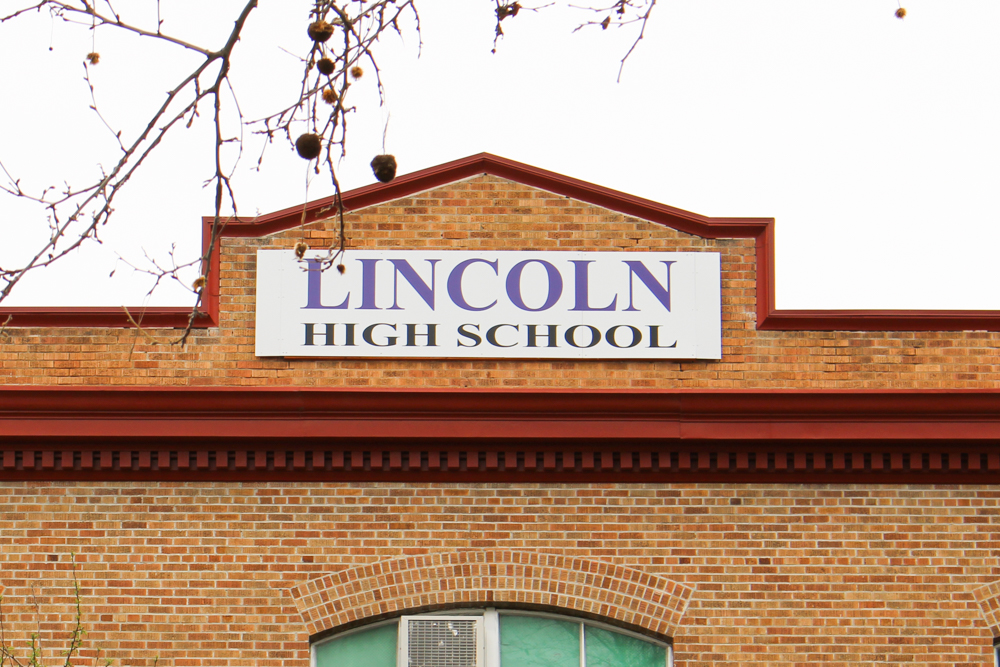 Alissa Antilla

These are Lincoln kids.
Students at the school took the ACEs test and most of them had two to five, or more, ACEs.
It was evident to Sporleder that he couldn't continue the school as it existed, that consisted of suspending kids left and right for erratic behavior. Sporleder realized that this behavior was explained by ACEs.
"How not going to class, and behaviors, and drug abuse and depression are symptoms of another problem," Webb said. "We cannot cast aside these kids, or cast these people in society, it's about building resilience and finding out how to learn to be compassionate to yourself and how to build skills in order to be resilient."
So, when a student did something wrong and came to the principal's office, instead of suspending them and telling them they're bad, Sporleder would say, "Hey, what's going on?" A lot of times, the kids would respond with "I'm not okay," "Something's happened recently," or "I'm recently homeless," said Webb.
"Lincoln's nothing-but-tolerance approach to their students helps to build confidence and encourage their students that they are smart, talented and have the potential to be successful," added junior Lilly Calman, a mentor involved in the program. "Especially since that may directly contradict what these students have been told by adults (parents, teachers, administrators, etc.) in the past."
So, Sporleder established training for all Lincoln teachers on complex trauma, ACEs and how to create a "trauma-informed" space.
Sporleder also found that a lot of students hadn't had much care; many hadn't gone to the doctor in over ten years.
So, in 2012, the Lincoln High School Health Center opened on Lincoln campus, free of charge for all students. The Health Center includes mental health counseling along with medical care. The Health Center has a team of doctors, nurse practitioners and registered nurses to treat chronic illness, perform lab tests, prescribe and dispense medication and offer physical exams. There is also a therapy group offered for girls, led by a Master's of Social Work student, along with other counseling resources.
Since Sporleder became principal, graduation rates went up 70 percent, according to Webb. Suspension rates went down 85 percent, according to an article on the school.
Although Sporleder retired in 2014 as principal of Lincoln, the trauma-informed school that he left still stands as a trauma-informed school.
Webb remarked that now, in Walla Walla, a "community resilience initiative" is in the works, that means Walla Walla is working on being a trauma-informed community.
"These students have parents who have also had adverse childhood experiences and they're still having those behavioral and health problems from childhood," Webb said. "So really what happens in childhood impacts your brain for the rest of your life."
"The key to all of this is something called resilience," Webb said.
Webb knows that once the ACEs education is there, it's all about honing in on resilience.
"This doesn't determine the rest of your life. You learn skills," she said.
Oftentimes, these skills come in the form of Lincoln High School and the counselors that accompany it. The adults at Lincoln work with students, rather than against them, on their behavior.
"That's kind of the background of Lincoln," Webb said. "It's an important part when you talk about the school because it's not just this random high school out there. It's a high school with a history and it's actually one of the first high schools in the nation to implement this trauma-informed approach."
The Mentorship Program
Because graduation rates went up 70 percent after Sporleder stepped in, high school graduation and post-grad life became more and more pertinent for seniors.
Tim Schroeder, a mental health counselor at Lincoln, runs a senior group in which he helps students prepare for life after high school.
Meghan Ash '17, who was an intern at the Lincoln Health Center last year, conceived of the idea for a mentorship program between Whitman and Lincoln students.
Schroeder thought that Ash's mentorship idea would fit in well with his senior group, according to Webb. Because Whitman students are closer to Lincoln students' age, the Lincoln students might respond better to people closer to their own experiences than someone who is a lot older, like Schroeder.
"One of the keys to absorbing or benefitting from information is building relationships and having fun," Webb said. "So once you've built a relationship, you receive information better, you retain it better."
"The hope with having Whitman students come in, was being able to relate on a level being in a similar age group. Whitman students just went through this process of transitioning from life after high school and have valuable input or experience to add to conversations with the students," she added.
Schroeder thought that this program would be especially good for seniors because they have a tendency to panic at the end of the year and drop off, not finish the school year and trickle out. Attendance gets spotty.
Because the mentorship program just started in January, Webb deems it a "trial semester of seeing what works."
So far, the mentorship program gleaned ten Whitman students who go to Lincoln on Friday mornings for an hour, two to three times per month.
Because Whitman participation is so low, the Whitman mentors work with Lincoln students in small groups.
At the beginning of the program, Schroeder put out a survey to see what students were interested in doing and each Friday is based off of those topics of interest. Webb said that these topics are job/career exploration, education, money management, place to live, goal-setting and health care. Each mentor session hones in on a different topic.
Webb described the program as 70 percent having fun and building relationships, while the other 30 percent is relaying information.
Webb said that much of the program has been troubleshooting, trying to establish a program that is going to really work for the Lincoln students. She has found that instead of bombarding them with a lot of discussion questions, it has worked to bring out one discuss question after another, letting that build into a "natural, organic relationship."
"That means Whitman students can get more real and Lincoln students can get more real when they can have those honest, more organic conversations," Webb said.
Webb said they also bring food and drinks each Friday morning to create an inviting atmosphere "where relationships have the ability to form. That's what we're trying to do."
During each Friday session, Webb says that there is a little presentation about the topic of the day accompanied by "a worksheet here and there." During the first session, the mentors passed out worksheets that instructed Lincoln seniors to write down goals and outline tangible steps they can carry out to meet that goal. Another time they facilitated a conversation identifying values and had the seniors fill out a values sheet, using these values in a practice elevator speech (a quick pitch about yourself that you would give if you had a job interview in an elevator).
"I like seeing the room noisy and I like seeing everyone talking together and interacting and hopefully that is a highlight in their day," Webb said.
For next year, Schroeder and Webb are working on developing a mentor program in which Whitman students mentor Lincoln students who mentor middle school students with the help of other community organizations.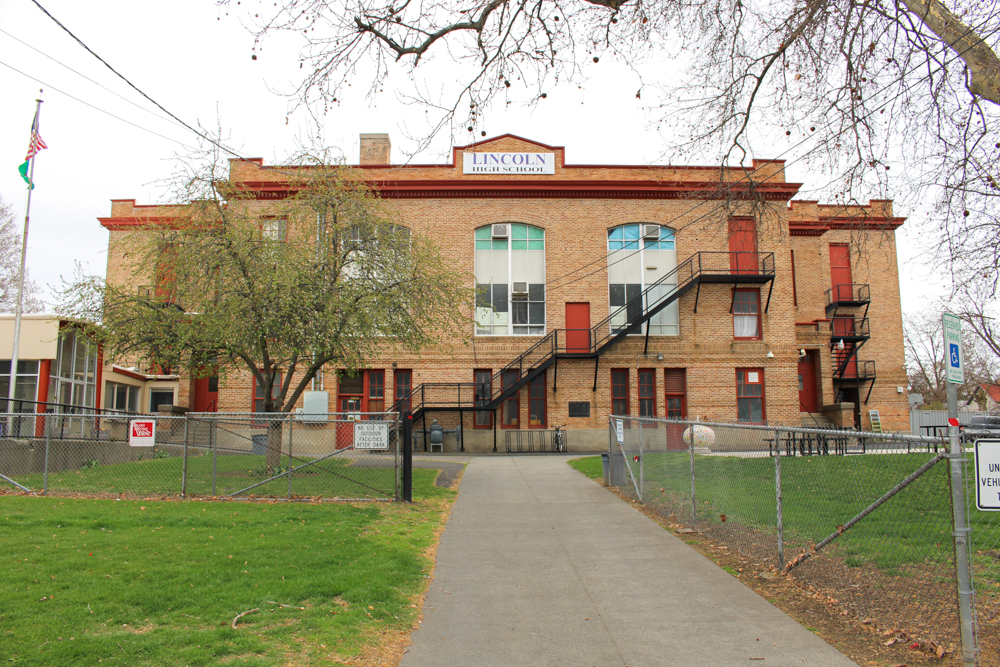 Connections
One of the learning curves that the Whitman mentors have been trying to figure out is how to connect with Lincoln students.
For sophomore Megan Waldau, that means simply talking to them as she would a friend.
"A lot of kids at Lincoln just could use a positive, consistent, supportive entity in their life, and whatever that takes form in," Waldau said. "For me, that's just genuinely talking to people and being interested in what they're interested in."
Right before spring break, very few Whitman mentors showed up to Lincoln, so for that session, all the Whitman mentors and Lincoln students sat down together in a circle and talked. Waldau said that Friday was one of the best sessions they had.
Waldau values opening up the conversation to be mutual; she wants to get responses from them as much as she wants them to hear what she has to say. She believes listening is key.
Waldau deeply cares about what Lincoln students are interested in and tries to let them know that she is invested in their lives by checking in on cool projects they have been up to, or simply complimenting their makeup.
"Why they go to school on Fridays could be me, and me caring about what they care about," Waldau said. "So that's why I like it and that's why I do it."
As a mentor at Lincoln, Waldau gets to step back into high school, experiencing the vivacity of high school students once again.
"Getting to be back in that setting where you're like 'oh we have to be here, might as well make the best of it, just like dink around.' I miss that energy," Waldau said.
"I just genuinely enjoy being back in high school without having to deal with any of the drama of high school, by like being in it because I'm young enough to be in it, but not like a dad or a mom or something stepping in and being that age," she added. "And just seeing the silliness of high school, and the amped-up drama of everything is probably the best part."
Waldau also said that Lincoln students are equals; they talk and have normal conversations, with added encouragement and positive reinforcement.
"The idea of a mentorship already puts me at a higher level than them," Waldau said. "I don't want to be a higher level than them, I just want to be a positive reinforcement in their life. I just want to be a source of 'you can do it; you can do whatever you want to do.' And here are avenues that I could point you towards getting you that, whatever you want."
Lilly Calman, a junior volunteer in the program, echoed Waldau's sentiments.
"I love hanging out with high schoolers (as opposed to younger students) because we get to have real conversations as equals about our values, ideas, and dreams," said Calman. "There is so much value for the seniors in having conversations where they're being heard and their experiences validated, while also just hanging out and eating snacks with people who care about them and want to support them."
"Just providing a comfortable space to talk, to debrief, to bitch about your life, to decompress, is also a part of being a mentor for me," Waldau added.
Nishaant Limaye, another mentor in the program, added that working with high school students is easier considering that Whitman students were in high school only a few years ago.
"I think that working with high school students is much easier for me, simply because I have been in their shoes much more recently than an elementary school student's," Limaye said. "High schoolers have also already been working on career plans, which makes our efforts to prepare them for post-grad life more impactful."
At the same time, Limaye said that Lincoln students do go through experiences that Whitman students have no way of relating to.
"Many of the students at Lincoln have had multiple ACEs (Adverse Childhood Experiences), and even though we have been informed about their psychological implications and how to mitigate their impacts, I often feel removed from the mentees," Limaye said. "Although we can connect through common interests and fun games, it is often difficult to understand their points of view because I have not experienced anything remotely similar to them."
Although it is true that not sharing traumatic experiences with Lincoln students produces a degree of separation that makes it more difficult to connect, Webb highlighted the importance of listening despite not being able to understand some facets of the students' lives.
"You don't need to have the same background as someone to have a conversation with someone and support someone," Webb said.
"All you have to do is listen, and really seek to listen, and really seek to understand and not judge. And anyone can do that. No matter your background. If you have an ACE score of zero you can still give. As long as you're listening. So that's big," she added.
Waldau echoed Webb's sentiments.
"I feel like you could pass down your knowledge regardless of who you are," Waldau said.
All it takes is compassion.
"The hardest part is finding compassion in people to give a fuck about these kids. There's nothing difficult about caring about someone I think," Waldau said. "As a mentor I think it's my job to just be a positive influence in their life, in whatever form that takes for them."
"You do not need to have the same experience as someone to listen and care about them," she added. "And saying that, 'It's not relatable to me so I won't do anything about it,' that's fucked. And that's not who I am or who I want to be."
Email Sophia Webb at [email protected] to get involved with the mentor program.