Whitman student prepares solo art exhibition
Sophomore and film major Agustin (Ramí) Ramirez will be holding an art exhibition in the Fouts Center for Visual Arts on April 14. This project, titled "You're not going to believe me," originated from Ramirez's interviews with his uncle and explores the various stories that were shared.
The following conversation has been edited for clarity and brevity. 
Wire: Can you tell us more about your art journey?
Ramí Ramirez: I'm going to be installing two bedrooms, one being that of my uncle's bedroom from the late 80s and the early 90s. I'm also going to be displaying my bedroom and what that looks like today. The reason why I'm doing bedrooms is because I think it's a vulnerable space. I want to try to articulate some emotions, personality traits of Mexican Americans and the kind of ways of designing my own room.
Wire: What is the theme and inspiration?
RR: My uncle is the black sheep of the family; you can say he's a little outcast. Some people within and externally from the family looked down upon him. Something that I personally find fascinating about him is that he taught me how to walk. There are some days where I personally—I feel like a black sheep. Especially being here in Walla Walla and Whitman. At the same time, even within my own family, I feel like a black sheep just because I feel like I stand out a little bit. I'm kind of my own person.
Wire: What is something that you want people to walk away with?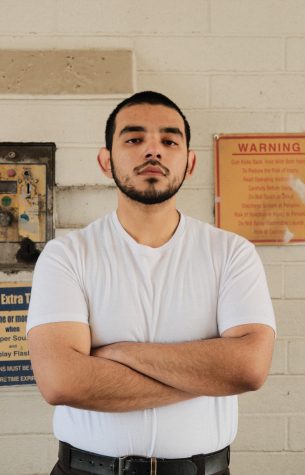 RR: I want people to see my uncle for who he is [through the bedrooms]. I could sit here and tell you all the bad stories of my uncle and things like that. But in reality, that's not who he is. I think that everyone does something for their own reason. Essentially, I want people to see me for who I am because [our] bedrooms are vulnerable spaces where we're allowed to be ourselves [and] articulate our own emotions. I wanted to articulate the differences and similarities me and him both share, and there are going to be some pieces in the art exhibit that are going to articulate that.
Wire: Did you talk to your uncle about your art exhibition?
RR: I talked to him a lot. He's in Mexico right now because he was deported back to Mexico about 14 years ago. I went down there, and I recorded an interview. I plan to also host that interview with an art exhibit of talking to him, getting to know him and allowing audience members to do the same. It's not a bedroom without knowing whose it is.
Wire: How has Whitman's education influenced you with your art passion or the way you think right now?
RR: I think Whitman is giving me a space to explore [by] allowing me to grow in a certain way and learn more about myself, my culture [and] my community because I didn't realize how valuable or how significant my culture is until I got here. I'm fortunate enough that Whitman [provides] that education. At the same time, my grandparents wanted that opportunity for [my parents]. Unfortunately, the way that life panned out, it didn't work out because Los Angeles was not a great place in the late 80s [and] early 90s, especially for a young immigrant boy.
Wire: Anything in addition?
RR: Anyone is welcome, and I really want a lot of students to come and see it not only to get a grasp of who I am [or my uncle] but [to grasp] our cultures. I'm sure your bedroom says a lot about you. Growing up as a Mexican American, I never used to do my own bed. My grandmother used to, [and] my uncle's mother [also] did his bed. You'll see that layer of a grandmother. 
I also want to articulate some different challenges [he and] I face. My uncle's life has been threatened in many different ways, shapes and forms. Fortunately enough, I pretty much grew up in the same place as him, I made it out. I want to take advantage of that in a way [and] tell a little bit of his story because I will always be thankful and appreciative for teaching me a lot. I know it may not seem so significant, but looking back, it means a lot to me.