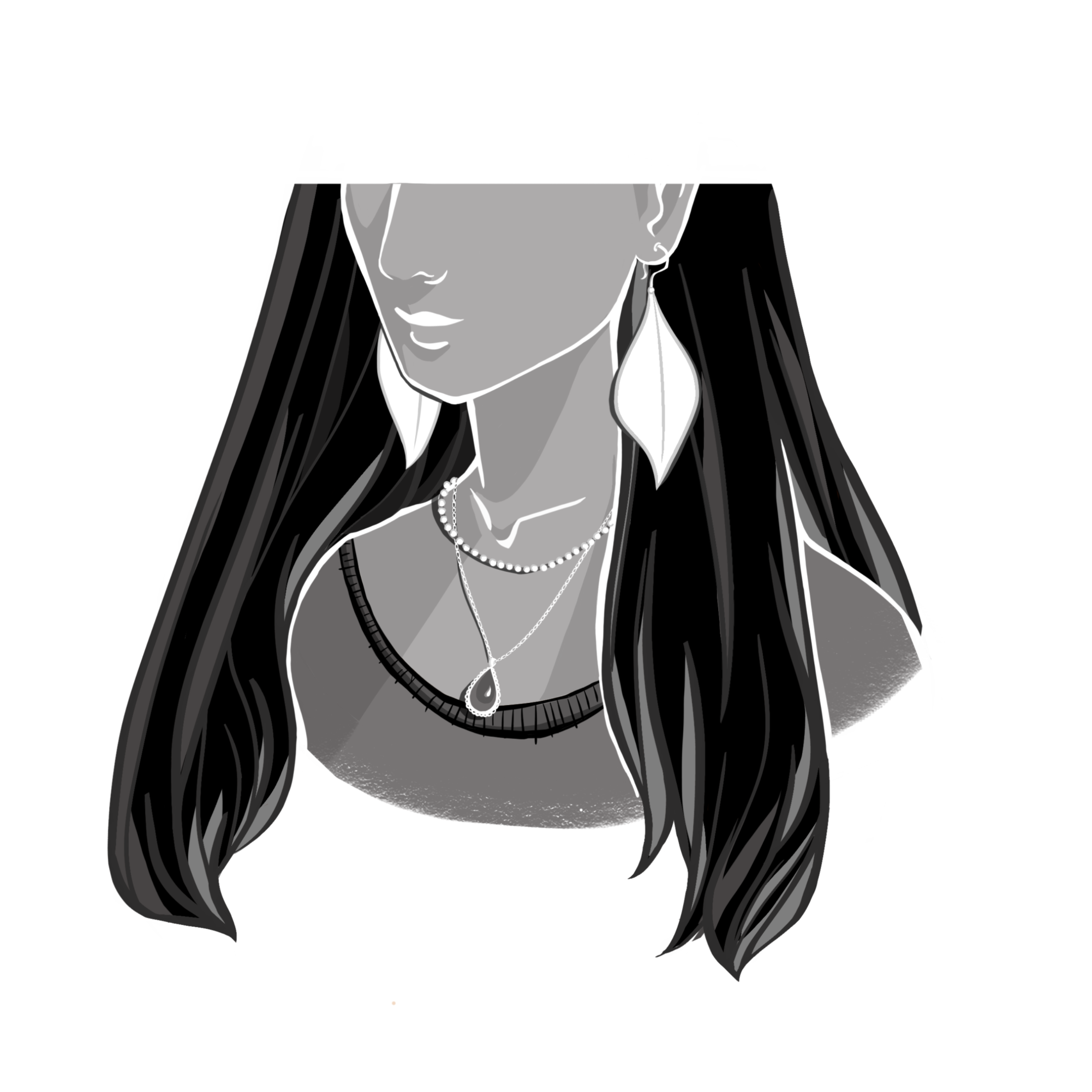 Many of us choose to wear jewelry, whether it be a handful of bracelets that we never take off, a necklace that we wear on special occasions or a rotating array of rings that march through the weeks with us. It's been around for centuries and still has a knack for lapping up the spotlight every time it's included in an outfit. It has a certain power and intrigue that draws our attention and gets our minds churning. 
Of course, not everyone wears jewelry. For most of my life, I didn't spare it a second thought. It's only been recently that I've found myself gravitating toward necklaces, bracelets and earrings. In fact, I got my ears pierced for the first time just two months ago. It feels like a big step into a whole new world, and I grew curious about how people interact with and find meaning in their jewelry.
For those who do wear jewelry, it is often a sign of self-expression. Even as a newbie to this world of silver wire, shining stones and intricate beadwork, I can relate to that. In fact, it's what finally convinced me to get my ears pierced; I wanted another medium through which I could express myself. Senior Mercy Martinez enjoys wearing earrings for this same reason.
"Jewelry or earrings in general are such a fun way to show your outwardly self to people. So the funkier the earrings, the better for me," Martinez said.
While I'm still waiting for the piercings to heal before swapping out my studs, I've already spent a little too much time browsing for fun and funky earrings that I feel a connection to. It's exciting, and the possibilities feel endless. 
Junior Tsifira Kiehl also has many pieces of jewelry that are important to her. For example, she wore two glittery spider hair clips to the interview, and brought them up as we talked.
"The hair clips, their names are Brad and Janet. They were a gift from a family friend, and honestly, I don't even remember when I got them, but they've kind of become an iconic thing that I wear now."
Kiehl elaborated further, telling me that she has a deep love for spiders and enjoys incorporating spider imagery into her outfits. Jewelry provides her with a powerful outlet for this love in the form of her hair clips and a spider necklace. Now, Kiehl feels wrong if she isn't wearing the hair clips, and they've become something for which she is known.
Jewelry is a valuable form of self-expression for the people who wear it, and also empowers jewelers. Senior Cas Alexander began making jewelry in 2019 and spoke about its ability to encapsulate certain emotions and life-stages. As they spoke, they showed me one of the pieces they made during the pandemic: a sword necklace, silver hilt gleaming and topped with a green gem at the pommel.
"Looking back, I feel like … I was trying to express frustration and a desire to do something instead of just sitting there … a sword is not a passive thing to have," Alexander said.
Alexander's work suggests a multi-faceted side to jewelry (not unlike the gems that so often appear in earrings, bracelets, rings and necklaces). It can reflect the things that we love and are passionate about, it can reveal our true selves and it can symbolize our emotions at a given period of time. 
Through these powerful intersections of self-expression, jewelry can begin to feel like a part of us. 
Martinez's experience is an example of the way in which jewelry can start to feel like an intrinsic aspect of our body. She started wearing earrings almost immediately.
"My first pair of earrings was gifted to me when I was like three months, and I had those earrings on until I was like 16. I just never took it off." 
Proprietor of the Cotton Wool Art Gallery Kim Nemeth spends her days surrounded by art, whether it be weavings, paintings or jewelry. While her gallery, located in downtown Walla Walla, does not solely focus on jewelry, she has recently included the work of a local jeweler and discussed how jewelry relates to the other pieces in the gallery.
Jewelry is "a more personal object than a lot of the other work that's in here because it's on your body," Nemeth said.
Not only can jewelry be a metaphorical part of who we are, but it also hangs from our bodies and rests against our skin. In this way, it follows us throughout life and is present at important moments. The longer that jewelry stays with us, accumulating memories and age, the more intrinsic to our being it becomes. 
Through its use in self-expression and its physical proximity to us, jewelry is intimately personal. But it can also expand outward to become something much larger, encompassing a vast array of meanings, people and places.
Several interviewees discussed how their jewelry often comes from important people in their lives as gifts. Kiehl recounted how one of her friends gifted her a bracelet and kept a matching version for themselves. That friend has since moved away, but the bracelet remains. 
"Even though they're off at a different school, it's kind of a reminder of them," Kiehl said. 
Jewelry can also help us hold special places closer. Martinez mentioned how she has certain associations with her pieces. For example, she has a pair of earrings from a specific Mexican store back home in Chicago. Wearing these earrings reminds her of being in the old neighborhood where she used to live, and this connection reassures and grounds her.
For Martinez, necklaces, rings, bracelets and earrings have always been an important part of her culture, signifying certain key events.
"For my baptism I got a necklace and it had the Virgin Mary. For my communion, I had another necklace given to me. That was also very religious. For my quinceañera … I also got a whole set of jewelry that included a ring, earrings, necklace and a bracelet, but that was more so it symbolized my transition from being a child to being a woman," Martinez said. 
 "Jewelry is very memory-centric," Nemeth said.

It has a knack for holding onto certain thoughts, cultures, people and memories and carrying them forward. Kiehl emphasized this as well. 
"You can wear it everywhere, so … it's easy for jewelry to be present in a story and thus a reminder of it. There's a reason every fictional character, every leading lady these days has some kind of special pendant," Kiehl said. 
As Kiehl's and Martinez's stories show, jewelry is a popular gift due to the stories and memories it contains. Martinez also gives her handmade earrings to others, and described how she enjoys imbuing her work with passion. Her experience making earrings illustrates the other side of the process: the ways in which the jeweler can give a little part of themselves to someone they care about.
"Jewelry is something that I really enjoy myself. It's really nice to be able to give a little piece of that to people," Martinez said. She instills lots of love into her work: love for jewelry as an art form, and love for the people to whom she gifts the earrings.  
Jewelry is not only a valuable way of commemorating existing relationships; it can also spark new discussions and friendships.
"I think wearing jewelry is always a good way to start conversation because then you can find out where the person is from, where they got the earrings from," Martinez said. 
I can't even tell you how many times I've complimented someone's jewelry or asked where they got it. It's a highly-visible object, often incorporating bright colors or flashy stones. It's meant to be looked at, and this is an easy way to kick off a conversation. Plus, when jewelry is tied to so much – loved ones, different places, certain stages in our life and so much more – conversations that stem from a simple I love your earrings can snowball into something much greater. Within a few minutes, you might learn about someone's hometown, partner, religion or best friend.
Alexander also mentioned jewelry's ability to draw people in and inspire interaction, especially when it comes to the detailed work they engage in. "I really enjoy making stuff that rewards looking and interaction, and it's like you have to spend time with and get all up in the details to really see everything … And it's also … it's fun to have a little secret, right? It's like, these are mine and you're not gonna know about them unless you actually pay attention. So it's a little bit sassy in that way also," Alexander said. 
I've spent the last several hundred words talking a lot about what jewelry is, but it's also important to keep in mind that the meaning associated with jewelry is not stagnant. 
Alexander exemplifies this idea in their discussion of their own jewelry.
"[It] is a reminder of where I was when I made it. But that's not to say it doesn't grow and evolve as I continue to wear it and change as a person," Alexander said. 
That's one of the beautiful things about jewelry; it grows with us. It may start as being associated with a certain person, but as we move through our days, making mistakes and falling in love and scraping our elbows and bombing a job interview and acing a test and crying into our pillow and petting a neighborhood cat and all the other millions things that make up life, we add and transform and foster new growth in our jewelry. 
Jewelry means something different to every person who wears it. It's complex, and this complexity can be a compelling conversation starter and avenue for self-expression. There's a lot of cool pieces among us, and no doubt a wealth of stories attached to them. If you see a work of jewelry that you love, don't be afraid to share a complement; who knows, you might learn something new and gain a friend in the process.