Contra dancing creates connections on the dance floor
Contra dancing is alive and well at Whitman College after the recent revival of monthly dances held in collaboration with the Walla Walla Friends of Acoustic Music (WWFAM). Hosted on the first Wednesday of every month, contra dancing is an unforgettable part of Whitman history.
Daniel Clark, a founder of the WWFAM, explained that the connection between Whitman and contra dancing began after gloomy winter weather created the need for an indoor space for the dancers to practice to live music. The connection between Whitman and WWFAM grew after the Community Service House hosted a benefit in Reid Ballroom in collaboration with WWFAM. Soon, the success of the charity event caused the dances to grow into a recurring event.  
The pandemic forced the contra dances in Reid Ballroom to come to a pause, but after gathering became safer, students formed the Contra/Folk Dance Club and revived the tradition in December 2022. 
For Anna Feldman, Treasurer of the Contra/Folk Dance Club, part of the excitement of the dances is their beginner-friendly nature. Every contra dance has a caller who calls out each move in succession, meaning dancers don't have to worry about forgetting what to do next. About 40 Whitties have attended each of the past two dances. 
"I like music, and dancing with other people is fun. You can dance without knowing how to do it very well because [the callers] tell you what to do, so it's an easy form of dance to learn," Feldman said. 
Arielle Cooley, Associate Professor of Biology and contra dance caller, described calling as an engaging challenge that adds to the vibrancy of the dance.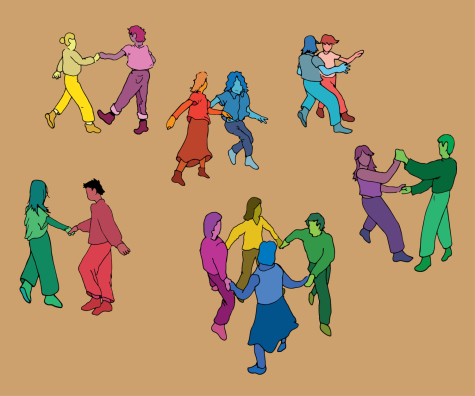 "My job is to teach people the pieces of a dance, then collaborate with the band to pull it all off – they play the music, I call the upcoming steps in time to the music and the dancers take it from there," Cooley said.
At the dance on Feb. 1, student-run folk band Big Joe provided the musical backing for the evening. 
Since the pandemic left many communities with intense feelings of isolation, the social nature of contra dancing can provide respite. 
"Contra dancing is alive, and new dances are being written all the time," Clark said. "It is an evolving tradition and very important to our culture and community building. I look forward to getting people of all backgrounds together on the dance floor." 
Cooley echoed Clark's sentiment, explaining that, for students especially, dancing can act as an important form of stress relief. 
"I love it when science majors try out dance – if nothing else, developing body awareness means breaking less labware in the future," Cooley said. "For any academic, it's the best kind of challenge – very fun, very social and very different from studying." 
The Contra/Folk Dance Club has plans to continue growing and flourishing. 
"I'm really excited about getting some momentum and getting some people that are excited about contra dancing and want to get better at it," Feldman said. 
In the future, the Contra/Folk Dance club and WWFAM plan to revive another Whitman contra tradition by hosting a dance on Ankeny Field open for all to attend. 
"We had several dances for several years out on Ankeny Field for opening week. Those were wonderful; we had a couple hundred Whitman students dancing, and I'd like to revive that in the spring or next fall," Clark said. 
Students hoping to get involved can reach out to the Contra/Folk Dance club, or jump right in by attending the next open Contra Dance in Reid Ballroom on March 1.