GarifunaRobics leads Whitties in an evening of dance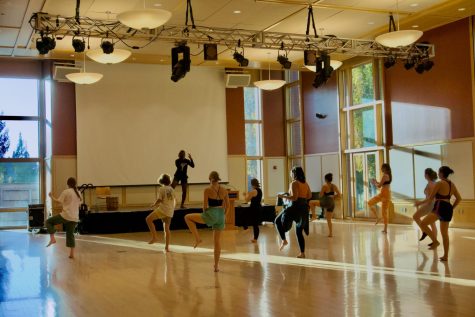 On Oct. 17, Whitman students celebrated Hispanic Heritage Month to the beat of Garifuna music and drums with a visit from some special guests. Whitties were joined by the GarifunaRobics team, who led students in Garifuna dances and shared some important information about Garifuna culture.
Arnol Guity-Martinez is the founder of GarifunaRobics. He, along with drummer Alex Crisanto, came to Whitman to celebrate Hispanic Heritage Month and to spread the Garifuna culture after an invite from the Whitman Events Board. 
Guity-Martinez started GarifunaRobics in April 2018 when he was working for Core Hydration. He would attend a lot of fitness events and started off as a Garifuna dancer in his community, dancing and keeping the culture alive through dance and art. 
"The idea occurred to me when I was going to one specific famous event, and I just envisioned myself teaching a mass crowd of people about Garifuna culture. [Teaching people] its dance and getting a nice workout through it; that's how GarifunaRobics was formed," Guity-Martinez said. 
One of his highlights from the Whitman event was bringing unity to the community and creating a safe space for everyone to just have fun and de-stress. 
Among the participants was sophomore Eyleen Menchú .
"Attending the GarifunaRobics event filled me with a lot of energy. I was able to de-stress by listening to the music," Menchú said.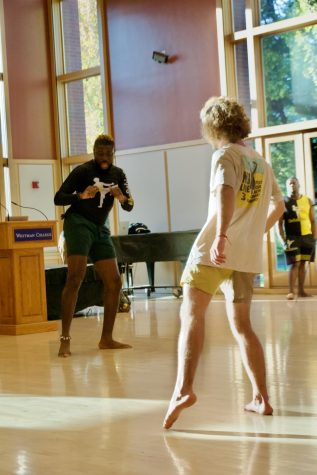 Her key takeaway from the event was that each culture has special elements and traditions to it, and these traditions can bring a group of people together even when they don't necessarily know each other.
"I'm grateful [for] this time [that] we were able to learn a part of the dance and music of the Garifuna culture," Menchú said. 
Sophomore Chiara B. Gómez also joined in on celebrating the Garifuna culture. 
"The event was great. [It was] definitely more of a workout than I thought it was going to be, but the energy of Arnol made it easier to follow," Gómez said. 
Her highlights of the event included connecting with Guity-Martinez, the live drumming and learning from the culture. Gómez enjoyed seeing how engaged all of the participants were and how happy Guity Martinez looked as he was teaching participants the steps.
"Personally, being from Bolivia with Uruguayan parents, Garifuna reminded me a lot of Uruguayan tambores and made me feel closer to home," Gómez said. "It's always very special to me to learn more about Latino culture, and to be able to experience it all the way [out] here in Walla Walla."
The two-hour event ended with a group photo session and some words of advice from Guity-Martinez. If you want to learn more about GarifunaRobics, you can follow them on YouTube or visit their website.