Drop on by Drip Drop dance club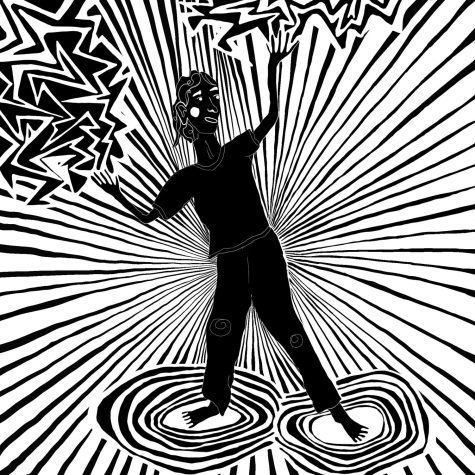 On Friday afternoons in the dance studio, anywhere from two to 20 students can be found dancing in sync to the music played over the speakers. This is Drip Drop dance club: a place where people come together to learn choreography and have a good time. The club is led by Caspian Pimpan and Clarisse Yee.
Drip Drop started several years ago. Junior Caspian Pimpan, a Film & Media Studies major with a Dance minor, joined the club during the first semester of his freshman year in 2019. When one of the senior leaders had to step away, Pimpan took on the role of co-leader. Pimpan added that when the other leader graduated in 2020 and the school shut down for the pandemic, he wasn't hopeful about the future of the club.
"The future of the club was looking pretty bleak," Pimpan said. "But I was able to connect with Clarisse Yee the semester everyone returned and we had plans to revive it, which we did partway through that year… So far we haven't held many sessions this year, but it still is the year we're considering it back in full swing. So far we've had the biggest turnout we've ever had in the club's history!"
Pimpan described the club as a very casual space.
"I know on paper it can seem like a big commitment—anytime you're willing to be vulnerable and potentially be uncomfortable is a commitment in itself," Pimpan said. "But we look at it very much as a 'drop in when you have the time' kind of club."
Pimpan added that even the weeks with only a few members are a different kind of fun because of the intimate practice settings and ability to fit the choreography to each person. He also emphasized that anyone of any level can come, whether alone or with friends.
"If you don't want to come because you don't think you can dance, I will always disagree because I truly believe everyone can dance [and] has that potential," Pimpan said. "I honestly have yet to see a single person in almost four years of running it that hasn't looked great while learning choreography."
Junior BBMB major Clarisse Yee, co-leader of the club, agreed.
"Drip Drop is not a dance team where a group of people learn dances to compete with. We focus more on the teaching and learning aspect when it comes to dancing," Yee said, but added that it would be cool if Whitman also had a competitive dance team.
Yee described the club as an inviting, accepting and open space. 
"I have to say that Drip Drop is a wonderful creative outlet for students of all backgrounds," Yee said. "Whether you grew up dancing or have no experience whatsoever, we invite everyone to come and groove it out with us. We find it important to create a safe space for students to express themselves through their movement and honestly have a fun time just dancing with the people around you to some good music. I promise we play a lot of bangers." 
This year, Yee's goal for Drip Drop is to spread awareness of the small but passionate dance community at Whitman. Yee wants to share her love for hip-hop, breaking and all different types of dance subgenres with the students of Whitman.
Junior English major, hoping to declare a dance minor, Katherine Harris is a longtime member of the club and expressed excitement for new people joining.
"It's so fun… I think that Clarisse and Caspian are really intentional about creating a fun, groovy, really accessible space, so anyone who has any level of dance training or interest in dance can come and just vibe it out," Harris said. "It's just fun to dance… and [to] be in a space where everyone is moving and you're doing it together."
Harris joined Drip Drop at the same time as Pimpan and has attended regularly since joining. She emphasized that even though it might seem intimidating, the club is for everyone.
"I think people, when they think about 'oh, it's a dance club, and you're going to learn choreography…' can get in their head and… not want to go, but it's really fun to see when new people come and try it out," Harris said. "You can take from it whatever you want to bring to it. It's just so low-key, and it's just a fun way to spend a Friday afternoon."
Yee agreed, expressing that there is always something new to learn from every person who shows up, whether they are a dancer or not. Pimpan added that his favorite part of the club was seeing people of all levels come together to work on the choreography. All three students emphasized their love of the community surrounding the club, and Harris reiterated that the club is, above all, fun.
"That's my pitch," Harris said. "I want everyone to come to Drip Drop."
For updates on Drip Drop dance club, they can be found on Instagram @dripdrop.dance.