Chávez entrances audience with turntable performance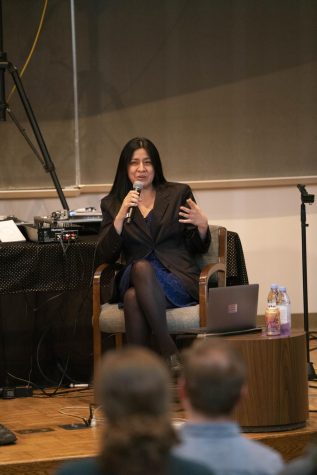 After a three-year sabbatical, artist Maria Chávez returned to the world of public performance by sharing her musical work with the Whitman community on April 6. Chávez has left a profound impact on the college through her three-month gallery display, workshops and willingness to work with students. To wrap up her time in Walla Walla, Chávez shared insights about the book she independently published with her collaborator Riley Hooker and treated audience members to live music.
The work displayed in the Sheehan Gallery is an accumulation of over a decade's worth of work, some of which hasn't been on display since 2013. For Chávez, Whitman granting the space for her work to be presented created new meaning that wasn't possible to garner when viewing the pieces in isolation.
"I always learn something new about my own practice… there is an invisible cohesion that I couldn't understand until I walked through [the gallery]," Chávez said.
Chávez's interdisciplinary talents shine through in her 2012 book that she described as a work in progress. The hole in the center of "Of Technique: Chance Procedures on Turntable" that makes it a playable work of art was just added this year.
"There was an intention we had with the book that we didn't close the loop on until ten years later… things have to exist sometimes for ten years before they talk back, but they always do," Hooker said.
For Hooker, it was important that the book was approachable and interactive. Looking to field guides and how-to manuals for inspiration, everything from the book's size to illustrations is designed with practicality at the forefront, making the art of vinyl more accessible. This simplicity with intention grants readers the opportunity to experience art in a new way.
"It's an inner ear album, it's meant to play with your mind and inner voice… these words are meant to be descriptive to encourage sonic imaginations. As you're imagining the sound, you're performing the album in your mind," Chávez said.
The educational aspect of art shone through when Chávez invited community members who had taken her turntable workshop to perform onstage in between her songs. For Justin Lincoln, art department chair and associate professor of art, this workshop created opportunities to imagine sound in unconventional ways.
"I'm currently working on a catalog essay, and the thing that I'm most interested in in terms of her practice is materiality. There's something similar to a collage and sedimentary layers in geology, you get this kind of multilayering of materials, of sounds, of memories," Lincoln said.
For senior Ryn Goldsmith Zucker, the incorporation of vastly different themes into a singular body of work struck a chord.
"Everything she talked about doing in her life was so unexpected and seemed radically different from one thing to the next," Goldsmith Zucker said. "I really look up to people like that—artistic people who take chances and jump on adventures and embrace failure. She seemed really kind and down-to-earth too."
Chávez's performance required high levels of attention and coordination since it was done on three turntables simultaneously, one of which had a double needle. The layering of records that ranged from self-hypnosis audios to whale sounds created an enchanting and rich work that transported the audience to a new musical world.