Building community and making space: The challenge of finding leadership for affinity groups on campus
Each semester, Whitman boasts a colorful club fair, with students standing at booths showing off posters and offering candy in the hopes of attracting new members. Among these clubs, many of them are intercultural clubs and affinity groups—clubs designed for students of different identities to connect with other students who share their background. However, one cannot have a club without leadership.
Sophomore Lydia Moriku is a belonging and support inclusion fellow with the Intercultural Center, working with intercultural clubs and affinity groups. Right now, her main focus is in recruiting leadership for inactive clubs and affinity groups.
So far, Moriku says she has brought back several inactive clubs, including the FGWC club, the Men of Color Association and Women in STEM. Right now, she's working on finding leadership for FACE, Feminists Advocating for Change and Empowerment.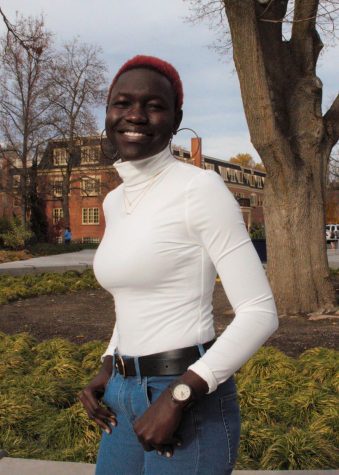 To find leaders, Moriku said that she creates Google Form applications, listing available leadership roles and asking students why they're interested in leading the club and what leadership experience they have. After she gets the applications back, depending on the situation, there might be an election, or positions might be filled on first-come, first-serve basis, or—in the case of one club—there might be more leadership positions created based on the people interested.
Moriku herself currently leads several clubs, acting as the vice president of the Black Student Union and the Whitman African Students Association (BSU & WASA), as well as the co-president of the Global Whitties Club.
"I'm a person who finds my space in clubs—without it I don't think I would be able to do anything," Moriku said. "That's where I made my friends, that's the time I at least get out of my books and think of something different."
Moriku hopes that her work in bringing back more affinity groups and intercultural clubs will allow other students to feel the same way. She also added that she wishes more people knew about the work going on in the Intercultural Center.
"I feel like we're doing so much but nobody knows about us on campus," Moriku said. "We are trying to see how we can solve that problem, because I feel the program itself is really good—it's helping students, especially international students, and maybe minority students encompassed, find space."
Angel Baikakedi, a sophomore economics major, currently works alongside Moriku as the BSU & WASA President. Baikakedi explained that she was part of both clubs last year and applied last spring almost on a whim, but after considering it more, felt like it was something she was serious about.
"I thought about [it] more, and it seemed like something I'd really be interested in continuing, especially since the past leadership was already doing such a great job, and I really just wanted to try and follow in their footsteps and try and make the club as community-driven as possible," Baikakedi said.
Baikakedi explained that because she was a first-year last year, she wasn't super involved behind the scenes even though she showed up to most of the meetings. This year, she explained, it's been difficult to find her footing and figure out what is best for the clubs. However, Baikakedi added that it's been fulfilling to be able to see the community grow.
"[It's been fulfilling] just seeing people come together after the whole online experience that we've had, seeing the incoming first-years as well build that community among themselves, and—I don't want to say mentoring, but just being there for them, just knowing that there's someone they can come to," Baikakedi said.
Sueli Gwiazdowski, a junior rhetoric, writing, and public discourse major, also explained that community is one of the most fulfilling parts of leading an affinity group for them. Gwiazdowski founded DISCO, The Disability and Difference Community, in 2020, and is the current president.
Gwiazdowski explained that while they were a student at Walla Walla Community College, they noticed a lack of community spaces for Disabled students, so they started their own club. After transferring to Whitman as an incoming sophomore, Gwiazdowski said they found the same issue.
"Upon realizing there was a similar lack of an affinity group for Disabled students at Whitman, I knew I had to move forward with starting up another space by and for Disabled young adults," Gwiazdowski wrote in an email to The Wire.
Gwiazdowski added that the first challenge was to find enough people to act as officers, as there is a required number of leadership positions that need to be filled in order to start an affinity group. Gwiazdowski said she found her fellow officers organically, meeting Heidi Adolphsen through the debate team and Ken Fritzell through Greek life, both of whom were enthusiastic about starting the club.
Since this school year started, Gwiazdowski said that DISCO has only grown in size. The club was also able to partner with the Academic Resource Center and the Career and Community Engagement Center to bring a representative from the Northwest Americans with Disabilities Act center to have a conversation about disability rights in the workforce.
"Knowing that I was able to help bring a conversation like that to Whitman is incredibly special and heartwarming," Gwiazdowski wrote.
Gwiazdowski, like Baikakedi and Moriku, felt that building a community is one of the most important aspects of an affinity group.
"I have been incredibly fulfilled in my role as both a member and president in the group—having a space like DISCO on campus means there is always a group of folks I can count on for community, relatability, and solidarity in the face of accessibility issues both across Whitman's campus and the greater Walla Walla community," Gwiazdowski wrote.
It's clear that no matter the obstacles, affinity groups on campus are crucial in providing spaces for students to find community and make a difference.
Angel Baikakedi is an opinion columnist with The Wire.