'Wintertime' explores sexuality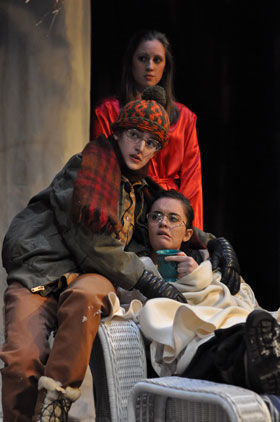 This "story of love," as it calls itself, opens on a country house in the woods. Snow falls. Opera music swells. Enter a young couple, Jonathan (senior Peter Richards) and Ariel (sophomore Morgan Patton), who have retreated to the house in order to spend time together, alone: until they discover that Jonathan's mother, Maria (junior Tillie Gottlieb) and her lover Francois (sophomore Thomas Knook) are already there. They are joined shortly by a host of other characters, including Jonathan's father, Frank (sophomore David Otten), and his lover Edmund (senior Alex Cassidy), Bertha (sophomore Justis Phillips) and Hilda (first-year Ryan Campeau), a neighboring lesbian couple, Bob (junior Ben Moore), the delivery man/substitute deacon, and Dr. Jaqueline Benoit (sophomore Michaela Gianotti). Hilarity: heartbreaking, disastrous, poetic hilarity: ensues.
Charles Mee's "Wintertime" depicts relationships across the spectra of age and sexual preference. As the play sees it, love is rife with contradictions. It is both torture and bliss. It is both intense and fickle. Devotion is said to be undying, yet turns to loathing in an instant. It is the impetus behind weak promises, prone to setting up unmet expectations. Proclamations are made sincerely and hastily.
"My heart belongs to you," Maria reassures a miffed Francois, before admitting that she continues to sleep with Frank, but "only on Friday nights."
The play combines the harshness of reality with the dreamlike, drawing upon elements of song and dance to portray frank content. The dialogue is lyrical, simultaneously earnest and abstract.
"This is America," says Jonathan. "We are a plainspeaking people."
And speak plainly they do: the characters speak bluntly yet beautifully about their feelings, without inhibition or fear of cliché, but remarkably, they still manage to misunderstand one another. Jealousy consumes the characters. Fits of rage are prevalent, illustrated by physical sequences that resemble dances in their narrative and emotional expressiveness. A door is opened only to be slammed, opened, walked through and slammed again. Jonathan repeatedly runs face first into a tree. Dishes and CDs are hurled across the stage. Memories are burned. Characters borrow words, sometimes whole monologues, from each other. Characters appear and disappear; there is no clearly designated exit or entrance onstage.
The acting is vibrant, at times frenetic. Each cast member gives an admirable performance. Especially remarkable is the sight of Knook as Francois, who towers over the other actors in a leopard-print robe, sheer tank top and tight red briefs, cutting a figure both comedic and imposing.
"Wintertime" is full of moments of touching clarity and mischievous surprises (a striptease, for instance, or a funeral that ends in fireworks). Don't miss it.
"Wintertime" is directed by Visiting Assistant Professor of Theater Jessica Cerullo. Set design by Associate Professor of Theater Thomas Hines. Lighting design by junior Raisa Stebbins. Properties design by sophomore Minnie Cluff.  Sound design by sophomore Charlie O'Rourke. Costume design by senior Kelsey Yuhara.  Stage managing by junior Nina Trotto. The show runs through April 18.