"Do You Think About Me, Too?" explores ghosts, grief and online theatre
Ghosts, grief and good intentions were three prominent themes in senior theatre majors Eva Sullivan and Oriana Golden's thesis performance of "Do You Think About Me, Too?"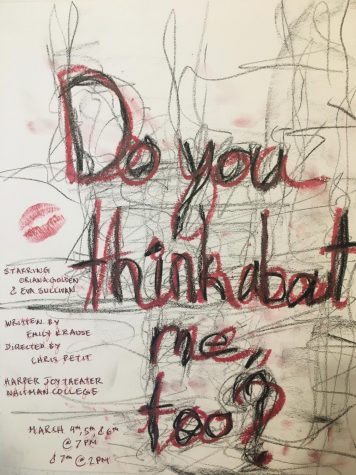 This last weekend, from Thursday, March 4 to 7, the senior theatre majors and their crew — which included audio and video design producer, junior Alyx Kruger; stage manager, sophomore Jaime Fields; stage/Zoom artists, senior Grace Sanwald and junior Taylor Kolkemo — presented their hard work in producing a virtually written, rehearsed and performed play.
The play followed Sullivan's character, a woman distressed from being haunted by a deceased close mutual friend of hers, and Golden's character, an eccentric paranormal researcher and radio host who attempts to free the spirit attached to Sullivan.
The seniors worked with Brooklyn-based playwright and Whitman alumna Emily Krause, who graduated in 2015. Writing the play was a collaborative process between Krause, Sullivan and Golden, and took about a month and a half. The seniors prepared and rehearsed the play over the course of the month of February and leading into March. 
The team was aware of the fact that all preparation, rehearsal and performance would happen over Zoom. When Sullivan heard her senior thesis would be over Zoom, she found the prospect "terrifying." 
Professor of Theater and director of the production, Christopher Petit, found the list of obstacles involved in preparing a play for production over Zoom to be staggering. 
"Actors in different rooms, the inability to overlap sound, clunky zoom transitions, unstable internet… pretty much everything was an obstacle," Petit said. 
Furthermore, Kruger — the audio and video design producer — believes that theater heavily relies on a strong intimacy between actors and crew members, and that the development of this intimacy was confounded by the Zoom format of performance and rehearsal.
"Even if you have to drag your butt to rehearsal, once you're there and you have real people in the room, your energies can feed off each other and you feel like you're making real connections," Kruger said. 
Theater also heavily relies on actors reacting to the minute emotive responses of their peers. Kruger found that such tenets to a successful performance were complicated by Zoom. For example, Kruger reported that Golden and Sullivan couldn't see each other for half of the play. 
So, a lot of their collaboration had to happen aurally. Sullivan said that she had to be listening intently, every second of the play. She and Golden would listen to audio cues that would signal transitions between scenes and gauge their desired emotive response. 
Their ability to problem-solve helped the team feel well-prepared for the host of obstacles presented by a Zoom performance.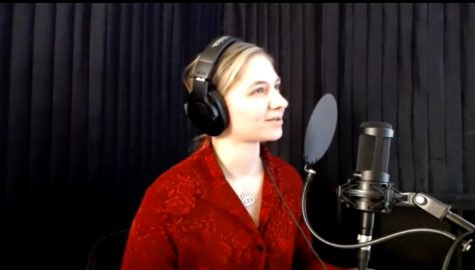 "One of the main tenets of making theater (and perhaps of living life) is that obstacles are necessary and that the effort required to overcome them, inevitably, will lead to new opportunities," Petit said.
The students and faculty involved were relieved to finally be practicing their art. Despite the challenges posed by the format, they found the ability to perform grounding.
"All I wanted to do was create something that was a legitimate performance — that was live [and] that still felt like theater. Something that people could see live and I could connect the audience with," Sullivan said. 
Sullivan feels like she achieved this goal and then some. Kruger found that Zoom also presented a newfound accessibility to their play; they could see the numbers of audience members ticking up as they prepared to perform. 
Sullivan feels that connection to a performance's audience is a lot of the reason why she became a Theater major. Kruger also found the newfound accessibility and audience engagement to be uplifting. Through the performance of "Do You Think About Me, Too?" the community was able to remain connected through the creativity and ingenuity of the cast and crew.