Whitman students and TikTok: The pop culture report
Mo Dow, A&E Reporter
October 29, 2020
In a socially distant world, many people are turning to social media for connection and community-building.
In recent months, young people have been turning to the video sharing and editing app TikTok.
Whitman has its own thriving TikTok scene, and a few of its members have found a wide audience on the platform. Oriana Golden, a senior theater major, has a large account. She mostly posts her cosplays. She believes that TikTok is uniquely well suited for her projects. Because the pandemic has largely eliminated all the conventions and events that cosplayers attend, it's been difficult to share the work she's been doing, and TikTok has been her primary outlet. 
"Things like TikTok are good because they provide you the chance to connect with other cosplayers, and people who do the same stuff as you," she says. 
But even though the platform has allowed her to find connections in difficult times, she says there is still a lot of stigma around TikTok. 
"Despite the fact that there is this sort of, cringy association with TikTok, it's still a great platform for creating content… It's a lot of fun actually."
Another student, Kyle Dygert, a sophomore, also echoes the importance of social media and TikTok, especially in creating a sense of community during the pandemic. 
"I think it's a place for Gen Z to fully express themselves without interference, and I've met some great people on there during quarantine," Dygert said. 
Sienna Axe, a junior, had a somewhat different experience with the platform. She made a video that reached a view count in the millions. However, instead of turning to TikTok to seek connection in isolation, Axe found herself pulling away from it. 
"What made making TikToks so fun was that we were making them together — then quarantine started and I didn't have any friends there. It just wasn't as fun, and it wasn't as easy to come up with ideas. I open TikTok maybe once every two weeks, that's pretty much it at this point."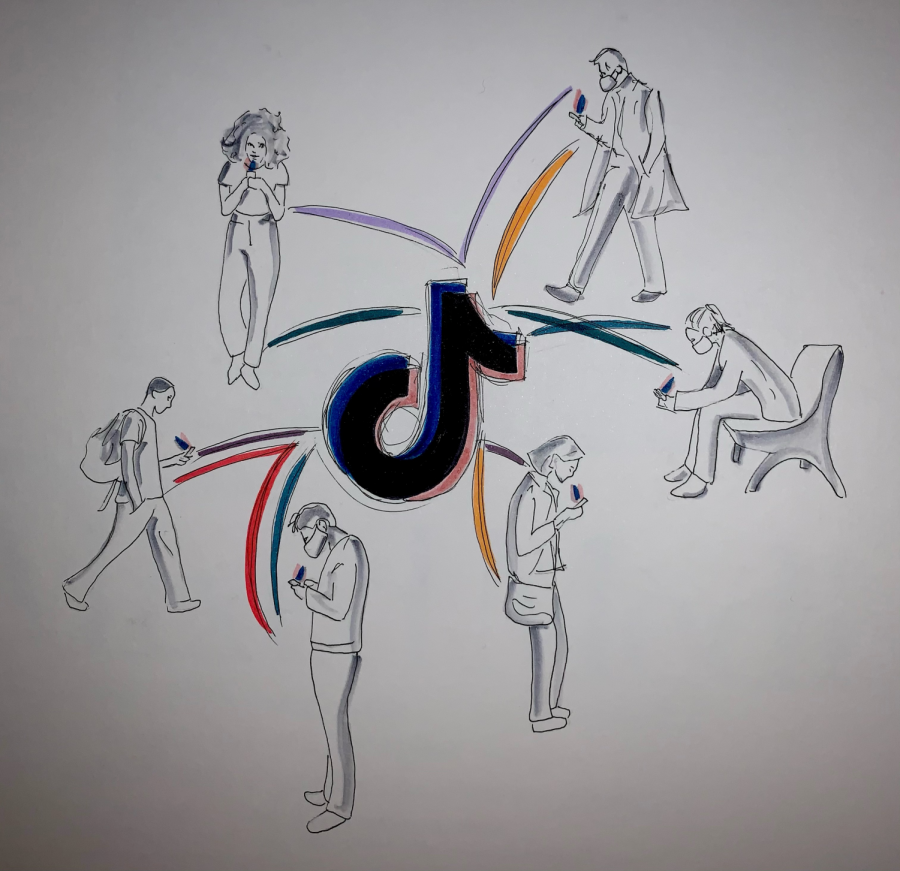 However, she still finds a lot of value in social media as a tool for maintaining social relationships. She says that even though our world is more interconnected than ever, actually reaching out has gotten more and more difficult.
"The one thing that is hard — you know, younger people won't really call each other on the phone, or texting someone you don't know that well individually outside of a group chat setting can even be weird. I think that social media, TikTok or not — it's like 'here's something I'm offering up'. It's very freeing, it's like I can reply to this, and I'm happy to hear from you, but I don't have to, and I especially don't have to right now." 
Although TikTok doesn't necessarily play a significantly different role than other social media, it is a medium that distinguishes itself from other everyday apps. This is in part due to the controversy surrounding the app — both with its reputation as a tool for Chinese data mining, and President Trump's attempts to ban the app.
But Axe says it doesn't bother her too much and doesn't think there is much of a difference between the data mining that TikTok does and the standard set by many other social media apps.
"We all still have Facebook… The government knows who I am, China knows who I am. I wish they didn't have all this information, but the damage is already done."
Whatever you think about it, the app has become a fact of life for a lot of young adults, and with social media playing an increasingly important aspect of isolated life, it's worth considering the risks and benefits of this new technological and social sphere.