The Little Theatre hosts outdoor series of classic radio plays
The Little Theatre of Walla Walla is determined to prove that the theatre can still be a place for entertainment and connection. With both the audience and performers safely social distanced and masks mandatory, the theater is in the middle of presenting The Little Theatre Radio Hour — Alfresco.
Beginning on Sept 5 and continuing until Oct 4, the Little Theatre has been presenting a different radio show twice each weekend, with actors standing apart on a stage, reading into microphones, and complete with someone doing live sound effects.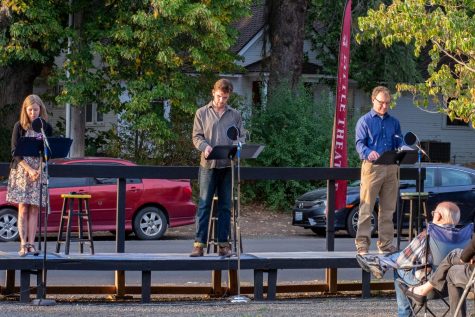 According to Mikki Jones, the Managing Director of the Little Theatre, this year is the theater's 75th anniversary season. As such, the people at Little Theatre wanted to be able to do some sort of event, even though they were forced to cancel all of their upcoming shows due to the pandemic.
"We've just been thinking, and as a team we wanted to say, 'what can we do to be a benefit to the community, to just give back,' because it's such a hard season," said Jones.
According to Jones, the Little Theatre worked with the Health Department to make sure that they could put on an outside show that would be safe for the community. Not is the event outside, but the audience members are seated in pods and are required to bring their own seating. This way, those involved with the Little Theatre were able to have a production to work on while staying safe.
"It's a great way for all of the people who have been involved with the Little Theatre to come and… be a part of it," said Jones.
At the start of the process, the theatre reached out to directors, who then in turn reached out to actors that they were interested in working with or thought might be good for a part — due to COVID-19 restrictions, it was impossible to do any sort of in-person audition process. 
One of the directors was Douglas Carlson, a retired Whitman bookstore employee who has been directing with Little Theatre for about 30 years. According to Carlson, the theatre found a selection of radio plays, and he picked the show he wanted to direct out of those.
"The one I selected was "Rebecca," which is the Du Maurier mystery/romance… it's a longer, hour-long piece and a little more dramatic, so that appealed to me," explained Carlson, adding that he thought his actors would be able to have fun with it.
Carlson also explained that this process was very different from the usual directorial process — they only had a few rehearsals, and because the cast did not have to memorize their lines, there was a lot more space to jump straight into character work and development.
"I said, 'think about them, play with them; explore different voices, different moods — [be] trying to get a sense of what's possible with your character rather than coming to it with a preconceived notion,'" said Carlson, explaining that he encouraged his actors to experiment with how they approached their characters.
Even though this show is not like the ones the theatre traditionally does, tickets have been selling well. However, with the audience members as spread out as they are, it does not have the same energy as a normal show. According to Daniel Rose, a performer with the Little Theatre, this made it a bit harder to read the audience like he was used to.
"I feel like I connected as best you could under the circumstances. It was interesting — I had a lot of fun… but I do think that it was unusual because you didn't get to see the full extent of how people were feeling because you're so used to seeing facial expressions," said Rose. "I guess during the pandemic we sort of kind of get used to showing expression and emotion through different ways, and we're continuing to learn that, but it's been a process."
However, Rose felt that it was still a rewarding experience to be able to interact with a live audience.
"Compared to… getting really used to having conversations via screen, it was a breath of fresh air to be able to have a conversation, even if it was theatrical, with people, in person, at a safe distance," said Rose.
There are two more weekends left of the show, and Mikki Jones would like to encourage anyone who is in Walla Walla to come. She recommends getting a reservation but adds that some people miss theirs, so those who just show up might still have a chance at getting a pod.
"We're excited to be able to present [these shows] and to give them for free to the community…  it's a great opportunity," said Jones.
Reservations may be made online at https://www.ltww.org/radiohour.