Chastity Belt and Reptaliens in review
Four Whitman alumni returned to campus on Saturday, but they weren't here for a reunion. They returned as Chastity Belt, a Seattle-based indie rock band with the intent to illuminate Reid Ballroom.
Before Chastity Belt took the stage around 8 p.m., the Reptaliens – another indie rock band – played an opening set. 
Each band played for about an hour, and Reid Ballroom filled up slowly throughout the night.
"I don't go to that many WEB shows, but I had a great time," senior Michael Margolies said. "I knew both Reptaliens and Chastity Belt, and I think that was definitely a big pull for me to come out. Reptaliens sent a CD to Kdub my freshman year, and that's how I discovered them."
The Portland-based band Reptaliens have released two full-length albums, most recently "Valis" in 2019. They devoted the first half of their set to playing their newer material and then finished out with songs from their 2017 album "FM-2030." 
Harrison Durant '18 particularly enjoyed Reptaliens' high energy level and wacky costumes. 
"I thought it was a great choice of performers for WEB to bring. I was definitely excited to see both bands, but Reptaliens surprised me the most; I thought their stage presence was over the top," Durant said. "The rhythm guitarist came out at the beginning dressed as a lizard and Heaven's Gate recordings played over the PAs, which was some good stuff." 
Inspired by cult mentality – hence the grainy, trance-inducing Heaven's Gate speeches – and science fiction, Reptaliens certainly conveyed their ambient, dreamlike sound to the audience. 
Margolies – who has his own band on campus with Durant – appreciated the sense of community that music shows facilitate. 
"At these shows, you can usually find the opportunity to chat with some of the artists afterwards," Margolies said. "I got to talk to Reptaliens afterwards about music, and that was very fun." 
Chastity Belt followed the Reptaliens with a set of chill indie tunes.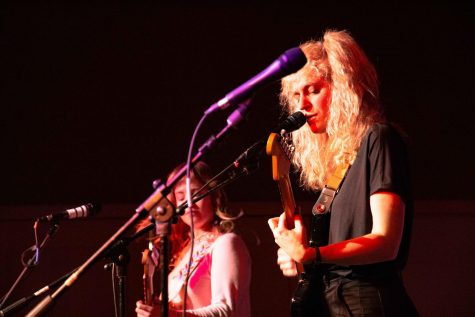 Band members and '12 Whitman alumni – singer Julie Shapiro, bassist Annie Truscott, guitarist Lydia Lund and drummer Gretchen Grimm – returned to their alma mater, cracking jokes about past Whitman traditions in between songs, such as Prentiss brunch and TKE's infamous space and foam-themed parties. 
"It was cool to see Whitman alumni come back and play some music," senior Erin Lee said.   
Having enjoyed considerable success post-Whitman, Chastity Belt came full circle as they returned to the place where they formed their band ten years ago. 
However, some thought the performance was a bit slow. 
"With Chastity Belt, I felt like I knew what to expect just having heard more of their music, but I wished they had a little more energy," Durant said. "It was really exciting to see them, but there was a weird atmosphere, and that's partly just the Reid Ballroom. It's a weird space to see performers." 
With limited indoor venues, Whitman does not seem to have a space where artists feel completely comfortable performing. The Reid Ballroom was at most filled to half capacity, which is also in part due to the fact that WEB concerts are only open to Whitman students. 
Despite these criticisms, the concert was a great showcase of PNW talent, and the effort that WEB put into organizing the event was much appreciated.