"MMMM" sees new worlds through dance
What do a thrumming neon club scene, a poetic and ritualistic transformation and a heartfelt exploration of personal desire have in common? The answer — at least at Whitman — is "MMMM," this year's annual dance concert.
Last weekend, Nov. 14-17, "MMMM" took over Harper Joy's Freimann Studio Theatre. This year's three pieces were choreographed by Associate Professor Dance Renée Archibald and Senior Adjunct Assistant Professor of Dance Peter de Grasse, along with this year's special guest artist, New York-based dancer and poet jess pretty.
The first piece in the concert, "dreamescapes," choreographed by jess pretty, began before the show even officially started, with theatergoers walking in to find music already playing and dancers dressed in neon already dancing to club-like music, weaving back and forth around six partially-translucent shower curtains hanging from the ceiling.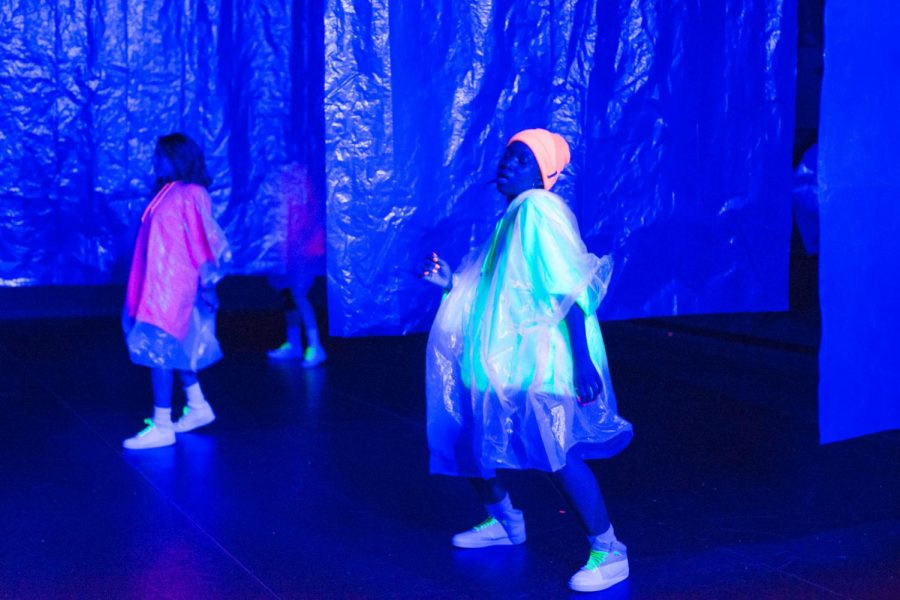 pretty said that the curtains came from the first time she performed the piece, when it was a solo.
"The original thought process behind having curtains (which were clear for the first time I did this) was that they would alter my image … the curtains provided a dreamy alternative that also turns into a haunting/scary/animalistic alternative," pretty said. 
pretty said that working on the piece with Whitman student dancers — sophomore Grace Fashanu, first-year Neave Fleming, senior Jess Rodriguez and sophomore Tasia Wu — has helped it develop further beyond when it was a solo.
"The more they stepped into the piece, the more they asked about it, dreamed aloud about it, and it taught me so much because I've only ever been inside of it," pretty said. "So to see this transition from these beauties going from outside to deep deep inside of the practice, I was able to take notes on the journey and really see where they were coming from and it was wonderful." 
The second piece, titled "…is a cage is a cube is a line is a cloud.", was choreographed by de Grasse and depicted rituals and transformations, simultaneously abstract and character-driven. According to de Grasse, much of the piece was influenced by the student performers in it.
"There was no template prior to the cast. Or there was, but it failed. Everything came with them, after them. I had ideas before I cast the four of them. Once the cast was clear, I threw it all out," de Grasse said. "Anika [Vucicevic], Chloe [Hood], Ella [Meyers], and Sunshine [Alvarez De Silva], just by being who they are, suggested something entirely different than what was planned."
Much of the piece revolved around a poem by sophomore Sunshine Alvarez De Silva, which he wrote specifically for the dance.
"[T]he poem was written about the notebook that I held at some point in the piece. It generally applies to most of my small notebooks because they are the places where I store a lot of my thoughts," Alvarez De Silva said, "and they do feel like 'spells unfit for conjuring,' both the emotions I feel in other people and some supernatural thing. I think it informed a bit of what we were doing, working with magic with ritual, and through it have a better sense of what could be."
Some of the other inspiration for the piece came from necessity and adaptation. de Grasse said that initially, he had planned for seven dancers, each of which would be assigned their own costume designer. When five performers walked away, de Grasse decided to include three on-stage costume changes in order to include all of the costumes designed. This ended up being the inspiration for the piece's ritualistic tone
"In the end, the question was how do we support three on-stage costume changes dramaturgically?" de Grasse said. "Ritual would be one way to start. Necessity is the mother of invention, right?"
de Grasse hopes that audiences were moved by the piece in whatever way is personal to them.
"A theater is an entirely artificial space, where we can create whatever we want, control light, time, human events. So why would we do that? Well, maybe I feel strange. And maybe I feel strange because the actual experience of being in my skin doesn't seem to relate at all to this constructed, social reality," de Grasse said. "So then what happens if I construct a world where the actual experience of being in my skin takes primacy, and the social reality is constructed around that?  Maybe that's what we are trying to do. And it makes for a wild, inscrutable, sensorial world, a dream world."
"What you get from that world intellectually, emotionally, is so much up to you," he added. "But I always hope that the audience can be ready receive it…and I hope that the performers can be ready to deliver it. And I do my best to create conditions which hopefully make it all more likely to occur."
The third and final piece, "like a dragon", choreographed by Archibald, centered around a main theme of pleasure and involved the performers — sophomore Micah Asuncion, junior Zoë Hill, junior Nidhi Jaltare and first-year Anastasha Belle — sharing their own personal desires.
For Archibald, the exploration of the theme of pleasure began with a dive into cliché, from the use of Beethoven's Moonlight Sonata because "it makes me groan whenever I hear it," to movements she would consider "guilty pleasures."
"[I thought] about certain movements that I always found pleasurable as a young student and even now: sliding across the floor, handstands, audible breath, etc., but that I likely resist using in my choreography for one reason or another," Archibald said. "So I was interested in how movements that I have over time begun to think of cliche were somewhat guilty pleasures…I wanted to try to use 'found'/'known' and perhaps overused movement vocabulary."
Archibald says that the microphone into which performers shared their own desires — one of the main center-points of the piece — was not originally intended to be used as it was.
"I led improvisations to develop movement materials that the dancers generated. One of these improvisations was simply that we moved and spoke simultaneously using the statement 'I want ___' and we videoed these," Archibald said. "I thought I would be watching it for movement, but I ended up transcribing the text and using the text as a guide for what movement we made, and then I used the text overlaid with various movement materials."
Archibald hopes that audiences can see both the performers and themselves more clearly through the lens of the piece.
"I hope they can laugh, and see themselves in the work. I hope they can see these beautiful students who grapple with various vulnerabilities and shields that are put up in their lives, and in performance," Archibald said. "That's what I'm grappling with: which shields can I drop, why have I put them up? Humor is one of my shields, and I suppose I am trying to understand what it is protecting me from."