Every Brilliant Thing Brings Real-life Issues to the Stage
Walla Walla community members and Whitman students filed into Gesa Powerhouse Theatre this past weekend, Sept. 29 – Oct. 1, to experience the interactive and formative play, "Every Brilliant Thing."
Directed by Nancy Simon and performed by Kevin Loomer, the one-act, one-actor play focuses on a boy who begins to write down a list of "brilliant things" after his mother attempts suicide. The audience follows the boy throughout his life as he struggles to reconcile with the imprint his mother's depression has left on him.
Actively partaking in his coping process, the audience was asked to read "Brilliant Things" from note cards they were given before the show, adding to the boy's list of things that make life worth living.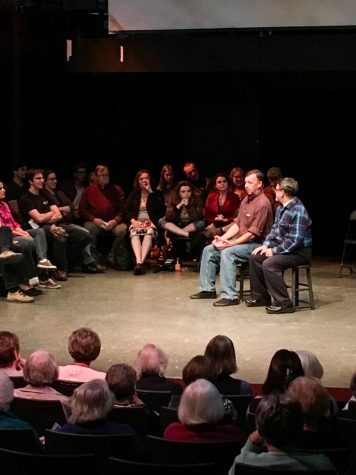 The show created an intimate space. Many audience members were seated onstage in the middle of the action, while others actively participated in the show and were asked to assume roles such as the main character's father, girlfriend and therapist.
To senior Robby Boyer, who attended the performance, the varying personalities and responses of those asked to participate cultivated a unique experience.
"For me, it was not at all too heavy," Boyer said. "It was a lot of fun, and I think the audience participated really well. There was a good energy and there wasn't any awkwardness that goes with it."
The varying personalities of and the responses given by audience members cultivated a different experience with each performance. Ultimately, no two renditions were the same.
Since the play revolves around the themes of depression and suicide, one would expect it to instill heavy, emotional feelings in audience members. Instead, "Every Brilliant Thing" balanced those heavy topics with comedic relief in a way that filled the house with laughter. It was this stabilization that allowed senior Grace Pyles to deem the play a success.
"It was a perfect balance," Pyles said. "Personally, I tend to think that the only way you can really make either comedy or heaviness effective is to pair them with each other, and I think [the play] did a great job with that."
Simon and Loomer said they expect the play to create a "light air" that would render the subject matter approachable.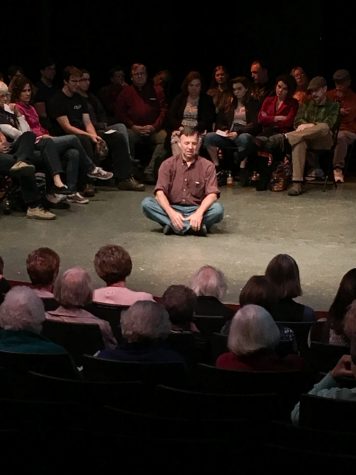 "Suicide and depression are heavy topics, but the goal is for people to recognize that these themes can be talked about," Loomer said.
These themes are not abstract, distant topics either–they are closely tied to relevant matters in Walla Walla. Simon expects the play to give the audience an optimistic outlook on such concerns.
"Walla Walla has an unusually high suicide rate," Simon said. "Hopefully the play allows us to come together in a way which is both joyful and uplifting–to talk about a difficult subject."
The sincere and charged meanings produced by "Every Brilliant Thing" made this play impossible for Simon to pass up when she was deciding whether or not to direct it. She was beyond satisfied to direct what she considers to be an excellent piece of theatre.
"Good theatre is a gift to the audience and changes us in some way, gives us an emotional release and asks us to reconsider," Simon said. "I love directing because you get to partake in all of the aspects of theatre, providing a space                                                                                             and opportunity for a community of artists to work at their                                                                                      highest level to bring a wonderful present to the audience."