The Festival Experience
Despite pricey tickets and long drives, music festivals are sought-after destinations. People jump through hoops to get in and stay in, and Whitman students are no exception.
This summer, Merone Hadush attended Paradiso Festival, an electronic dance music festival held at the Gorge Amphitheater in George, Wash.
"I knew the moment [the tickets] came on sale and was tracking them," Hadush said. "As soon as I started my job and got my first paycheck, it was the first thing I bought."
Hadush and her friends arrived at the festival to find it even more stimulating and exhilarating than she had imagined.
"The atmosphere is wild," Hadush said. "People wear practically nothing and everyone's in a great mood. It's a really good time."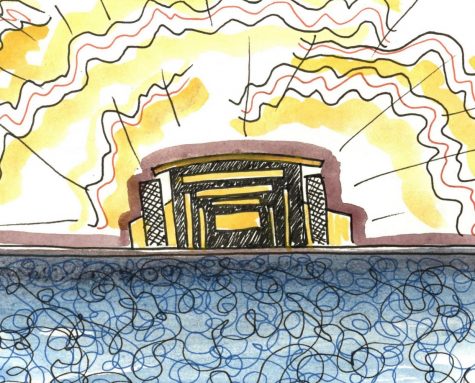 Nowadays, people go just as much to meet people and for the benefit of a few Instagram shots as they do for the music.
"I love listening to really loud music and just dancing, but it's also that 25,000 other people are with you," Hadush said. "You meet the most interesting people."
The festival scene is a wild weekend getaway. Surrounded by friends and strangers who are soon-to-be-friends, the euphoric experience festival goers experience transcends any problems they may have been dealing with in everyday life.
What people do not anticipate however, is the exhaustion that sets in after the first day and the unbearable heat and dehydration that comes with long water refill station lines. Hadush even witnessed someone fainting from the heat.
Yet festival goers come back year after year sporting flower crowns and rave gear, part of music festival culture once again. They go to great lengths to show how hyped up this culture has become.
Ann Karneus secured her ticket at the last ever Pemberton Music Festival by becoming a volunteer. She spent two days following the festival with a trash picker in one hand and a garbage bag in the other.
"I was really sick and it was raining," Karneus said. "We had to go through and clean up every single campsite, and you wouldn't believe what people leave behind."
Nevertheless, the overall experience overshadowed the drawbacks Karneus experienced.
"It was worth it," Karneus said. "It's just like sensory overload for four days straight so I wasn't expecting to get that tired. But I met so many cool people, and once you get there you don't leave, so it's a nice time to get away."
Charlie Schneider, who attended Bonnaroo Music Festival in Tennessee, experienced similar sensations. The two-day drive from Colorado didn't dampen the mood.
"When we got there, we ended up waiting in a line of cars all night to finally get our camping spot at 5 a.m. without having slept," Schneider said. "I can't say it wasn't a lot of work and very tiring, but it was so unlike anything I'd ever done before."
While the stages eventually go silent and festival goers head home to shower away the layers of sweat and dust, the great memories of an unforgettable experience linger.