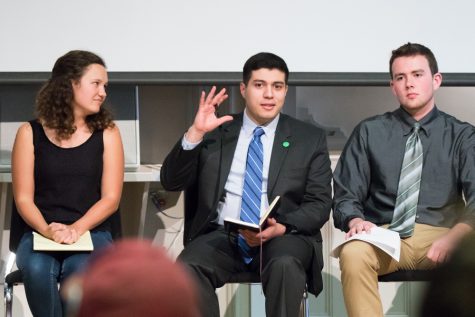 Mitchell Smith, Editor in Chief
April 13, 2017
Filed under ASWC, Front Page Slideshow, NEWS
A new era has dawned on the ASWC Executive Council. Tuesday, April 11, EC election results were certified and announced by the ASWC Oversight Committee. AnnaMarie McCorvie will be next year's President, Emily Bowen will serve as Vice President, Chris Meabe will handle the budget as Finance Chair a...
POLLS
Loading ...
SPORTS SCORES
Sunday, April 16

Men's tennis

Whitman College 8 - Pacific University 1

Saturday, April 15

Baseball

Whitman College 2 - Linfield 7

Saturday, April 15

Baseball

Whitman College 1 - Linfield 4

Saturday, April 15

Women's lacrosse

Whitman College 15 - Linfield 5

Saturday, April 15

Men's tennis

Whitman College 9 - George Fox University 0

Friday, April 14

Baseball

Whitman College 3 - Linfield 12

Friday, April 14

Women's lacrosse

Whitman College 16 - University of Puget Sound 5

Sunday, April 9

Women's tennis

Whitman College 8 - Pacific Lutheran University 1

Saturday, April 8

Women's tennis

Whitman College 9 - University of Puget Sound 0

Monday, March 27

Baseball

Whitman College 3 - No. 18 Pacific Lutheran University 10