Students Print With Studio Articolore
In a town full of tasting room gallery hybrids and coffee shop showcases, the printmaking gallery Studio Articolore sets itself apart. Entering into its second year, Studio Articolore has planted its roots wide and deep through community engagement within Walla Walla.
For co-owner Ann-Marie Cunningham, uniqueness was an important component in developing the gallery amidst a rise in downtown development in 2012 when she first moved to Walla Walla.
"I didn't want to compete with anything that was already established or was in [the process of] establishing. Finding that niche takes a lot of research, exploration and some bumps and grinds," Cunningham said.
As such, Studio Articolore operates not only as a gallery, but as a studio and workshop space. Cunningham calls this multipurpose space a trifold, one that offers a variety of opportunities for Walla Walla to engage in the practice of printmaking.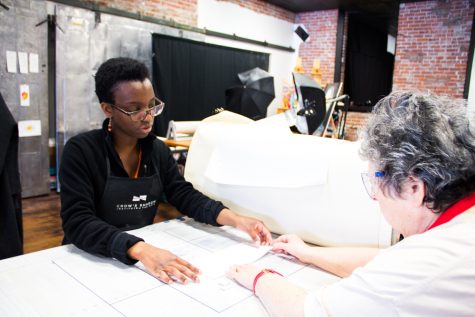 Samarah Uribe
Art education is one such opportunity. This semester, Cunningham offered two workshops on printmaking techniques for the Quest Program, a Walla Walla Community College program designed for retirees who want to continue learning after retirement. Dorothy Mukasa '19 co-leads the workshops as part of her communication-focused internship at Studio Articolore, titled "Interactive."
However, before her internship, Mukasa had no prior experience in printmaking. As such, Mukasa first took on the role of student to learn the printmaking techniques, taught in the workshops from Cunningham herself. But, even in this role, Cunningham emphasized that an exchange of ideas was more important than hierarchy.
"My supervisor [Cunningham] believes in… a learning helix. It's this idea that not only am I learning from her, but she believes that I should also be teaching her what I know. This was really helpful because it allowed me to explore and always ask questions," Mukasa said.
This type of learning influenced how Mukasa approached communicating printmaking techniques to the participants of the workshop.
"It really disrupts this idea [that] you have to be older to be a teacher. It's a really cool notion that I can help anyone at anytime [despite age and experience]. It's not about knowing more, but really sharing that knowledge and letting people do what they want with that," Mukasa said.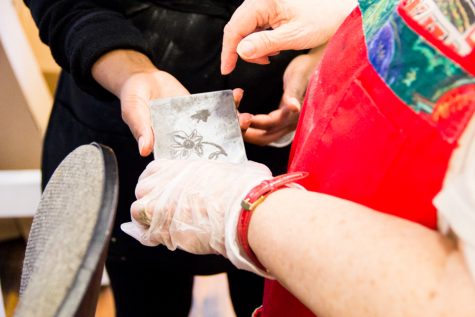 Samarah Uribe
As such, the internships themselves offer learning opportunities and job exposure for students during or after their undergraduate studies.  In developing these internships, Cunningham focuses on the interns' intersection of interests to inform their projects. For Mukasa, art, education and communication were major influences.
"Who knows, in years to come, how [Dorothy] is going to put those [interests] together, but I am trying to support her as she determines for herself how that's going to happen," Cunningham said.
In addition to education, the studio also provides a space for a printmaking community via the studio's cooperative. Through the co-op, emerging or established artists can come together to utilize the studio's communal space, negating the high cost of setting up a separate studio. For Nicole Pietrantoni, Assistant Professor of Art at Whitman College and printmaker, communal studios are a huge part of the art form.
"Print-making has always been a community-based discipline–we often share presses and studios, teaching one another as we work side-by-side in the print shop. It's wonderful to have this energy and spirit now open to our community in Walla Walla," Pietrantoni said.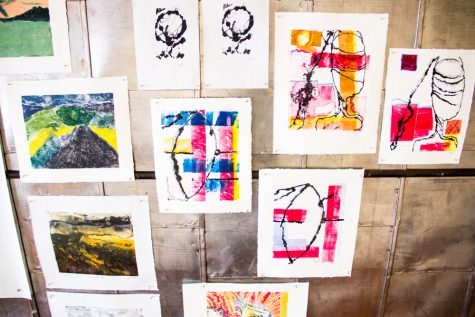 With its multi-faceted community engagement, it seems the studio is well on its way to establishing the niche it originally sought. Daniel Forbes, Director of Whitman's Sheehan Gallery, noted that Studio Articolore is contributing meaningfully to the town's already expansive art scene.
"What Ann-Marie is doing … is on the edge of where things will hopefully continue to grow 'cause I think that she is really working to connect things in ways that haven't been done … previously," Forbes said.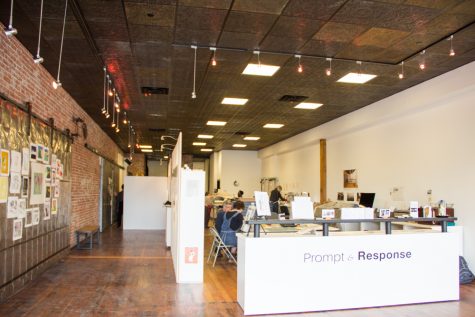 Samarah Uribe