Whitman students help local artists with downtown mural project
As part of the "Festival de Cultura Vida," members of the Whitman and Walla Walla community helped painting a mural with Assistant Professor of Hispanic Studies Mariana Pérez and her husband, artist Diego Pérez. The project, titled "A Mural, An Identity," is meant to symbolize migration through the monarch butterfly. 
Mariana Pérez spoke about her inspiration for the project.
"This project here was initiated because when we were walking in downtown Walla Walla, we saw that the downtown was so monochromatic," Mariana Pérez said. "We didn't see any diversity of cultures or anything. But, when we went to the local fair last year, we saw that there were a lot of members of the Hispanic community, more than we ever expected. We were like, 'Why is there nothing downtown that expresses the Hispanic population?'" 
Aside from expressing cultural diversity, Diego Pérez believes the mural could increase tourism in the downtown area.
"I think it's a good way to bring more tourism to the city because a lot of people like to see different styles and cultural projects," Diego Pérez said. "If you want to grow as a city, maybe you need this kind of experience in the streets."
He articulated how his artistic studies and cultural heritage have inspired the project. 
"I am from Mexico City, and I studied in the school of Diego Rivera and Frida Kahlo; I have the vision of muralism. It's my roots, you know," Diego Pérez said.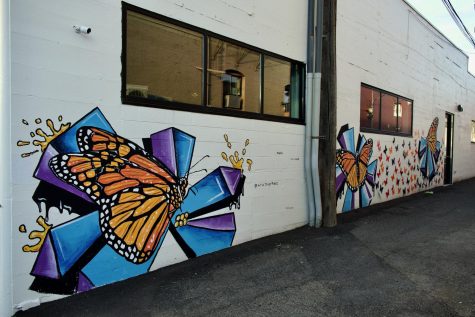 Mariana Pérez expounded upon the intentions of the project.
"From my perspective, the project is about the visualization, but also the integration of the community. Society usually tries to separate groups rather than integrate them. That's why it was so important for me to have students from different backgrounds," Mariana Pérez said. "We had native speakers and learning speakers involved. It was a way of integrating different perspectives toward the Hispanic culture. It was quite successful in that way."
Diego Pérez noted how the project has evolved over time.
"We were thinking about something more global. Because maybe ducks are like migrants … but maybe more people with the idea of the monarch butterfly can identify the concept of migration," Diego Pérez said.
Mariana Pérez expressed how the mural can be used as an activist tool.
"[The mural] is not just a way to beautify the urban landscape; it's also meaningful. Most of the time, even though the U.S. now has a contemporary tradition of muralism, [people] do not know that the roots come from Mexico and their revolution," Mariana Pérez said. "Muralism was used as a way to integrate and to give knowledge to the people. Now, this has also become more like a visual tool."
Mariana Pérez also discussed how participation in the event was meaningful to the community.
"It was very successful. [It was successful] not only [because of] students from Whitman and Lincoln High School, but also [because of] members of the community who participated in the Sunday festival," Mariana Pérez said. "This was our first community engagement mural, so the idea was [having] the participation of the community. We were able to see little kids to old people participating together."
Freshman Jonathan Becker described his participation in painting the mural.
"I was really intrigued by the opportunity to 'leave my mark' on Walla Walla in a positive way," Becker said. "This mural will stay up for many years, and I will be able to say that I was part of that."
Becker also reflected on the project's importance.
"The project was significant because it was a way to bring a positive art piece to Walla Walla. It is a great way to make the city a little more colorful and incorporate the arts into the city in a more profound way," Becker said.
This mural was a community effort, and the Pérezes hope that the city of Walla Walla will engage with more artists in the future.