Adastra Piano Trio Tackles Ambitious, High-Level Works
Driving melodies and intricate harmonics filled Chism Hall on Wed. March 8, as the Adastra Piano Trio performed Maurice Ravel's famous composition, the "Ravel Piano Trio," a powerful and technically complex work they had worked intensely to master.
The Trio, whose name is a combination of the Latin "ad" and "astra" and translates as "to the stars," features junior Gabe Merrill-Steskal on piano, senior Anna Burgess Maberry on violin and fellow senior Soobin Dokko on cello. Merrill-Steskal and Maberry had practiced their chosen instruments from a very young age, while Dokko took up the cello in middle school after previous experience in violin. The three first performed together as the Trio at the inauguration of Whitman President Kathy Murray.
"[The inauguration] really got us in a … motivated environment," Dokko said. "We wanted to keep playing as a group."
Dokko, Maberry and Merrill-Steskal now practice as a group, coached by Professor Amy Dodds.
"Like most music lessons … it's not really a one-credit class," Merrill-Steskal said. "The credits don't really scale to the time and the amount of work."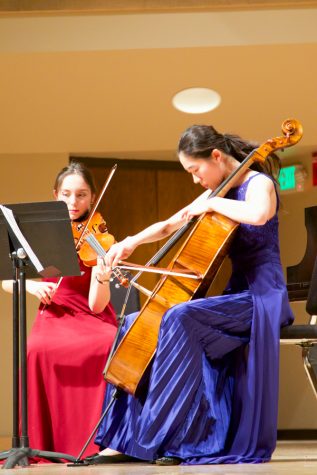 The specific grouping of instruments in a piano trio is very unique, something that has not been lost on the Adastra Trio's members.
"I think a piano trio is interesting because strings often play with piano as like a sonata or as an accompaniment, but to have piano as a really big part like an equal or a more important part than the strings … and having texture of string and piano, it's just really special," Dokko said. "It's not an experience you can get with an orchestra, or just playing by yourself."
For the group, much of the attraction comes in their broad agency in choosing when they work, how long they work for and what they work on. Additionally, the members relish the opportunity to collaborate closely with their peers on works like the Ravel trio.
"The best part," Merrill-Steskal said, "is being able to work with two other people who play at a really high level on their instruments, and like talking through and figuring out the pieces together … and having two other people to challenge your ideas, and work together to create the best piece you can."
The March performance had been long in the works. After initially reading through the piece in August 2016, the group had practiced it with the intent of performance ever since, more frequently and intensely in the later months. They described it as easily one of the most difficult they have tackled.
"The strings have a lot of interesting techniques to produce, a more varied palate of colors," Maberry said. "So there's a lot of pizzicato, a lot of harmonics, a lot of variety of texture, which makes it really fun to play."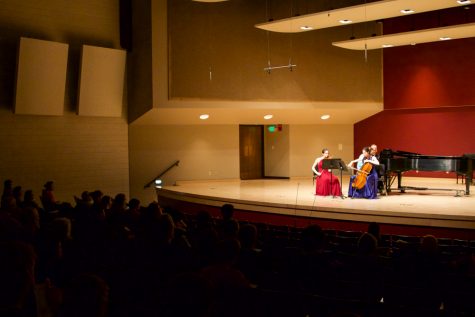 At the performance, the audience of Whitman students and Walla Walla community members was enraptured by the performance that showcased the talents of all three of the Trio's members to amazing effect. When they finished, the applause was thunderous.
"It's always really nice to have a great performance of a great work to present our hard work, and our hard efforts and all the support and guidance we've received," Dokko said. "It was really fun to put together this amazing piece of music with two incredibly talented musicians and perform it together."
Maberry was quick to observe that Dokko should have said "three" talented musicians.
"Just being so impressed and inspired by my fellow musicians to play better myself has been really important," Maberry said.
The Trio will play again during the semester as part of a quartet with violist Flora Klein, and has speculated on the possibility of performing again in Maui in the upcoming winter, after Dokko and Maberry have graduated.