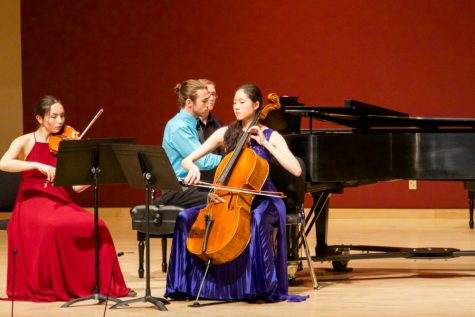 Eric Anderson, A&E Editor
March 30, 2017
Filed under A&E, Front Page Slideshow
Driving melodies and intricate harmonics filled Chism Hall on Wed. March 8, as the Adastra Piano Trio performed Maurice Ravel's famous composition, the "Ravel Piano Trio," a powerful and technically complex work they had worked intensely to master. The Trio, whose name is a combination of the...
Emma Dahl
January 24, 2013
Filed under A&E
If you heard about or attended the Walla Walla Chamber Music Festival this past weekend, chances are you were dazzled by the talent of Sybarite5, a string quintet of visionary musicians. Sybarite5 has won acclaim among the alternative classical crowd after they sought a reprise from the monotony of...
POLLS
Loading ...
SPORTS SCORES
Sunday, April 16

Men's tennis

Whitman College 8 - Pacific University 1

Saturday, April 15

Baseball

Whitman College 2 - Linfield 7

Saturday, April 15

Baseball

Whitman College 1 - Linfield 4

Saturday, April 15

Women's lacrosse

Whitman College 15 - Linfield 5

Saturday, April 15

Men's tennis

Whitman College 9 - George Fox University 0

Friday, April 14

Baseball

Whitman College 3 - Linfield 12

Friday, April 14

Women's lacrosse

Whitman College 16 - University of Puget Sound 5

Sunday, April 9

Women's tennis

Whitman College 8 - Pacific Lutheran University 1

Saturday, April 8

Women's tennis

Whitman College 9 - University of Puget Sound 0

Monday, March 27

Baseball

Whitman College 3 - No. 18 Pacific Lutheran University 10