Spotlight on Students: KnitWhits
Fiber arts club weaves student creativity and tangible expression
KnitWhits, a fiber arts and knitting club at Whitman, allows students to engage in conversation, and relieve stress, while using yarn to harness their inner creativity.
KnitWhits is open to all Whitman students, regardless of experience level. The club is not confined to simply knitting; members participate in many forms of fiber arts from crocheting to embroidery, to sewing and even quilting. There are also supplies available for use at the club meetings.
Kaitlin Harrison is the current President of the KnitWhits. She was taught to knit at the age of 10 and has since picked up crocheting as well. Harrison joined the club during her first year at Whitman, because she enjoys the conversation and community it brings.
"I like knitting. I like talking to people. It works really well," Harrison said. "One of the really nice ways to occupy my brain while I'm knitting is to be with other people so you can talk about what you're doing."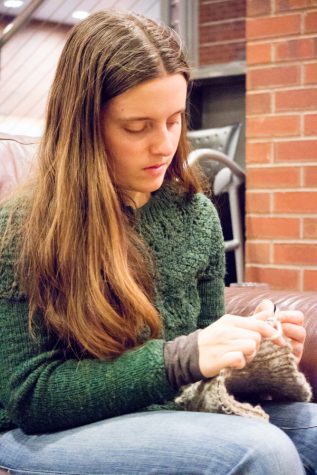 Junior Elizabeth Greenfield is the former president of the KnitWhits, and upon returning from Semester In the West, is once again an active member of the club. She joined in the fall of her first year at Whitman and has been knitting for 11 years.
Greenfield describes a typical KnitWhits meeting as a time for people to work on whatever project they brought, be it knitting, spinning or sewing. It is also a time for people to come in with questions and learn new techniques. Their budget allows them to loan out needles and yarn to help students with no experience practice and learn the craft.
"It gives people who are active in the knitting world to have a designated hour of the week to get going on a project," Greenfield said. "It's a good stress reliever. It's a productive use of your time which can be helpful especially when you're in academia reading and writing things that are less tangible."
Greenfield also highlighted the relevance of knitting in today's industry of fast fashion. Knitting and other fiber arts allow one to choose handmade clothing over companies that operate under philosophies of quick manufacturing and cheap prices.
"There's ways that knitting can show your support for something and also show support for handmade clothing as opposed to fast fashion," Greenfield said.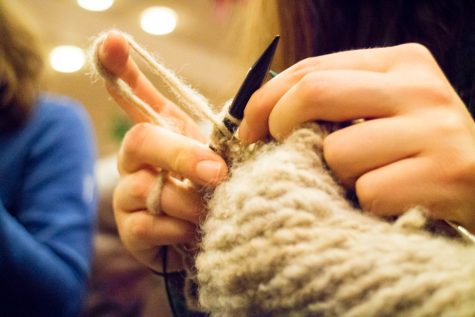 An avid member of the knitting-world, Greenfield has made her presence known in the Walla Walla community, knitting hats for the women and science marches, online through her blog and during her semester on Semester In the West, during which she made hats for her peers.
"At this point I'm just trying to be a mentor to those who are interested," Greenfield said."The KnitWhits are just a non-judgemental group and we're happy to teach people."
Izzy Sherwood-Reid, a first-year, is an active member of the KnitWhits who joined in the fall of 2016. Knitting since she was four years old, Sherwood-Reid has also learned to embroider, spin wool, weave and sew. She attends KnitWhit meetings to take a break from her schoolwork.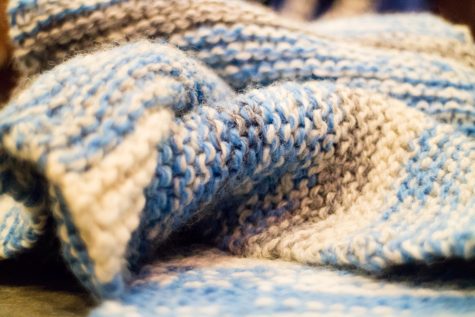 "I try to be creative everyday but it's hard to make it a priority so it's nice to have a set time for it," Sherwood-Reid said.
KnitWhits is a club where she can be social with a group of people that she shares a common interest with. The club meets by the fireplace making it a warm, relaxing and meditative environment to be in.
For students just getting started, Sherwood-Reid recommends patience.
"Stick with it," Sherwood-Reid said. "Yarn is forgiving. It won't get mad at you and it's not just for old people."
KnitWhits meets weekly on Tuesdays (7-8 p.m.) and Saturdays (4-5:30 p.m.) in the Reid Coffeehouse.