Ruth Fluno "Today Will Be Yesterday" exhibition opens at Sheehan Gallery
Bright, vivid paintings, featuring people, buildings, flowers and more now cover the walls of Whitman's Sheehan Gallery. The new exhibitions are "Today Will Be Yesterday," a Ruth Fluno retrospective, and "Walla Walla Modern," which commemorates the painting trio of Fluno, Jeannette Jackson Murphy and Richard Jens Rasmussen. They were installed on Oct. 17 and will remain until Dec. 9.
All three artists featured in the exhibitions contributed greatly to the Walla Walla art scene and have connections with Whitman. Rasmussen and Fluno's husband both taught at Whitman, while Murphy grew up in Walla Walla and attended Whitman as a student. The three painters represent a bright new push to move art forward in a more subdued Walla Walla.
Murphy, the only artist of the three still alive, expanded on this.
"Modern art was kind of new then," Murphy said. "And for Walla Walla to have Dick and Ruth and I [was a challenge]–everybody hated [our art] here, because they didn't like modern art at the time. It was pretty new, and they just liked landscapes. So we were kind of isolated, but that just made us work even harder."
Professor Lisa Uddin, who is incorporating Fluno and the Sheehan exhibitions in all three of her classes, spoke similarly.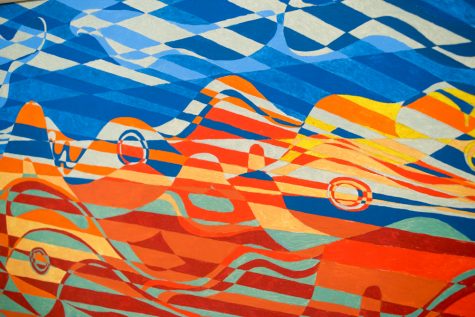 "There's so much movement in that show, and vibrancy and criticality … and that was in the 1950s and 60s and 70s at Whitman," Uddin said. "If that can happen then, imagine what could happen now in terms of a creative critical community, and intellectual and artistic scene."
Many paintings in the exhibitions feature vivid, popping colors, but they have distinct styles based on the artist behind them and their reasons for painting them.
"[My painting is] a little freer than Dick, and more abstract than Ruth," Murphy said. "Dick is the most intellectual about it, and careful. Ruth is more humorous than either of us. Ruth and I painted together for years and years, every day. I loved what she did, and she liked what I did, but we didn't borrow from each other … Our approaches were really different."
Fluno is featured particularly in the gallery. Her work had been displayed in Whitman before as a retrospective organized by her husband, but that had focused more on mourning her loss. According to Kynde Kiefel, the Exhibitions and Collections Manager for Sheehan Gallery, this exhibition is meant as a tribute to Fluno.
Kiefel was in charge of curating and putting together the exhibition, noting elements she thought were particularly special about Fluno's artwork.
"If you talk to all of these different Fluno collectors, you will see a very common thread of people feeling like that work is biographical to them," Kiefel said. "Across the board it happens that way."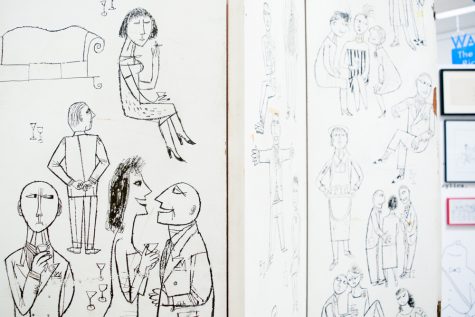 A common theme to be found throughout Fluno's work is criticism of middle-class Americans. Among the figures she drew and painted were tourists and women at social functions. Professor Robert Sickels, who made a movie titled "Molasses and Lemon" inspired by the trio's art that is also being shown in the gallery, appreciates this humor and criticism.
"She recognizes the ridiculousness in people and conventions, and all that goes with those things," Sickels said. "She makes fun of it, but she does so lovingly in such a way where it's also appreciative of the fact that we're all human and we all have foibles."
Kiefel noted a change in Fluno's work that occurred after the latter's trip to Pakistan; Fluno had a difficult time there, observing much suffering among people.
"I think her critique got more complex," Kiefel said. "I think she thought she had a handle on her criticism until she traveled there … there's a rawness that continues from there."
According to Kiefel, Fluno incorporated more children, buildings and people making eye contact with the viewer in her paintings after her trip.
"Molasses and Lemon" draws its title from a line from a shopping list. To Sickels, it is very fitting.
"The film captures both the sweetness and the sourness that come with love and heartbreak," Sickels said.
The movie focuses on the themes of love and heartbreak that Sickels found in Fluno's work. He believes that both are experienced in similar ways.
"In the movie, you don't know whether the people are talking about love or heartbreak," Sickels said. "There are times when they might be talking about love and they're not, and vice versa."
There was a Roundtable Discussion on Ruth Fluno on Friday, Oct. 10. Panelists were Murphy, Kiefel, Spatola-Knoll and David Troxel, who helped fund the show. It was a successful event, and the room where it took place was full.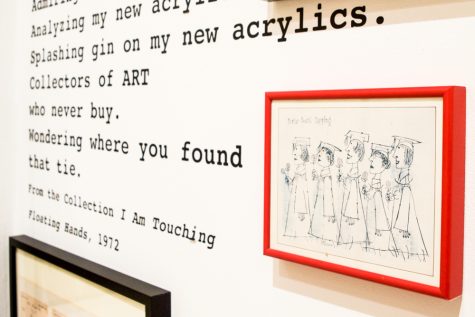 Excerpts of Fluno's poetry can also be found displayed in "Today Will Be Yesterday." Students are encouraged to walk around the gallery and experience the artwork, poetry and films.
"I think [Fluno] has a particular timelessness and a relevance," Kiefel said. "What I hope is … that folks might get a laugh out if it, might have a sense of recognition."
"I think students should go because the promise is inspiration," Uddin said. "Affirmation, inspiration and also a kind of mandate to match that level of activity, or an invitation to think about how students and faculty can be as lively as these three artists were in their time and place."
Events surrounding the exhibition will continue throughout the semester with a presentation by Sickels on Nov. 15 and a presentation by Professor Jenna Terry on Dec. 2.