Leslie Jamison and "The Empathy Exams" Spark Discussion on Campus
Jamison's text sparked discussions and thought surrounding the ways in which empathy has an impact on students' lives.
Whitman's 2016 Summer Reading text, "The Empathy Exams," has given students much to talk about over the past few weeks. In the book, author Leslie Jamison covers a wide range of topics including her experience working as a medical actor, her thoughts on "poverty tourism," and a glimpse into the lives of people suffering from illnesses doctors say don't exist.
These intriguing topics may seem unrelated. Indeed, the book is a diverse sampling of Jamison's own experiences, snapshots of lives of her interviewees, and discussions of specific concepts and emotions. The commonality between the essays is that they all center around the concept of empathy.
During orientation week, new students discussed "The Empathy Exams" in their residence halls and attended a faculty panel specific to the text. On Wednesday, Sept. 7, Jamison arrived on campus to speak about her book in Cordiner Hall.
She began her presentation by confiding that writing essays gave her a way to encounter other people and get out of her own self. Through this, she was able to explore empathy and learn to listen with compassion. The end result was, as Jamison described it, a combination of "memoir, journalism, and criticism," a mix that couldn't fit into one specific genre.
One of the main points Jamison made in her talk was that, through writing her essays, she had discovered that there is no single definition of empathy. Rebecca Frost, Director of Student Success & Disability Support Services at Whitman, agreed with this point.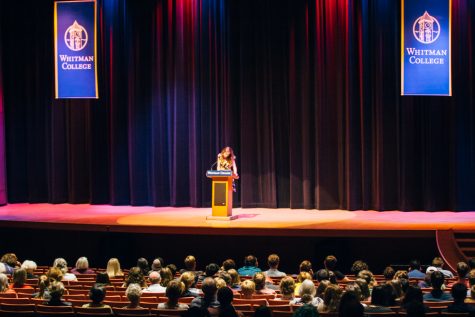 "Empathy is complicated," Frost said. "There's no wrong way to be empathetic, but the most important piece of empathy is to be authentic."
Professor Britney Moss, who was on the faculty discussion panel about "The Empathy Exams," agreed that empathy has many forms and pointed out how this was displayed through Jamison's essays. "Some of the essays are only tangentially related to what you might consider empathy," Moss said. "But I could still find the thread that was tying everything together."
Another important message Jamison gave during her talk was that "The Empathy Exams" was not a quest to come to a definitive conclusion about what empathy is, but rather an exploration of what empathy is, what it's not, and its various forms and meanings. She suggested that ultimately, its purpose was to start a conversation about empathy.
The text certainly started a conversation among first-years on the Whitman campus. Alex Lupton, a first-year student, said the essay "Devil's Bait," which addressed the controversial Morgellons disease, especially interested her. "Leslie Jamison wrote about how you can feel empathy for a person even if you don't believe in the cause of their pain, as long as you believe their pain is real," Lupton said. "I hadn't thought of that before."
First-year Stephanie Ma held a different opinion of the book.
"The essays had an academic vibe that made it harder for me to find myself in her writing; it took more effort to empathize with Jamison," said Ma. "I think that's opposite of the effect Jamison intended to have."
Regardless of what the opinions were regarding "The Empathy Exams," most students seemed to agree that the book did have them thinking about empathy and its role in their lives. The question, then, is how students can continue the conversation about empathy that Jamison started through her book.
"Students at Whitman have a real unique opportunity in their four years of time spent here to really try to understand what empathy is or what it looks like in their own life, and they get to see that through many different lenses," said Professor Moss. She is enthusiastic that students can continue to grow and learn about empathy throughout their everyday lives at Whitman.
When asked her opinion on this issue, Frost said, "We could consider empathy as a muscle. It is a skill that we can not only practice but also improve." Frost then said, "We might not flip through our copies of 'The Empathy Exams' every day … but I think we were exposed to something in this book that is special … so when things do come up on campus, which is inevitable, how can we practice empathy?" In answer to her own question, Frost explained that students can return to the connections they've found with the book to support one another. This practice, she said, would strengthen the muscle of empathy and continue the conversation, just as Jamison intended.