Jacob Hashimoto's Larger-Than-Life Artwork Descends Upon Whitman Campus
Hashimoto draws upon traditional Japanese art in his works. "Gas Giant Fragments and Silence" is on display in the Sheehan Gallery this Fall, and "When Nothing Ends, Nothing Remains" was permanently installed in the foyer of Penrose Library.
This time last month, the floor of Penrose Library was an explosion of cardboard boxes, colorful trash, string and supplies littering the floor. The handful of students in the room, who were mostly perched on scaffolding and rickety mechanical "genies," would occasionally toss more supplies and trash into the chaos accumulating below them.
The students were helping Jacob Hashimoto, an artist who has two main pieces on campus this fall. "Gas Giant Fragments and Silence" is on display in the Sheehan Gallery, and "When Nothing Ends, Nothing Remains" was permanently installed in the foyer of Penrose Library.
"When Nothing Ends, Nothing Remains" has replaced the piece "Travel On" by Robby Thompson '02. "Travel On," which is a large wooden sculpture of a canoe, has been reinstalled in Sherwood Athletic Center.
Hashimoto draws upon traditional Japanese art in his works. He uses what he calls "kites" made of rice paper printed in plain colors or patterns framed with bamboo.
Hashimoto then creates sculptures by hanging the kites at various lengths. The kites in the work installed in the library were coated with a hard, shiny resin to make them more durable for a more permanent installation, giving them a glassy appearance.
Senior Keelan Booth was one of six Whitman students who helped Hashimoto install the pieces. The students worked full-time for nearly three weeks in August alongside Hashimoto and his two assistants. Booth, who is a Film and Media Studies and Art double major, spent most of her time drilling holes in individual kites and tying them to nylon or cotton string.
"When Nothing Ends, Nothing Remains" is hung from the library's atrium skylight. "I think the light really affects it, the light makes these shadows and affects the colors in a really cool way," said Booth.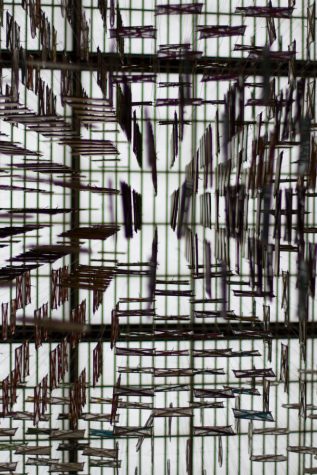 Much of Hashimoto's work is very dependent on the space he is using and he doesn't fully decide on what the piece will look like until he can see the area it will occupy.
To some extent, Hashimoto also employed a "make it up as you go" method that both frustrated and intrigued the student assistants.
The team worked in wingspan-sized blocks and didn't know what the project would look like overall for most of their time.
"His instructions were pretty non-specific," said junior Ryan Ewell, who also worked on the project.
Junior Art Major Mercer Hanau, another student paid to help, agreed. "When I walked in the first day, there wasn't really a 'this is what it's gonna look like, I have a plan.' [Hashimoto] just told us not to worry and assured us it was going to look great," she said.
The team jumped right in, unpacking boxes full of kites and supplies that Hashimoto had shipped from his NYC studio.
"We were told, 'we want this wave to flow and curve down, no sharp transitions' but we had a fair amount of influence on how it was shaped, there [weren't many] exact instructions," said Hanau.
Hashimoto's two assistants who work with him in New York often also instructed the students, although Hashimoto had the final say. "It seemed like he had a general idea of what he wanted it to be, and as the project moved forward he would decide whether he liked certain aspects or not as we were going," said Ewell.
Although most of the students hired to help were art majors, Ewell is an Environmental Science/Politics major. He found out about the project through professor Takemoto Sensei, who knew Hashimoto from when the artist's father worked at Whitman as an English professor.
Ewell noted Hashimoto's dedication to creating an interesting mix of symmetry and asymmetry.
"All the students who were working on it tended to make it symmetrical without really thinking about it and created even drops," said Ewell, "but he was looking for more of an undulating feel and a little more irregularity. The hardest part was to not create symmetry subconsciously."
This asymmetry is especially apparent in "Gas Giant Fragments and Silence." This work is a mix of geometric multicolored pillars and organic cloud shapes of white pieces surrounding them. The piece fills most of the space in Sheehan Gallery, and viewers can walk below and around it. The exhibit also features smaller, more detailed kite sculptures by Hashimoto as well as drawings.
When "Gas Giant Fragments and Silence is taken down," Hashimoto will likely reuse the kite materials by incorporating them into future works. Although many are made with the same materials, each Hashimoto piece is unique.
"[The piece] in the library feels like one shape, but [the piece in] Sheehan feels more like an atmosphere or an environment you're in," said Booth.
Hanau said that even at Whitman where public art is abundant, Hashimoto's work is unexpected.
"It's not as static as a lot of pieces we have," she said. "It's not a metal chunk, this is ethereal and hanging, [and has a] translucent, airy quality and if you look at the piece from different parts and floors of the library, the colors change and you have to use the space to see the whole piece."
For Booth, one of the most valuable parts of the experience was getting to know Hashimoto and seeing him work.
"He seemed different than I expected most artists to be. He was definitely good at executing the project," she said. "Some artists might have trouble getting logistical things in order but he has done this a lot, and … [Hashimoto and his two assistants] work together so well as a team."
Although Hanau described Hashimoto as quieter and "kind of in his own world," the students all emphasized how friendly he was.
Ewell and Hashimoto shared their favorite local fly-fishing spots and the two even made plans to fish together when Hashimoto returns to campus later this month.
"Jake was super nice and very relaxed but particular. All three of them were very funny, very light-hearted, but also very 'New York' in a lot of ways," Ewell said, noting their incredible attention to detail.
Ewell thinks that because he worked on the project, he sees the final version differently.
"I think I would have taken the irregularities for granted if I had not helped work on it, and not known that every little dip [was] intentional."
Hanau agrees. She said that she associates the art with a textural experience rather than a visual one.
"I wonder what it's like to see it as symbols of kites rather than these sticky [paper and smooth] plastic things that I've been drilling into and tying string around," she said.
Hashimoto will be back on campus to host a lecture and reception on Sept. 24 at 3:30 p.m. in Olin 138.