"Go On" dance recital invites collaboration between guest artist, instructors, students
After months of hard work, the dance department's annual recital, this year titled "Go On," has come to fruition. The process, which began with auditions in September, culminates in the performance at Harper Joy Theatre, on Wednesday, November 11th at 8:00 pm.
Dance professors Renee Archibald and Peter de Grasse will both put on three dance pieces over the span of the recital alongside Portland-based choreographer Tahni Holt. Those who go to "Go On" should expect to see a new and fascinating interpretation of the word "dance."
The choreographers of "Go On" are putting on three different pieces, related to each other by an emphasis on innovation. "There's a range, but they're surprisingly similar," says Renee Archibald, Associate Prof. of Dance "You can expect to think about dancing differently, like, 'What is dance?', and experience performance rather than just dancing."
The dancing will be modern and interpretive, while focusing on dance as a performance piece.  Emily Dorn, a sophomore dancing in "Go On" suggests that audience should, "definitely come in with an open mind, it's very artistic, it's an art form, so be very receptive to what's on stage." 
The guest artist Tahni Holt arrived at Whitman campus just a few weeks ago, so her choreographing process was put into overdrive. Dorn reveals that,"our rehearsals have been very intensive– three hours a day for two weeks." The intense work has paid off, as the piece has been taking shape.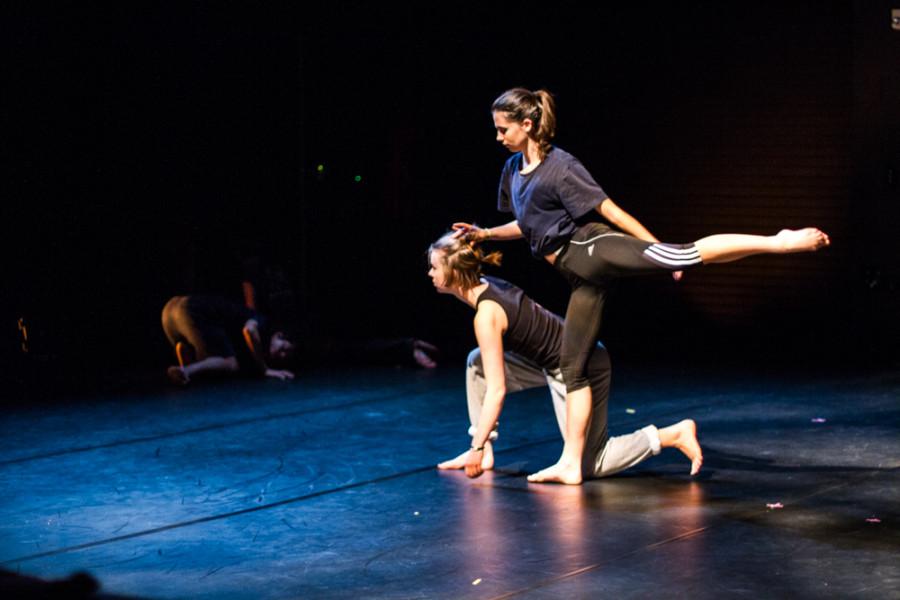 The experience of Archibald and de Grasse's pieces have been very different, considering that they had several months to work them out. This has given them incredible creative freedom. "Because we're making a new piece from scratch, we need a little brain space to think about what we've done, to look at the piece and see where we are," says Archibald. Archibald's dance performance has been in the works for a long time and still has a long way to go. "This is inspired by a solo piece I'm doing," says Archibald, "so the experience started even earlier than the beginning of the semester." This performance is just a taste of what her solo work has to offer.
Though at this point the pieces have already been charted and choreographed, their origins came from improvisations. "Some of the movements are from improvisations I've made," says Archibald, "but by the time the performance happens it's already been set." Archibald's performance has been honed for months, with her dancers watching videos of her movements and deriving inspiration from them. Holt's piece had a similar progress but moved at an accelerated rate, with students exploring movement as a group.
Dorn describes the choreography of the performance as "listening to your body and moving your own body, it's very autonomous, but it's still a group piece." Interpretation and choreography weave together into a brand new form.
Though the performances offered at "Go On" differ greatly, they are all united by the love of performance. The pieces benefit from this, and even though they take a lot of work, these pieces are labors of love. "I really love dancing, it helps me forget everything else," reflects Dorn, "so yes, it's a stressful experience, but at the same time, dancing in itself is a stress-relieving action."
Archibald, for her piece, is excited to see the result of her hard work as well. "All of the pieces are just a slice of our professional research," says Archibald, "just like the Science professors have students helping them on their research, this is similar, we're having students develop our work, students are our collaborators, these performances are a part of our progress, they're not the final result."
If seeing the results of this creative collaboration interests you, make sure to head over to the theater on November 11. Tickets are available at the box office.  Whitman students' tickets are free.