Inside the Grotto of Candace Rose
On the outside, the Barrett building is rather unassuming. The 19th century facade and green awning do not suggest that on the inside there is an entire wing devoted to one artist's free expression, a studio known as the Noodle Grotto.
When Candace Rose arrived in Walla Walla in 1974, she thought she would only spend the summer and wound up staying 40 years. Thirty years ago she was lucky enough to claim a whole wing of the Barrett building and thus the Noodle Grotto was born.
Candace Rose's artist statement is a simple one, starting with the declaration, "I walk. I look. I find." Rose works in many mediums: photography, sculpture, clay, and collage, all united by this idea of discovery. The Noodle Grotto is a testament to this. The walls are covered with fantastical assemblages of seemingly disconnected objects: ice skates, trash can lids, camera lenses, and glasses (sometimes belonging Ms. Rose herself).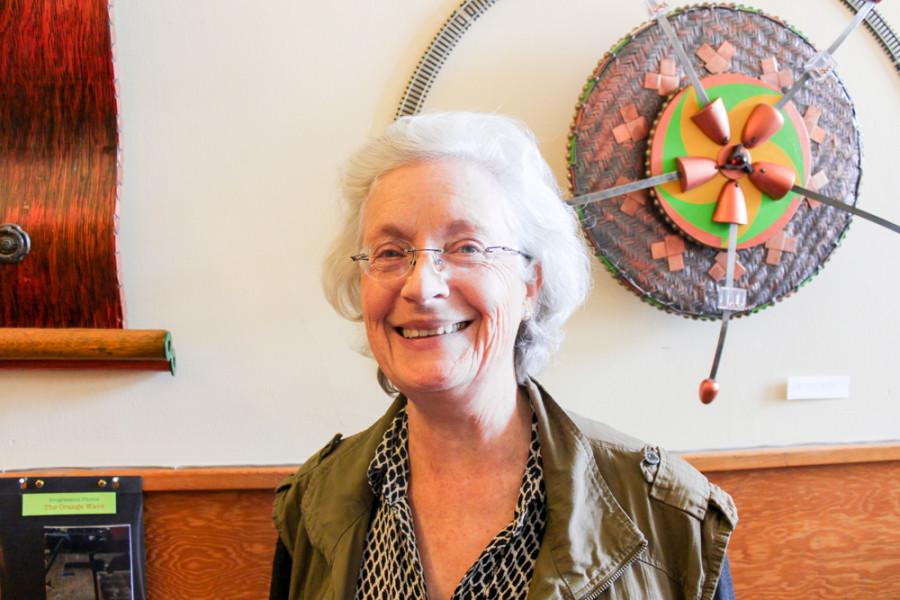 "I don't look for stuff," says Rose, "because I already have so much."
Rose rarely seeks out objects–many come to her by chance–she stumbles upon them on the street, she receives them as gifts, and sometimes she even discovers forgotten objects in her own studio.
Rose's found object assemblies often weave in pieces of Walla Walla history. She points out several of these objects: a shoeshine box from a store called Cinderella's electric shoeshine, flash bulbs from the "old days" at the Union Bulletin newspaper. "I'm not a historian, but I like this town, and I've been here a while, it's my home," Rose states.
The name "Noodle Grotto," actually comes from Walla Walla's history. Hidden beneath the linoleum at the bottom of the stairs is a series of black and white hexagonal tiles which spell out "Noodle Grotto," a remnant of an old Canton restaurant which used to reside in her building. When Rose moved in, she decided give this name to her studio.
"I just thought this is way too cute to disappear," she said. The naming came with its own set of problems, "People would come in and say, 'I thought we could get noodles here,'" she recalls with a laugh.
Noodle Grotto is a perfect name for Candace Rose's studio, playing into the whimsy of her art. She is fascinated by movement, light, and shadow, and almost all of her photographs play on one or more of these aspects. "I could just take a picture of a building, but that's too simple", Rose says. She has pictures of Walla Walla landmarks like the Baker Boyer Bank rendered nearly unrecognizable by reflection.
Shadow holds particular interest to her. She points to a picture of her shadow in the snow and says, "I can't adjust that. It's just a picture that's already made and it seems perfect to me."
Another common theme of Rose's art is the self portrait. Her walls are lined with the self portraits in many different forms. Some are made of the objects she collects , which she calls "face assemblies."
"Basically all of those face assemblies are kind of self portraits," Rose says, "you can look at them and say 'there I am.'" She also has many photograph self portraits, though they are often distorted and difficult to identify as Rose herself. She likes the self portrait because, as she says, "I'm always here, and I'm always available."
Candace wears many hats besides being a visual artist. She manages her building, she works as a massage therapist, and she volunteers at the Church, but Whitman might know her best as a pianist. Rose began working as a piano accompanist in the dance department a few years ago at the request of Assistant Professor of Theatre Jessica Cerullo. Music and dance are just a few of the many passions she has.
Anyone can visit her studio on the first Friday of every month at the Barrett Building on 13 1/2 Main St, and artists and onlookers alike can enjoy the strange and wondrous pieces kept there.