Int'l Sweet Onion Film Festival Preview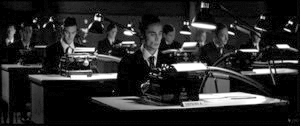 The International Sweet Onion Film Festival starts tomorrow (Friday, Oct. 26) and will continue through the weekend. Tickets are free to Whitman and Walla Walla University students, although there is a suggested donation.
The awards ceremony will be on Sunday Oct. 28, from 7-9 p.m. at the Marcus Whitman Hotel. Three awards will be given in each category: Best Picture, Best Director and Audience Choice. Many of the films' directors will attend. More information can be found at the festival's Web site: sweetonionfilmfestival.org.
The following are some of the festival's most promising films.
"Droomtijd (Dreamtime)":
Oct. 27, 7-10 p.m. at the Marcus Whitman Hotel
The just-under-20-minute short film is by Belgian filmmaker Tom Van Avermaet. "A man lives contentedly in a dark, industrial world where clocks are treated as gods and give the beat. He appears punctually at his work every day, until a visit from the mysterious sandman changes everything…."
"Boletos Por Favor (Tickets Please)":
Oct. 27, 7-10 p.m. at the Marcus Whitman Hotel
Festival Director Francesca Bush especially recommended this Spanish short by Lucas Figueroa. "A train, a pursuit, only one way to escape."
"A Tale of Two Pizzas":
Oct. 26, 7-10:30 p.m. at Seven Hills Winery
This feature length United States film by Vincent Sassone sounds like a rehashing of Romeo and Juliet centered around Pizza. "The Bianco and the Rossi families of Yonkers have been feuding for years over pizza! Those who prefer a tangy sauce go to Rossi's; those who like their crust thin and crispy go to Bianco's. When young Angela Rossi, armed with a newly minted associates degree in marketing from FIT, tries to help her father put the Biancos out of business, détente goes out the window. And when young doodle artist Tony Bianco agrees to help his father steal the secret of the Rossi's sauce to win the neighborhood pizza contest, pizza war: and a little star-crossed loving follows."
"Stomp! Shout! Scream":
Oct. 26, 7-10:30 p.m. at Seven Hills Winery
This feature-length "beach party rock and roll monster movie" by Jay Wade Edwards looks promising, if ridiculous. It "features an all-girl garage rock band and the legend of the Skunk Age (the Florida Everglades version of Bigfoot)."
"Greetings From the Shore":
Oct. 27, 2-5 p.m. at BLDG 270
"Still reeling from the death of her father, a young girl spends one last summer at Jersey Shore before heading off to college. But when her plans fall apart, the girl stumbles into a mysterious world of Russian sailors, high-stakes gambling, and unexpected love."
"Committing Poetry in Times of War":
Oct. 26, 7-11 p.m. at BLDG 270
"A poetic glace at one week in March 2003 that rocked Albuquerque, N. M., and defined the struggle of a nation at war abroad and with its people. When the Iraq war began, Youth Poetry Slam Team Coach, Bill Nevins was fired from his teaching job, and his outspoken Rio Rancho High School Poetry Slam Team was disbanded and silenced. Days after Nevins's removal, hundreds of peaceful protestors demonstrating nearby were brutally assaulted by police. Free Speech Zones were enforced at gunpoint. The fabric of the Constitution appeared to be crumbling. Yet out of this fire arose a diverse community of artists, poets and musicians. They came together in a series of unifying events, which began in Albuquerque but spread across the country. Dubbed Poetic Justice, it defied the fear tactics of the day by modeling free speech and supporting Nevins's quest for justice."
"Storm of Emotions":
Oct. 27, 7-11 p.m. at Walla Walla University (black box)
This 2006 short-listed Oscar nominee for best documentary promises to be one of the festival's best. "The 1982 peace agreement with Egypt obliged thousands of people to leave their homes in the Sinai desert. From the options they were given by the Israeli government, many chose "Gush Katif" in the Gaza Strip as their new home. To progress the peace process, the Israeli government ordered the evacuation of the Gaza Strip in August 2005. This decision created political and social turmoil. The evacuation was the most complex and sensitive mission ever to be undertaken by the police forces. This movie is about emotions, beliefs, conscience and true brotherly love; it is a story of humanity in its finest hour."