Wire Watch: Feb. 12-18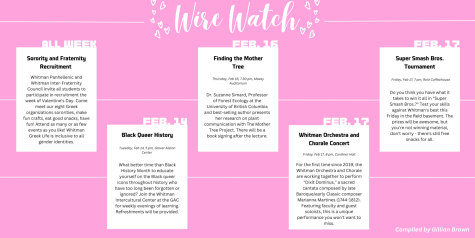 Whitman Panhellenic Presents: Galentine's Recruitment Week
Monday, Feb 13-Thursday Feb 16
Whitman Panhellenic invites all female-aligned students to participate in Continuous Open Bidding (COB) recruitment the week of Valentine's Day. Come meet our four sororities, make fun crafts, eat good snacks, have fun!
Open to female-aligned Whitman students.
Inter-Fraternity Council Spring 2023 Recruitment
Monday, Feb 13-Thursday Feb 16
Whitman Inter-Fraternity Council invites all male-aligned students to participate in recruitment events happening all week. Join each of our four fraternities for food and fun, and maybe even meet some new friends.
Open to male-aligned Whitman students.
Black Queer History
Every Tuesday this month, 5 p.m., Glover Alston Center
What better time than Black History Month to educate yourself on the Black queer icons throughout history who have too long been forgotten or ignored? Join the Whitman Intercultural Center at the GAC for weekly evenings of learning. Refreshments will be provided.
Open to all Whitman students.
Finding the Mother Tree
Thursday, Feb 16, 7:30 p.m., Maxey Auditorium
Dr. Suzanne Simard, Professor of Forest Ecology at the University of British Columbia and best-selling author presents her research on plant communication with The Mother Tree Project. There will be a book signing after the lecture.
Open to all.
Whitman Orchestra and Chorale Concert
Friday, feb 17, 8 p.m., Cornier Hall
For the first time since 2019, the Whitman Orchestra and Chorale are working together to perform "Dixit Dominus," a sacred cantata composed by late Baroque/early Classic composer Marianna Martines (1744-1812). Although renowned in her time, her work as not been performed to nearly the extent as her contemporaries' in our modern era. Featuring faculty and guest soloists, this is a unique performance you won't want to miss.
Open to all.
Super Smash Bros. Tournament
Friday, February 17th, 7-9 p.m., Reid Coffeehouse
Do you think you have what it takes to win it all in "Super Smash Bros.?" Test your skills against Whitman's best this Friday in the Reid basement. The prizes will be awesome, but you're not winning material, don't worry – there's still free snacks for all.
Open to all Whitman students.