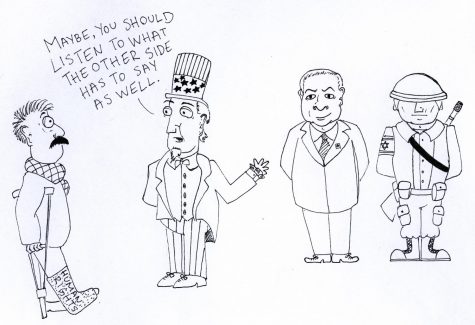 Rina Cakrani, Columnist

October 31, 2019
As a campus, we focus a lot on certain social justice issues pertaining to race and gender discrimination, but conversations about the Israeli occupation of Palestine barely happen. Although we talk about settler colonialism and occupation in other historical contexts, we rarely connect these issues ...
Audrey Hecker, Staff Reporter

September 23, 2018
After living through the devastation of the Lebanon War more than a decade ago, Bashar Haidar, a junior at Whitman College, decided it was time to show his support of the Palestinian state and its inhabitants in the founding of the Students for Justice in Palestine (SJP) Club. The club is new to the Wh...
Loading ...
SPORTS SCORES
Wednesday, September 25

Whitman College 3 - Whitworth 2

Wednesday, September 25

Whitman College 0 - Whitworth 3

Sunday, September 22

Whitman College 5 - Linfield 0

Saturday, February 16

Whitman College 96 - PLU 78

Saturday, February 16

Whitman College 73 - PLU 62

Saturday, February 16

Whitman College 4 - Trinity University (Texas) 5

Saturday, February 16

Whitman College 1 - Boise State University 6

Saturday, October 6

Whitman College 1 - Linfield 3

Saturday, October 6

Whitman College 2 - 1

Sunday, April 16

Whitman College 8 - Pacific University 1

Saturday, April 15

Whitman College 1 - Linfield 4

Saturday, April 15

Whitman College 15 - Linfield 5