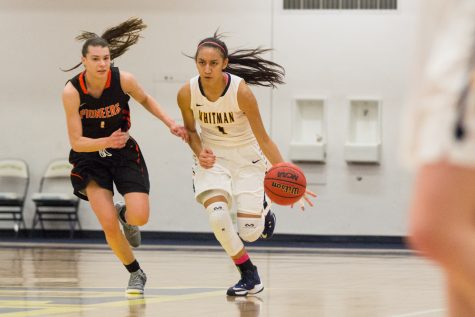 Gaby Thomas, Staff Reporter
March 2, 2017
Filed under Front Page Slideshow, SPORTS
Two nets cut, two NW Conference Championships and two Whitman basketball teams looking ahead to success in March. This past weekend, both the men's and women's basketball teams won the NW Conference Championship Tournament. Both teams played with tenacity and toughness, both teams fought back fr...
Pamela London
March 1, 2012
Filed under SPORTS
One and done: The double-edged sword of the collegiate basketball postseason hit the Whitman men's basketball team the hard way last Thursday night as the Missionaries fell 79-62 to the University of Puget Sound. Despite winning five of seven games to finish off the season at 11-5 in conference, Whitman lost the battle for the second seed in the Northwest Conference tournament to Puget Sound by way of a head-to-head ti...