Dream Seasons Continue: Hoops Teams Win NWC Tournaments
Basketball sweeps NWC Championship, gets set for NCAA Tournament
March 2, 2017
Two nets cut, two NW Conference Championships and two Whitman basketball teams looking ahead to success in March. This past weekend, both the men's and women's basketball teams won the NW Conference Championship Tournament. Both teams played with tenacity and toughness, both teams fought back from ten or more point deficits to triumph over of their respective opponents.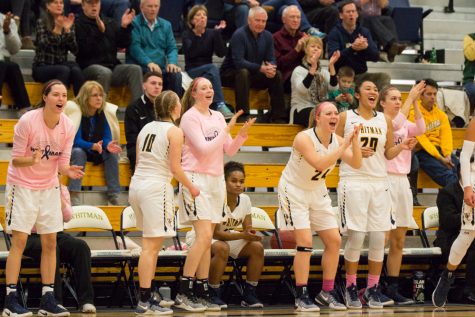 During the regular season, the women's team tallied losses to George Fox and UPS, but the Conference Tournament was a different ballgame. The Blues outscored George Fox 78-71 in the Conference Semifinal and beat Puget Sound 81-72 to take the Championship.
"We had just lost a tough one to Fox the weekend before and had taken UPS to overtime twice this season, so we were hungry to show what we were capable of to take home the title," senior captain Alysse Ketner explained. "These games are about composure, patience and discipline. Both sides are going to make runs, we were down by double digits at some point in both games, but we weren't worried. We weathered the storm and went on our own runs and both times came out on top."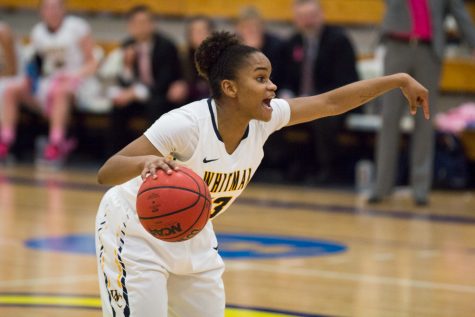 The wins this weekend earned the women an automatic ticket to the NCAA National Championships. This will be the third time in the past four years that the Blues have made it to the Big Dance, where they will hope to replicate the success of 2014's National Runner-Up finish.
"Being on a team that goes to the [national] tournament as a freshman is a really unique experience. It shows us what a great team looks like, the work you have to put into it and the effort that it takes to be successful at this level. Also, it just shows our first-year group that the future can be really amazing and we have a lot to look forward to," first-year guard Natalie Whitesel said.
With the potential to be knocked out of contention in the national tournament resting on whether a team wins or loses, the players go into every game like it may be their last.
"As a senior, every win at this point means you get to lace up one more time, you get to extend your career just a bit further and you hope it comes with a championship," Ketner explained.
The men won their semi-final game against George Fox last Thursday 105-75 to set up a date with rival Whitworth in the Conference Championship the following evening. The final was a thriller. Both teams built leads, lost them, then built them again. After a nail-biting finish that brought the game to a tie in regulation, Whitman closed out the game with a win in the five minutes of overtime with a score of 86-83.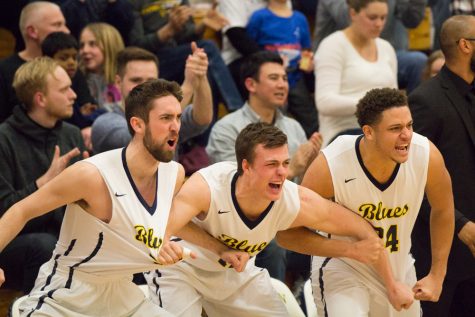 "We've never hosted a Northwest Conference men's basketball championship before, and we've never won the conference tournament championship either. Those are both historic moments," Whitman Athletic Director Dean Snider said. "The grit to come back when you're down a couple of points shows the heart and the character of these guys, and the belief they have in each other."
The energy of the home crowd, which included students, faculty and Walla Walla community members, gave the team an extra advantage.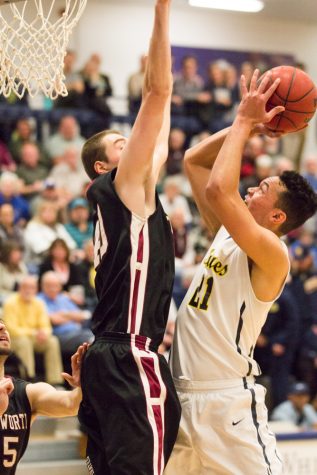 "This is our passion. We work so hard and put a lot of time into it. To see other students and teachers come out and support us and share that with us is the best feeling ever," junior forward JoJo Wiggins said.
"It means a lot to Walla Walla, Whitman, our program, our coaches and all the guys that paved the way before us," junior guard Tim Howell added. Howell was voted Northwest Conference Player of the Year.
The men, who are now ranked first in the nation, will host the first round of the NCAA tournament at their home court in Walla Walla this Friday evening at 7:30 p.m. against Rhodes College. If they come out on top, they advance to the next round, which will either be a matchup against the Claremont-Mudd-Scripps Colleges or a rematch against Whitworth. Regardless of which teams continue on, the second game will be held Saturday at 7:00 p.m. The women's team is lined up to play George Fox once again this Friday at 5:00 p.m. in Tacoma, Wash., and either University of Puget Sound or UC Santa Cruz the following day at 7:00 p.m. if they win.