Alissa Antilla, Staff Reporter

November 17, 2016
Stepping into Melody Muffler, an unexpected collision of an automotive shop and art gallery, is like entering a whole new world. This world is a culmination of disparate elements of artist, musician and automotive repairman, all talents of Walla Walla native Mike Hammond. 'Building art': cars and creat...
Tags: Alissa Antilla, Art, car, car art, D'Olivo, folklore, Iguana Hat, Land Title Plaza, local music, Melody Muffler, Mike Hammond, Muffler Men, Music, mythology, Patrick Arthur Polk, Reid, Timothy Corrigan Correll, UC-Berkeley, Walla Walla, Walla Walla Blues Society, Walla Walla Motor Supply, Walla Walla Public Library, walla walla symphony, Whitman College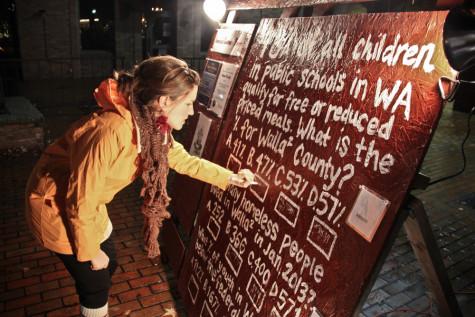 Serena Runyan

November 21, 2013
The County of Walla Walla Homeless Resources reported a count of 400 homeless individuals in Walla Walla in 2013. Fifty-two percent of these individuals are under the age of 25. Almost a quarter of them are under the age of 13. This week is National Hunger and Homeless Week, and as families prepare ...
Loading ...
Trinity University (Texas)

5

Feb 16 /