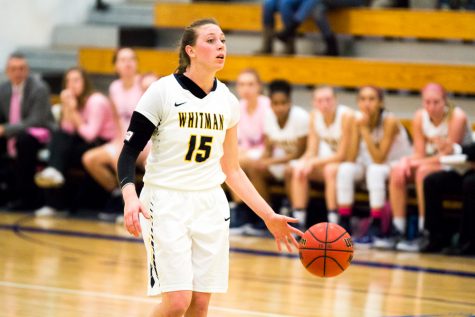 Quinn Salkind, Staff Reporter

March 30, 2017

Filed under Front Page Slideshow, SPORTS
With a loss to the University of Saint Thomas in the Elite Eight round of the NCAA tournament on March 11th, the memorable 2016-2017 women's basketball season came to a close for the Blues. Achieving a final overall record of 26-5, the women deserve a look back at one of the most successful seasons ...
May 7, 2015

Filed under FEATURE, Feature Highlight
Sophomore Sean Terada remembers a sixth grade trip to Mauna Kea on the Big Island of Hawaii. He hiked through the lush emerald growth in the rain forests on the slopes of the mountain, breathing in the humid air. Without warning, he came upon an abrupt cut away where the rainforest stopped and opened...
POLLS
Loading ...
SPORTS SCORES
Sunday, April 16

Men's tennis

Whitman College 8 - Pacific University 1

Saturday, April 15

Baseball

Whitman College 2 - Linfield 7

Saturday, April 15

Baseball

Whitman College 1 - Linfield 4

Saturday, April 15

Women's lacrosse

Whitman College 15 - Linfield 5

Saturday, April 15

Men's tennis

Whitman College 9 - George Fox University 0

Friday, April 14

Baseball

Whitman College 3 - Linfield 12

Friday, April 14

Women's lacrosse

Whitman College 16 - University of Puget Sound 5

Sunday, April 9

Women's tennis

Whitman College 8 - Pacific Lutheran University 1

Saturday, April 8

Women's tennis

Whitman College 9 - University of Puget Sound 0

Monday, March 27

Baseball

Whitman College 3 - No. 18 Pacific Lutheran University 10