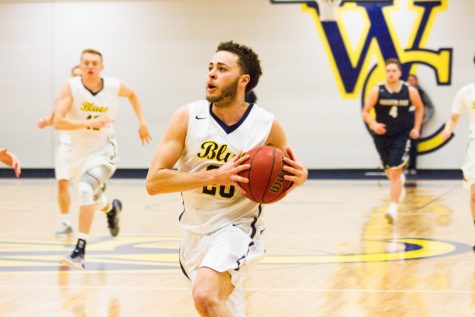 Gaby Thomas, Staff Reporter

March 30, 2017
On an overcast day in central Virginia, the Whitman men's basketball team came up just short of completing their fairytale season, losing for the first and last time this year to No. 3 Babson in the National Semifinal of the NCAA Tournament. That cloudy day, March 17, marked the final leg of a historic,...
Pamela London

April 23, 2012
"Dynasty, dynasty" After an undefeated Northwest Conference season, there was only one fitting finish to this story: a NWC tournament title. This past weekend, the Whitman men's tennis team finished what they started by winning the 2012 NWC tournament championship at the outdoor courts on the W...
Tags: All-NWC First Team, All-NWC Second Team, BLOGS, Chow, clark, Courtney Lawless, Head, Holton-Burke, La Cava, Madden, martin, Molitor, Morgan Lawless, NCAA, northwest conference, nwc, NWC Championship Tournament, NWC Coach of the Year, NWC Player of the Year, NWC tournament, Roberg, Rolston, Sweeney, Tolman, Webber, Whaley, Whitman Baseball, Whitman College Varsity Athletics, Whitman Men's Golf, Whitman Men's Tennis, Whitman Sports Blog, Whitman Women's Golf, Whitman women's tennis
Loading ...
SPORTS SCORES
Wednesday, September 25

Whitman College 3 - Whitworth 2

Wednesday, September 25

Whitman College 0 - Whitworth 3

Sunday, September 22

Whitman College 5 - Linfield 0

Saturday, February 16

Whitman College 96 - PLU 78

Saturday, February 16

Whitman College 73 - PLU 62

Saturday, February 16

Whitman College 4 - Trinity University (Texas) 5

Saturday, February 16

Whitman College 1 - Boise State University 6

Saturday, October 6

Whitman College 1 - Linfield 3

Saturday, October 6

Whitman College 2 - 1

Sunday, April 16

Whitman College 8 - Pacific University 1

Saturday, April 15

Whitman College 1 - Linfield 4

Saturday, April 15

Whitman College 15 - Linfield 5