Blues Basketball Hosts Battle of the Whits
Last Tuesday the Battle of the Whits raged on in Sherwood Athletic Center, with both the Blues women's and men's basketball teams emerging victorious against the Whitworth Pirates.
The final score of the women's game was 89-78, racketing up Head Coach Michelle Ferenz's 300th win over her 18 years at Whitman. When asked how she felt about reaching 300 wins, Ferenz was quite modest: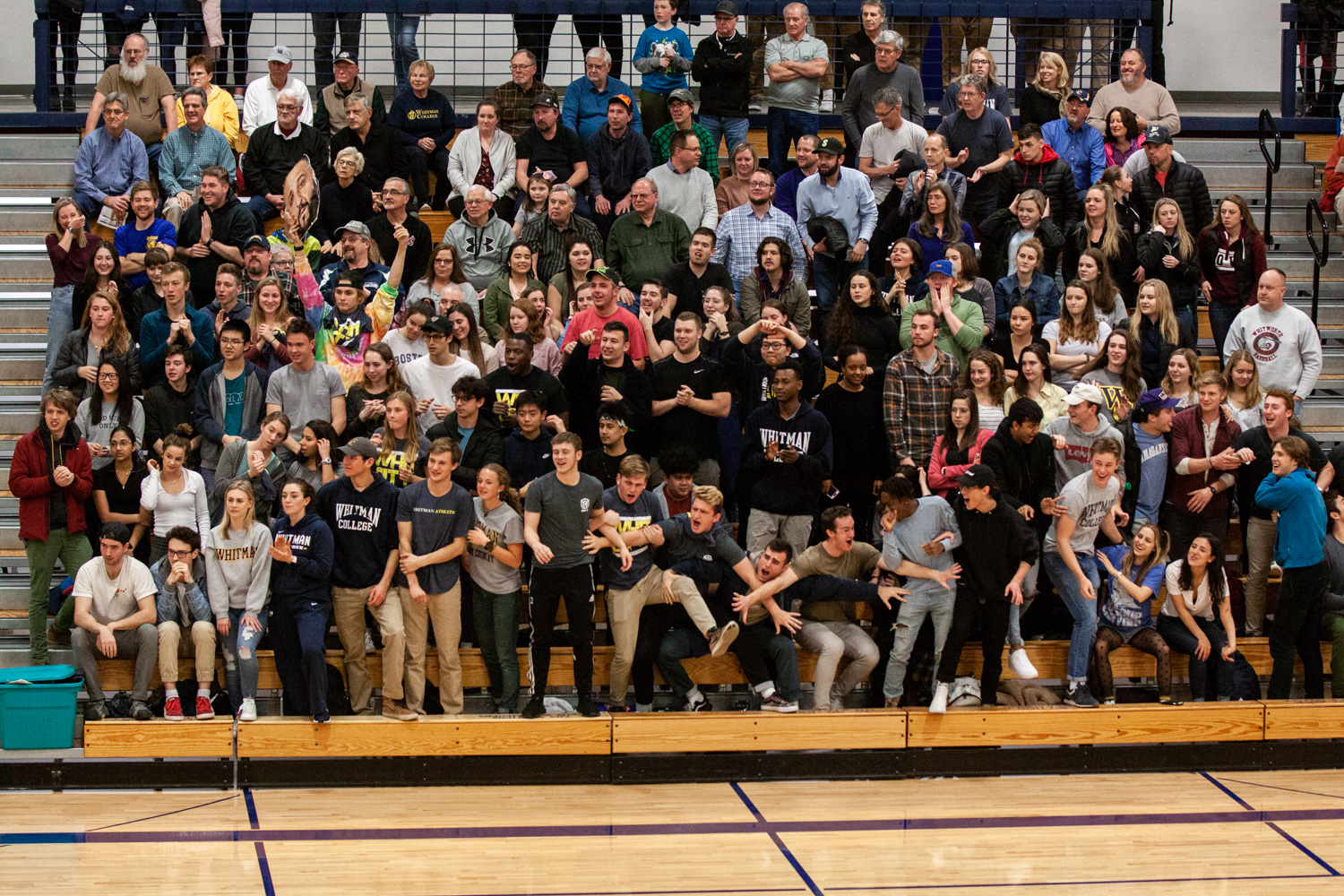 "I really don't keep track.  For me it is about being at Whitman for a long time and having the opportunity to recruit and coach some really talented young women. I am proud of them and feel lucky to have coached them. This group is no exception.  It is a younger team compared to last couple of years but they really compete hard and love the game."
Sophomore Taylor Chambers (#13) was the high scorer of the game with 18 points, and Maegen Martin (#20) brought in 16 points as the team's only senior.
As in any sport, the Whitman-Whitworth rivalry draws in a larger crowd and creates a livelier atmosphere than the usual conference games.
"I have the fact that we're rivals in the back of my head every time we play them. The battle of the Whits is definitely an energy boost to remind us that we have to play our best regardless of who our opponent is," said Maegen Martin. "It's all about reading, reacting and responding to the task at hand, being able to pull through and step up when needed."
The tension in the gym got even stronger as the men's team filed out onto the floor and started warming up.
"I don't know what it is but the air in the room is just different when we play Whitworth. It brings out a different level of intensity in all of us," said senior Austin Butler (#0) of the men's team.
Both the Whitman and Whitworth men were ranked top ten nationally as of their game, but the Blues won with a final score of 110-98.
"Coach Bridge and the staff have made sure that we develop not just as players but also as men. Our goal is to continue to get better everyday and win the national championship," said Butler, who was also the top scorer of the game with 24 points.
Always hungry for more, both the men's and women's teams have their sights set on the post-season. With only a few games left in the Northwest Conference, we're sure to see the Blues giving it all they've got.