Sweet Onion Crank climbing competition returns with intra-school format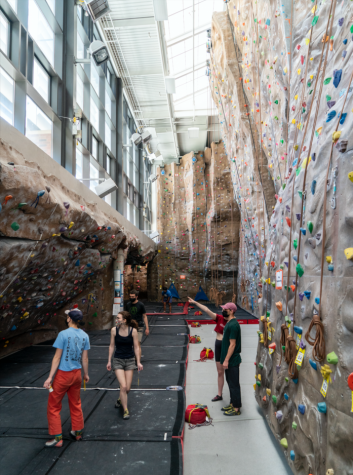 This month, Whitman's annual Sweet Onion Crank climbing competition is making a return to campus with a focus on maintaining the character of the event despite the necessity of a change in format.
In a normal year, Whitman would host the competition as part of the Northwest Collegiate Climbing Circuit (NC3), which the college's climbing team participates in. For one weekend in April, hundreds of climbers from across the Northwest would make the journey to Walla Walla to compete in Whitman's climbing gym.
Despite being an event on the competitive circuit, the Crank is mostly known to its participants as an opportunity for the campus to unite around climbing new routes and a space for people of all skill levels to experience competitive climbing on their own terms.
Emery Hansell, a senior and this year's Sweet Onion Crank Coordinator, was, as a first year, initially dissuaded by the event as she was worried about not being able to climb at the level of some of her friends. However, once she arrived at the gym, she found her previous conceptions of the competition didn't match the reality.
"The crank was one of the first competitions I did, and I was surprised at how kind and welcoming it was. Everybody that's there is just excited to be trying something new and to be meeting new people," Hansell said. "It's not necessarily a competition as much as it is a gathering of people who all share a passion."
This year, the competition format of the Crank is different. The biggest change is that it is not an inter-school event and the competition itself has been extended over several weeks. Instead of signing up to compete against other climbers for two hours on a single day, competitors simply pick up a scorecard from the climbing gym and climb the hardest routes they can for the duration of the event.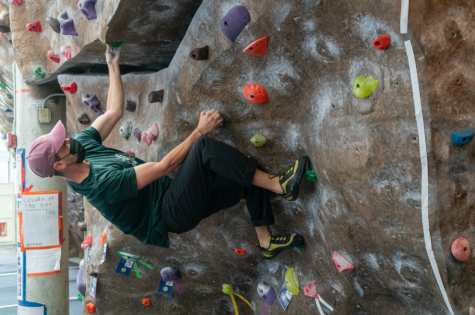 Cameron Daniel, a senior and Head Route Setter for this year's Crank, hopes that the different format will bring new faces into the gym that might not have shown up to the competition in a normal year.
"It's really not a competition [in the traditional sense], because you're able to work with other people and collaborate," Daniel said. "I think a lot of people are intimidated by the climbing gym, but hopefully this will entice a lot more people to give it a shot and get in here with their friends."
Corina Arroyo, last year's Crank Coordinator, echoed Daniel's sentiment. She acknowledged that the competition aspect wouldn't be quite the same without the inter-school dynamic, but sees the new format as a possible advantage.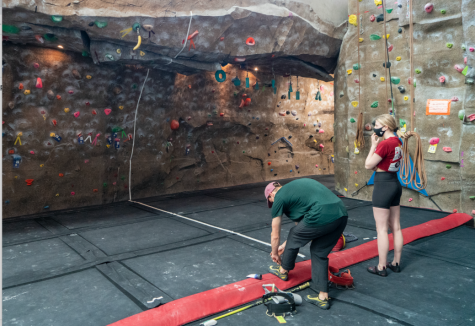 "It being a little bit more informal and a little bit more relaxed might encourage more people to try [competing]," Arroyo said. "I think it will be easier to push yourself to try things you wouldn't in front of an audience."
The 2021 Sweet Onion Crank kicked off on Apr. 11 and will continue until Apr. 30. To compete, schedule an open climb slot here and ask for a scorecard at the front desk of the climbing gym.