Whitman's Harvey Pool reopens for recreational use
The Harvey Pool is now open for recreational use after being closed due to the pandemic. This semester, the swim team has been allowed to use the Harvey Pool for the varsity season and they have had to follow strict safety protocols.
This is the first semester in person for first-year Nishtha Rajbhandari, who is excited to finally use Whitman facilities like the Harvey Pool. She believes that swimming helps her overall well-being and will enhance her first year experience at Whitman.
"I am really excited and happy that they decided to open the pool for recreational purposes to students," Rajbhandari said. "Even though there is still a limit to how many people can be in the pool at a time, I am positive that many students can benefit from using the pool to release stress and focus on their wellbeing like I do."
Sophomore Iris Cano was using the Harvey pool four to five times a week before the pandemic. She fondly remembers the time before COVID-19 when she was able to go swimming any time of the day and be in the pool for as long as she wanted.
"The swimming pool is my favorite part of the campus because I love swimming. It's my way of dealing with stress, having fun and staying mentally healthy," Cano said.
Cano was sad when the pool closed last year but understands that it was best to close it for everyone's safety. As much as she was thrilled to come back to campus in person this semester, she was not happy that the Harvey Pool was still closed due to campus restrictions. Since the Harvey pool opened to students last week, Cano has been a regular user of the pool and is grateful to be able to use it even though COVID-19 is still a big risk.
Swimming has always been very important for first year Holly Hermanson, who is also a part of Whitman's swim team. As a lifeguard at the Harvey pool, she is excited to see more students at the pool. She was lucky to be able to swim and train for this season and she feels very comfortable using the pool because she believes that the protocols put in place to keep swimmers and employees safe are taken seriously and are effective.
"I am grateful that everyone is following the protocols seriously to keep the pool open and I hope we can increase the usage capacity in the future," Hermanson said. Her favorite thing about the Harvey pool is the windows during sunset and she is glad that more students and faculty can enjoy that view now.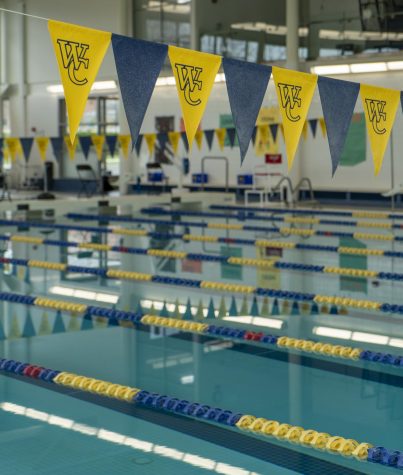 Like other facilities at Whitman, the Harvey Pool is open for use so long as its users follow COVID-19 safety guidelines such as masking, social distancing, sanitation and cleaning.
Erin McKinney is a member of Whitman's swim team and a lifeguard at the Harvey Pool, who has been using the pool for swim training and workouts. As a lifeguard, she believes that they are ready to accommodate students for using the pool in a safe manner.
"We have taken a lot of precautions to limit the exposure and spread of COVID-19. I believe it is safe to open and use the pool now with all the safety measures that have been put in place," McKinney said.
The end of the swimming season has allowed more team members to participate as lifeguards at the pool, which Erin believes is great for running the pool safely.
In order to keep using the Harvey Pool with precautions, the number of participants and length of pool usage is capped. The risk of contracting COVID-19 is still there, which is why there are lifeguards to make sure everyone stays in their lane while swimming and keep socially distanced at all times. Students have to make an online reservation ahead of time, which prevents them from crowding the pool so that students are able to use the pool while being safe.
"I understand the risk of using the pool, but everyone is following the COVID-19 protocols strictly to ensure everyone's safety," Cano said. "Using the pool for the last two weeks has made me realize that we are slowly going back to our normal lives."