BIPOC Outdoors Club creates space for students of color
Whitman's recently founded BIPOC Outdoors Club seeks to create a welcoming and accessible space on campus for students of color to experience outdoor recreation.
The idea of founding an outdoor club for Whitman's students of color population came up during a meeting between the four outreach coordinators for Whitman's climbing gym last semester. Two of the coordinators, junior Atish Batliwalla and sophomore Jaki Hernandez Perez, took the idea and ran with it, officially announcing the club just last month.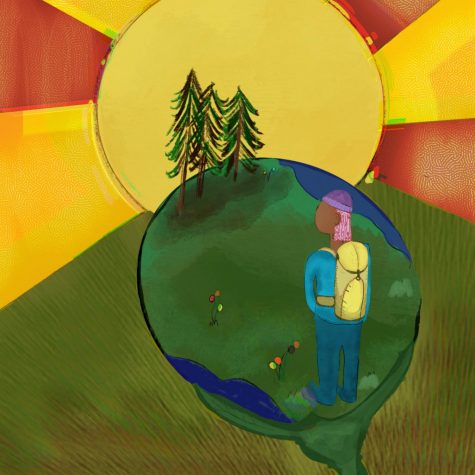 They have two main goals for the club going forward, the first being bridging an existing accessibility gap that prevents students of color from participating in outdoor program trips and activities.
According to Batliwalla, in order to bridge the gap, there are two main issues that need to be addressed, financial accessibility and lack of prior experience.
"[Ability to participate in outdoor recreation] is historically something that's very dependent on socioeconomic status, and students of color at Whitman normally have not had great access to it, and they don't have that prior experience that a lot of other students do," Batliwalla said. "We will take care of the costly aspect of it, that way they can just focus on enjoying outdoor recreational activities and trying new ones."
Maamoon Saleh, a senior BBMB major and fellow outreach coordinator, expressed a similar sentiment and cited the climbing gym as a space where such an experience gap needs to be addressed.
"With a lot of routes in the climbing gym, they're set up by people who have been climbing for years, which isn't conducive to learning beginning climbing," Saleh said. "We need to make [the space] more focused on learning the skill, as opposed to practicing the skill."
The other major goal of the club is to create an environment where students of color feel welcomed, safe and comfortable.
"I want to create an environment where [students of color] can bond with other students who have also not had that much experience, and create an environment that is not intimidating," Hernandez said. "One of my biggest goals for this club is to create a safe space for students."
Due to COVID-19, the club will be taking a slower approach to building its presence on campus this semester. However, they already have several events on the calendar, including climbing wall takeover nights on Saturdays with affinity groups and clubs with members that are underrepresented in the outdoor recreation space.
Moving into next semester, they plan to expand their range of activity offerings to include activities like hiking, outdoor climbing, mountain biking and camping trips. In addition, they plan to bring BIPOC to campus who are prominent leaders in the outdoor recreation space to talk about their experiences.