Athletes reflect on online viewership for Spring 2021 season
Whitman's COVID-19 policies have moved viewership of athletics matches online for everyone not directly involved with the team. This is just one of a number of new challenges that teams have had to overcome with the season's games looking significantly different than previous years.
Fans may not be able to cram into the stands in the way they used to, but that does not mean Whitman's athletes are without support. The athletic department has successfully set up livestreams so that family, friends and Whitties everywhere can tune in and cheer on our talented athletes. Sophomore Elizabeth Williams from the women's soccer team was happy to report that morale among teams is not lagging.
"If anything, the energy leading up to games has increased, and I think this year's strange circumstances have further encouraged our team to be each other's biggest supporters," Williams said.
Without the requirement to be physically present, athletes have reported that viewership of games may be at an all time high. Williams pointed out how much more accessible these new methods of viewership have been for family members who live farther away from the college.
"Virtual viewing has made me feel more connected and aware of the incredible support our team has," Williams said. "My friends and family have expressed how much they enjoy being able to watch us compete, and it is fun to walk away from each game with texts and messages expressing people's support."
William's teammate, junior Holly Chan, also notes some positive aspects to the virtual season and emphasized the unique bond the empty bleachers have formed among her team.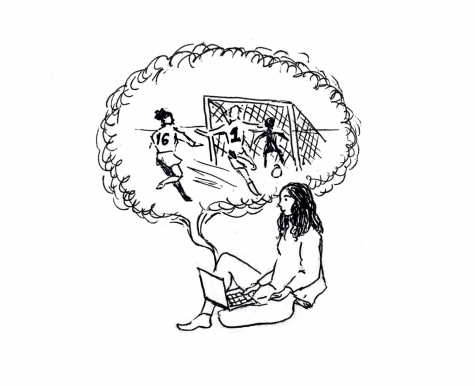 "One positive aspect of the lack of fans this season has been that we are able to stay focused as a team on our game plan," Chan said. "[The empty stands] just makes us rely on our teammates and own sideline to drive us through lulls in energy levels and frustrations."
The swim team has had a similar sideline experience, despite the obvious differences between the sports. With no fans on the poolside, the deck is much quieter than usual. Meets have also been split, with the men's and women's teams competing separately. Sophomore Emily Hoffmeister noted how this has allowed her to watch her friends on the men's team.
"I kind of enjoyed being able to watch and cheer on the men's team without the added stress of knowing I was about to race. We were also able to be timers for the other team, which was a fun new perspective as well," Hoffmeister said. "So in that sense, we were the audience and fans."
According to Williams, Chan and Hoffmeister, fans have had little difficulty tuning in to games and meets. Hoffmeister even joked that her parents try to get her to smile for the camera!
Athletes are still appreciative to have a season, despite being unable to have an in-person audience.
"After not playing for over a year, the opportunity to compete is incredibly rewarding and exciting, regardless of crowd size," Williams said.
Whitman athletics games can be viewed online via the Whitman athletics website.