2020 SAAC Awards Meet Zoom
On Aug. 24, the Student-Athlete Advisory Committee (SAAC) held its annual commencement to recognize one female and one male performer from each graduation year. The winners were as follows: Tanner Filion (first-year, swimming), Andei Fukushige (first-year, tennis), Oscar Harding (sophomore, soccer), Bella White (sophomore, swimming), Kevin Nakamura (junior, baseball), and Elyse Benavides (junior, volleyball).
For Bella White, a current junior and the recipient of top female sophomore performer of the year, part of the journey to receiving this recognition was putting her faith and trust into her swim coach.
"I trust (Coach) Jenn and her plans with my training, so whatever she changes, I will follow," White said.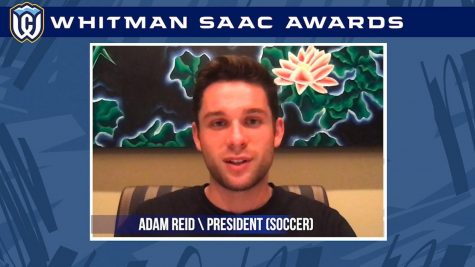 White was able to make the Women's All-Conference First Team in swimming. She responded well to advice from her coaches, and her dedication ultimately paid off when she was acknowledged by both the conference and the athletic department here at Whitman.
Another athlete recognized during the SAAC awards was Tanner Filion, the recipient of top male first year performer of the year. Filion is a member of the men's swim team.
"A large component is definitely the team aspect," Filion said. "That's such a motivating factor for me."
He is strongly encouraged by his teammates and his drive and passion for the sport.
Filion and White described swim practices to be intense. They sometimes train one to two times a day, with only weekends off and one recovery day between practices before the next competition. Yet, it is evident that these practices, however daunting, have fashioned extreme characters in both athletes.
Kevin Nakamura represents another quality worth acknowledging. As the recipient of top junior male performer of the year, Nakamura is a current senior on the men's baseball team, for which their 2020 season was cut short due to the COVID-19 pandemic. Although his performance was judged during a short amount of time, Nakamura attributes his win to personal gains on and off the field.
"I would say personal improvement overall also helped me achieve this award, including my leadership and work off the field," Nakamura said.
He said that he would go to the field early to practice on his own before the team officially started practice. Those disciplined efforts for personal improvement helped him achieve top performance.
This year's SAAC awards not only recognized individual athletes within the department but also recognized Nakamura's discipline to his practice, Filion's passion for the sport and White's trust in her coaching staff. All of these attributes clearly define what it means to be a great athlete at Whitman College.