"Hour of Power": Nation's swimmers unite against cancer
On Tuesday, Nov. 12, Whitman's varsity swim team was joined by members of the Walla Walla Swim Club and other members of the Walla Walla community to raise awareness and money for the Ted Mullin Fund for Pediatric Sarcoma Research.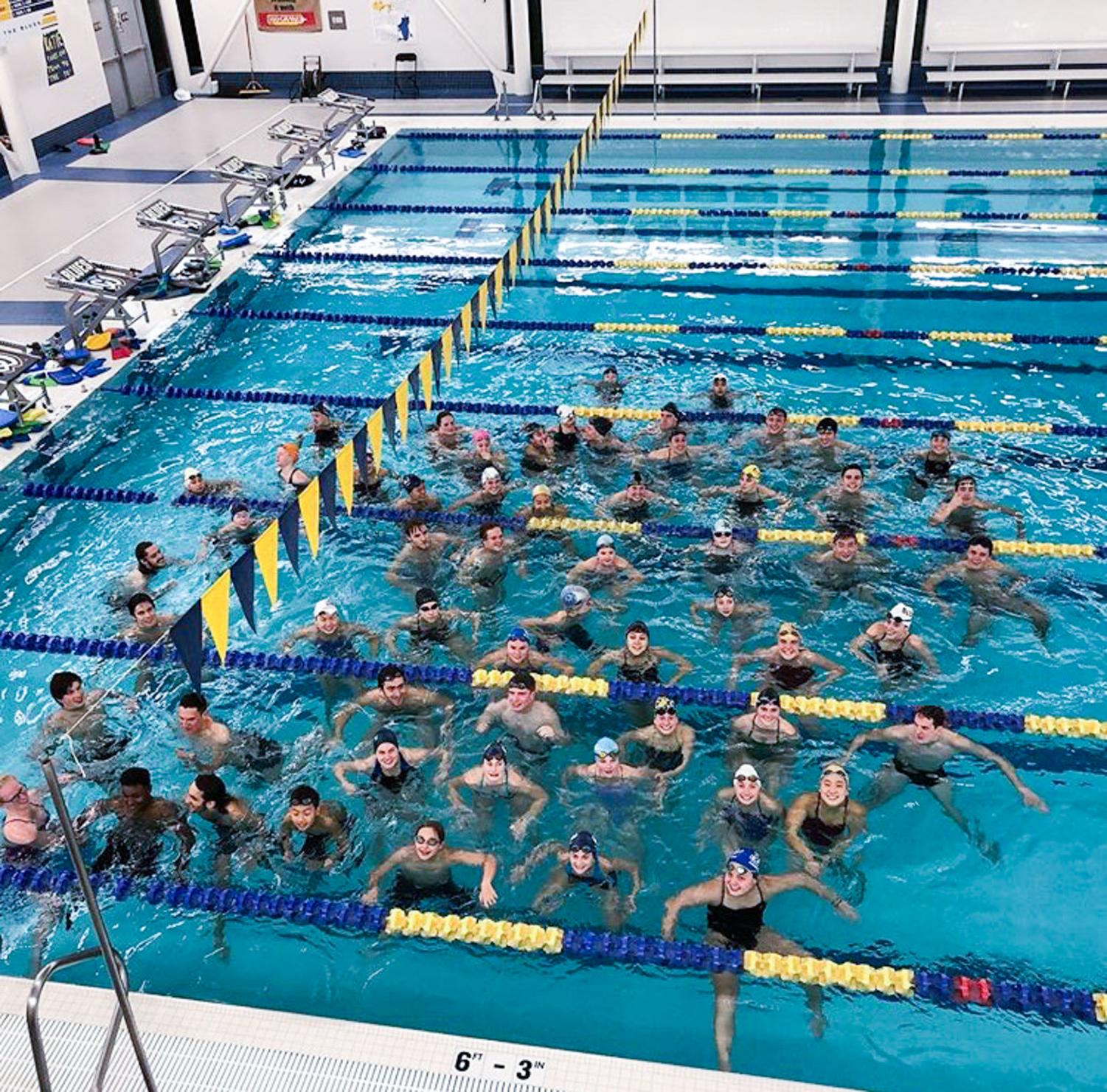 The swimmers were part of the "Hour of Power" – an annual event organized by Carleton College – that involved teams of swimmers simultaneously spending an entire hour in the pool participating in a relay race.
All lanes in use needed to have swimmers on the same length at all times of the event, meaning that each team member took a turn swimming a length, but they had to be aware of the other lines to ensure that they didn't swim ahead. This brought forward the event's focus on teamwork and communication.
The Blues, along with friends from the Walla Walla community, made their mark on the event in the Harvey Pool, located in Baker Ferguson Fitness Center. This year, there were around 60 participants, with members of Whiman's cross country team getting involved in the event.
Jenn Blomme, Whitman's head men's and women's swimming coach and the aquatics director, was particularly proud of the teamwork that was showcased by every single swimmer.
"There was so much good energy as people sprinted and worked together to meet the set objectives while swimming all out and keeping all eight relays on the same length," Blomme said.
This event was about more than simply teamwork. It was about uniting to raise money and awareness for research on sarcoma, a rare form of soft-tissue cancer often found in bones, nerves and muscles. The event is held in memory of Ted Mullin, a former student of Carleton College who passed away from sarcoma at the age of 22. Mullin was a member of the college's swimming and diving team and was elected as captain twice during his time there.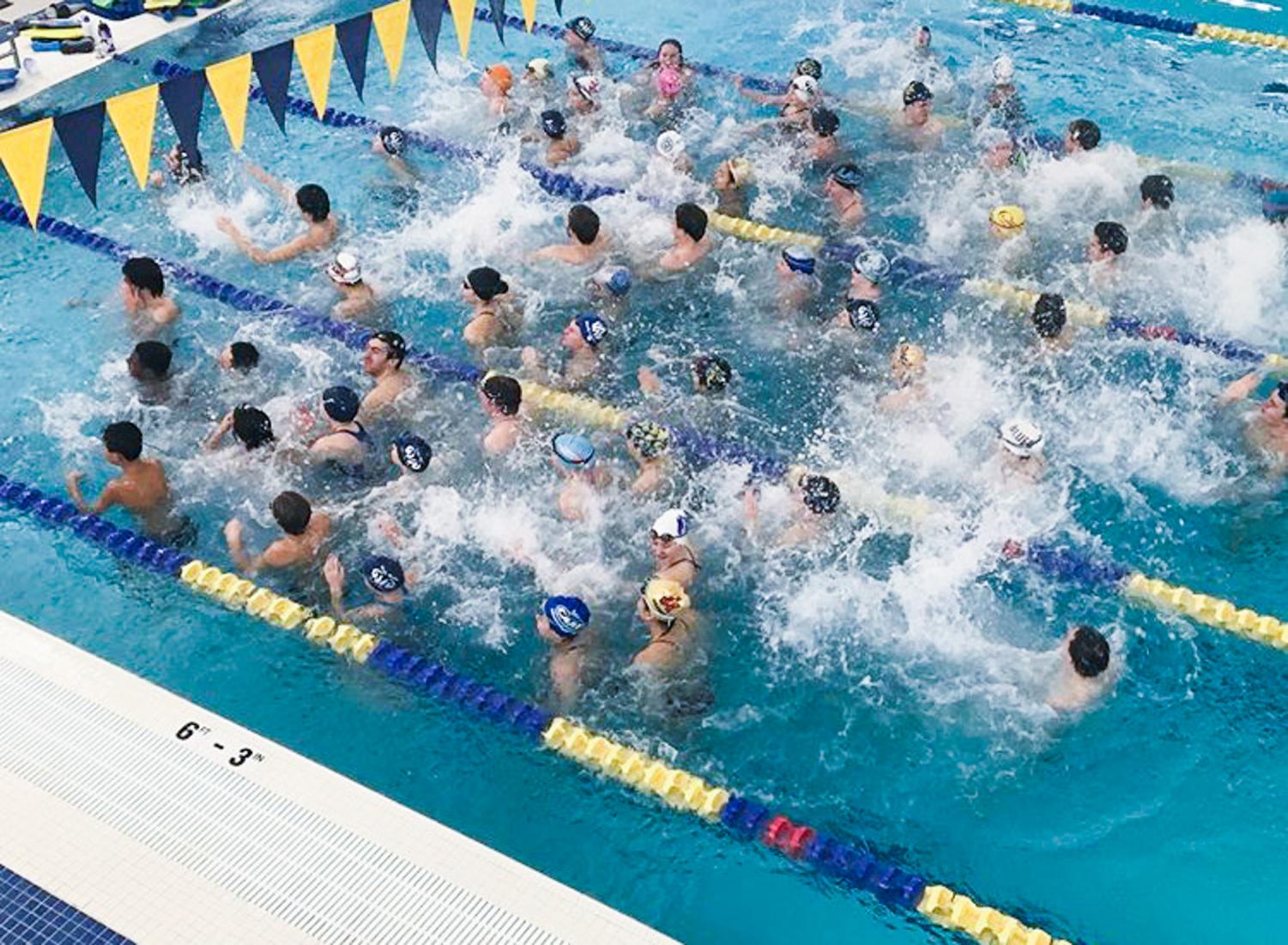 The "Hour of Power," which Whitman has participated in since nearly the beginning of the event, has been held for 14 years as a way of honoring Mullin's memory and trying to find a cure for the cancer that took his life.
Hailey Grandy, a first-year student and member of the women's varsity swim team, was taken by the powerful message of this event.
"I think knowing that we were representing something bigger than ourselves and even our team really inspired everyone to be supportive and get excited for this event," Grandy said. 
The event was also a chance for Whitman students to swim with members of the Walla Walla community who are equally as passionate about the cause as the Blues. There were not just adults in the pool; the relay was open to any and all ages, demonstrating that every person was fighting against cancer, whether it be for themselves, a friend or family member.
Easton Powell, a senior and member of the men's varsity swim team, spoke about how the most memorable moment for him was the energy of the children in the relay.
"A particularly memorable moment from this year's event was watching a six-year-old swimmer from the Walla Walla Swim Club swim butterfly for a 50," Powell said. "Our whole team cheered her on the entire time she was swimming. The smile on her face and energy she had when she hopped out of the pool was contagious."
Cancer impacts the lives of many. "Hour of Power" allows swimmers of all ages and backgrounds to collectively honor loved ones who lost their battles with cancer or are still fighting.