Swiftwater rescue class traverses Lakum Duckum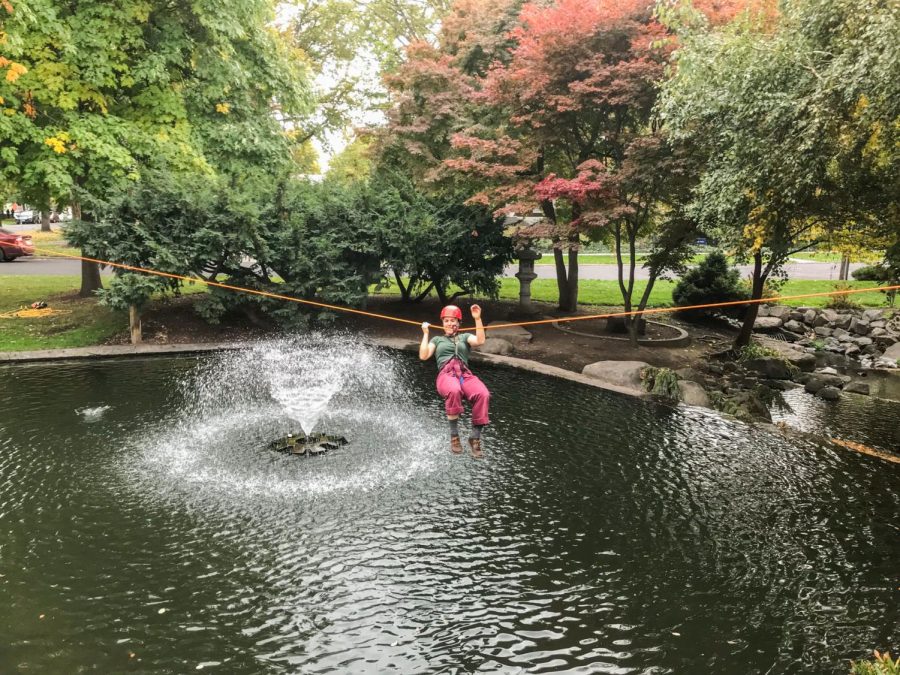 On Friday, Oct. 18, Assistant Director of the Outdoor Program Stuart Chapin's Swift Water Rescue class — a sports studies, recreation and athletics (SSRA) course — built a tyrolean traverse.
A tyrolean traverse is when a rope is established across a gap in a cliff or a river in order to move people or gear over some sort of gap. They are sometimes used in backpacking situations in which the river you must cross is too deep or swift to trudge through with a backpack on.
This was the first time Chapin built a tyrolean traverse with his class across Lakum Duckum.
He wanted to engage the class in this activity over a body of water, and although students reported enjoying the experience, they couldn't help but get a little wet along the way.
"We did pass through the water coming out of the fountain, so those of us who tried it got a little wet," Chapin said. "But it was super fun. We will have to look around for alternative trees to allow us to do it dry next time."
According to Chapin, swiftwater rescue is a form of emergency response to situations in moving water – usually in rivers but it can also be in a tidal current. It is usually of interest to search and rescue crews, whitewater river guides, fly fishing guides and recreational whitewater users.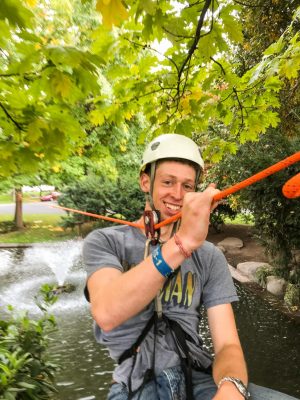 Chapin explained that the exercise his class completed at Lakum Duckum two weeks ago was the culmination of a progression of rope skills that included knots and mechanical advantage systems that allowed for a harder pull on the rope. These techniques are most often employed to allow a group to pull from shore on a boat that is stuck on rocks and may have a current that is pushing into the boat, keeping it stuck. But, the same techniques can also be used to pull a rope tight enough that it can be used like a zip line. 
There are other uses for a tyrolean traverse aside from backpacking excursions. It can also be used to retreat from a mountain climb, or in swiftwater rescue situations, to allow people to be placed on boulders in the rapids of a river. 
Junior Sierra Spader, a member of Chapin's class, shared that her favorite part of the course thus far was their weekend trip to Snake River, where the group practiced rescue techniques.
"Prior to that trip, we met up once a week to go over the basic skills we would need: tying certain types of knots, using throw bags, etc.," Spader said. "I personally love technical systems, so setting up anchors and mechanical advantage systems to unpin boats was my favorite thing we did."
Even if students aren't familiar with a lot of these terms, but are interested in an outdoor SSRA and learning new skills, Chapin encourages them to step outside their comfort zones and join Whitman's outdoorsy population by taking this course. 
"The Swiftwater Rescue SSRA course seems intimidating but no prior knowledge is required," Chapin said. "It is a good way to gain skills to keep you and your group safe on river trips or just to have some fun."
First-year Guy Burg's interest was sparked to enroll in the class because of his previous rafting experience and a desire to learn more. He took a swiftwater course a couple of years ago that reminded him how much he needed (and wanted) to brush up on his rusty skills.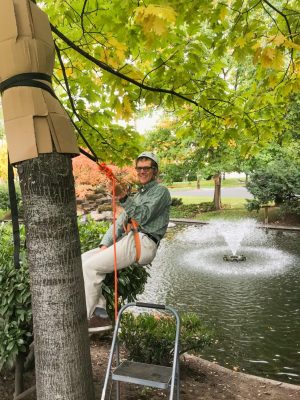 "I decided to take this class because swiftwater rescue training is an important skill to have when on the river," Burg said. "I have been rafting for the past four years and want to get into whitewater kayaking, so it is important to me to be able to rescue myself and others when something inevitably goes wrong."
"Anyone who spends time on rivers, anyone who is thinking about spending time on rivers, or just wants to take a cool class, should take a Swiftwater class," he added. 
If you are interested in taking a swiftwater rescue or another outdoor class, contact Outdoor Program Assistant Director Stuart Chapin for more information.