Rock climbing ascends on campus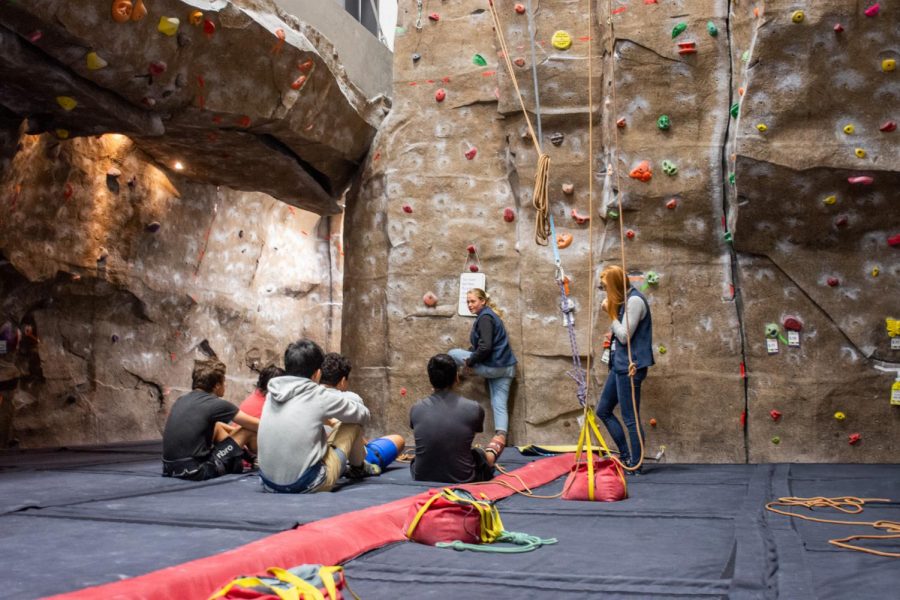 Miguel Baza, Sports Reporter
October 19, 2019
Brien Sheedy, Director of the Whitman Outdoor Program, has climbed the highest peak on every continent and guided all over the world. He is also proficient in a wide variety of skills such as rafting, kayaking, skiing – not to mention all aspects of climbing.
Sheedy helped design Whitman's rock climbing gym, a space that offers climbs for all levels of climbing skills. Some people love to go just for kicks, while others develop a deeper set of climbing skills and understanding for the sport.
Junior Emily Mercer, a chemistry major and beginning indoor climbing instructor, shared what she enjoys most about the climbing gym.
"The rock climbing gym is a social place to come and relax," Mercer said. "Even working here feels like a break in my day because it's always a good vibe and you can take it at whatever level you want to for however long you want to."
The gym offers clinics and outreach events twice a month to get more people involved in the many programs the gym has to offer. Some examples include: Ladies Climb Night, Learning How to Rope Belay, How to Crack Climb and Lead Climb, How to Set Routes and more.
Benjamin Kunz, a senior philosophy major, compared the climbing gym to a puzzle.
"I love to come around to the gym once or twice a week," Kunz said. "It's super fun to hop around and do a physical puzzle. You can learn a lot from other climbers. I'd recommend checking it out."
The rock climbing gym is a great resource for a college community to have. There are a few other indoor rock climbing gyms around Washington and Oregon and, believe it or not, Whitman's is one of the nicest. It has a variety of challenging obstacles and tall walls that are well taken care of. What makes it even better is the supportive students that are there working, teaching and climbing. 
"We love to see people climbing, as soon as people come in we are inviting and a community," said Climbing Team Captain Mackenzie Kuller, who also explained that climbing is a "fun alternative way to do exercise."
The climbing gym has been built by people who really care about outdoor activities and programs, with the climbing staff supporting and encouraging people to step outside their comfort zones. 
The gym's staff agree that visiting the climbing gym is an item that should be on many students' Whitman bucket lists.