Clean sweep for the Whitman Blues at ITA Fall Regional Championships
"Your purpose here is to learn" is a phrase that has been spoken in the Whitman residence halls almost daily since the start of the semester. The typical college student might interpret this to mean "study hard" or "do your homework," but what if there's another layer of meaning? 
For a fresh batch of Whitman varsity tennis players, "to learn" is to find a balance between studying for classes and rocking it on the tennis court.
The first-year women first experienced this balancing act when they were thrown into a month of demanding training with older student-athletes in preparation for their first big tournament of the year: the ITA Regional Championships.
This year, six first-year women entered the competition either in the singles category, doubles category or both. When asked to describe this cohort, Coach John Hein spoke to the uniqueness of this class compared to previous years.
"This class is phenomenal, the best I've had in my 12 years here (and we've had some great ones) and they all contribute in different ways," Hein said.
Their skills were put to the test during the competition with a number of presented challenges. First-year Irene Tsai entered the competition coming off an injury that meant she was only able to play doubles, yet she still managed to bring the team spirit needed to keep her teammates going.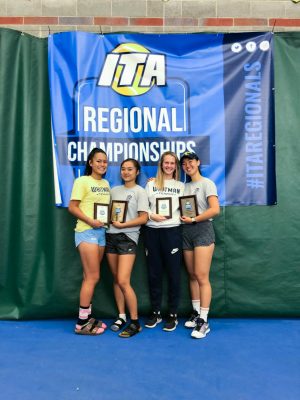 First-years Camilla Tarpey-Schwed and Angel Le demonstrated great skill during their matches, proving why they were seeded players. Tarpey-Schwed especially enjoyed the encouragement all the girls gave each other.
"Even though the competition was very individualized, I still felt like we were never alone out on the court and that we always had the team supporting us and backing us up," Tarpey-Schwed said.
Arguably the most successful player of this tournament was first-year Andei Fukushige. She spectacularly won the singles tournament after beating opponent Tessa Kern (Linfield) in straight sets. She then went on to win the doubles tournament with teammate Andrea Gu. Fukushige was a standout player for the entire weekend showing exemplary skills and sportsmanship. This did not take away from the success of the other teammates, however, with the women achieving an all-Whitman final for the doubles tournament.
"The event was super successful and everyone did so well," Fukushige said. "It was a great first tournament for the team."
The weekend provided some intense moments for the entire team, with one sporting session lasting from 8 a.m.- 2:15 a.m. the next morning. Even at this late (or early) hour, there were still Whitman students supporting Jen Wong as she battled to the end against Lewis and Clark's top player.
After their success on the court, Fukushige and Gu will travel to Rome, Georgia, to represent Whitman at the ITA Cup on Oct. 17-20.