Quality Over Quantity: Whitman Volleyball
It's been training, training and more training for Whitman's volleyball team this spring season. With a team of only six players at the moment, spring training has been both a time of adversity and growth. A time of growth but more importantly a chance to spend quality time with each other. This close knit group of girls have been through it all, all of who are eager for their 2019 season in the fall.
Sophomore Claire McCarthy discusses the challenges that the team has been facing.
"Already, we have had times where we have been extremely frustrated, where we have found ourselves not wanting to not put in the extra work, where we don't want to get up at six in the morning to walk through snow and ice to go to the gym for team workouts. We also have no upperclassmen to "show us the way" or hold us accountable. But despite all of that, with our current roster of an eligible squad of six and three recovering athletes, it only adds more intensity, passion for the game, and more fire within us for next season," said McCarthy.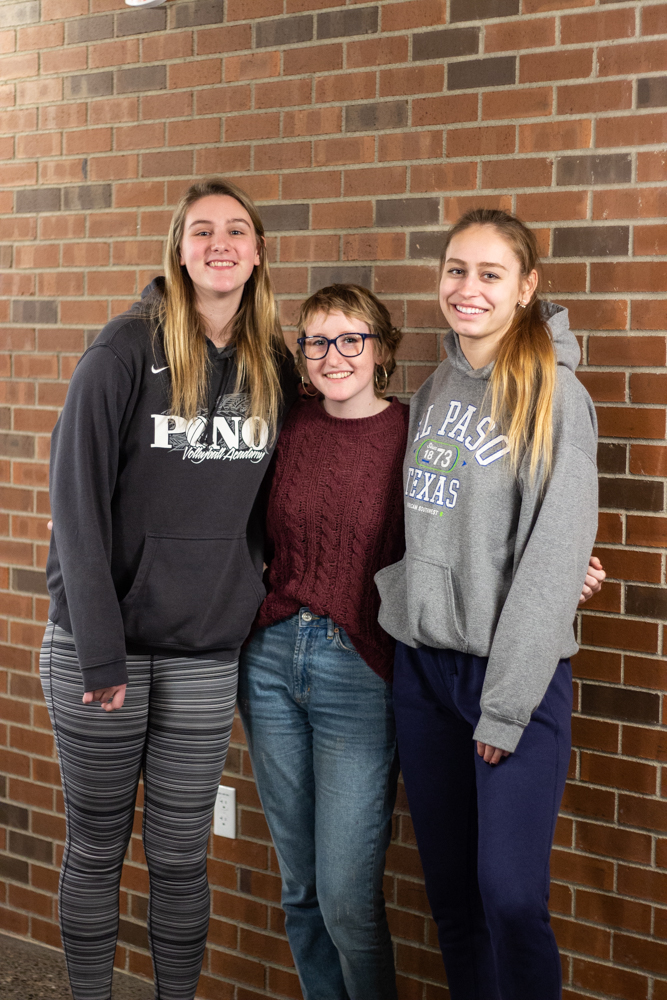 Having a team with no seniors gives everyone else a chance to take on a leadership role. Each person is responsible for their individual improvement and the team as a whole.
First-year Emma Anderson said, "It is going to be different, but it also gives each of us a chance to step up and create our own goals for the team. Everyone has a say in what we do and we get to recreate the expectations for our teammates."
Part of the reason the Whitman volleyball team currently only has six healthy players is because a few of them suffered injuries during the 2018 season — setbacks that could potentially affect the team as a whole.
Sophomore Elyse Benavides, who underwent an injury last season, talks about the impact of injuries in terms of preparing for season.
"I think all injuries are unfortunate not just for the athlete that is recovering but for the team as a whole, not getting to develop/improve on-court connections with particular teammates during the offseason could definitely affect the team's dynamic heading back into season once everyone is back and healthy" mentioned Benavides.
However, players who are injured have been doing everything they can to benefit the team.
"That's not just true for those who are healthy; Rebecca, Kalli, and Elyse are going through their PT everyday, coming to the morning workouts when they can't even participate (yet!), going to the trainers and to the gym to work on increasing their strength and flexibility, watching film. Their drive and determination to get better and come back stronger than ever is motivating the rest of us to not make excuses and to push ourselves not just to make ourselves better, but the team," said McCarthy.
Regardless of the obstacles faced, the Whitman volleyball team is working hard and improving in every way they can, looking forward to the upcoming fall season.
"Personally I'm just so excited to play volleyball again. I've been seeing all the girls work so hard and I miss the volleyball grind more than anything. There's also just so much positive energy within the team about next season despite the small numbers and I'm excited to see that energy manifest and follow us into the preseason," said Benavides.
"Our team has already adopted a very positive mindset with our situation going into spring season. It would be so easy to complain and make excuses, but that's not our goal for this team. We want to win. We want each other to perform well, and in order for that to happen, we know we have to start now," said McCarthy.
"I look forward to playing as much as we can and improving our game beyond what we can with the numbers we have. I am also excited to meet the incoming first-years and get to know them and see what they add to our family," said Anderson.
With the drive and dedication that this team comprised of first-years, sophomores and juniors embodies, they are destined for success as they await their fall season.