Athlete Spotlight: Sierra Myers
Sierra Myers is a senior varsity volleyball player. Myers' experience differs greatly from teammates' as she has only played on the team for two years, including this year. Myers came to Whitman with enough credits to be placed as a junior. So while most of her teammates get to play for all four years, Myers only gets half the time.
Myers describes her shortened time here at Whitman as "bittersweet."
"Only getting two years means learning to appreciate each and every practice and grueling early-morning workout for the limited gift that it is," Myers said.
Being a college athlete is a huge commitment both mentally and physically, but it can be the highlight of one's college experiences.
Myers continues to reflect on her two years of being a college athlete. Her time playing volleyball this year compared to last year has developed a completely different tone to it. Although this is Myers' last year, she has experienced a lifetime worth of memories.
"I am honored to have had the opportunity to continue playing this sport with a group of some of the coolest ladies I have ever had the pleasure of knowing, even if it is for only half of the time most of them will get to play for," Myers reflects. "This year the nostalgia has set in. I am learning to take every obstacle in stride and have accepted more of leadership role on and off the court as a senior."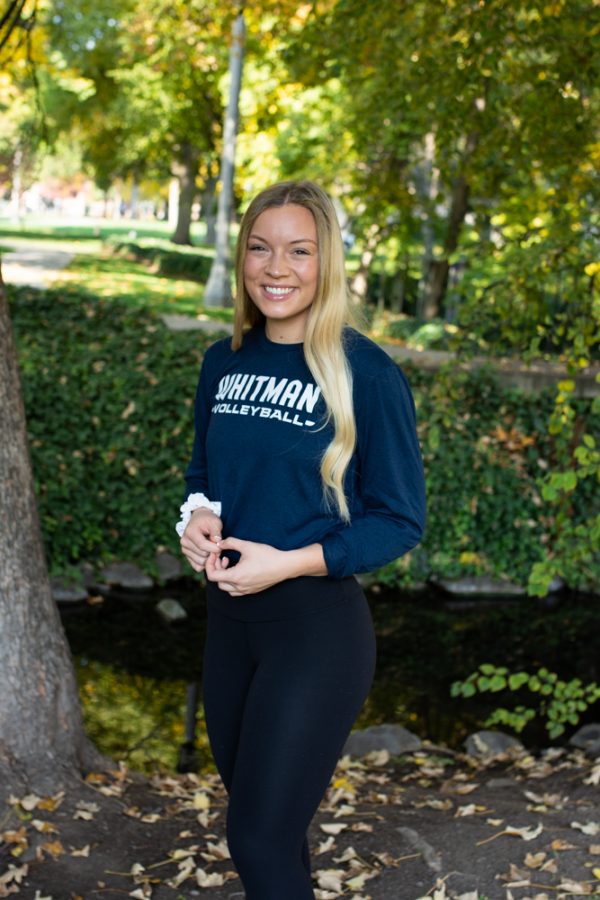 Now as a senior on the team, Myers enjoys a few perks.
"Taking on a more permanent starting role and being the primary 'serving-middle' has been really rewarding," Myers said.
Even with her time off court Myers is still a team player.
"When I am on my off middle rotations I love getting to participate in our group cheers and silly moments supporting my team," Myers said.
Along with her academic responsibilities, Myers is also faced with balancing a tight schedule.
"I am taking on a huge academic load including a majority of upper-level classes in my discipline. That nice three to three-and-a-half hour period in the early evening most students have to complete their homework each day is eaten up every single day for me and all other athletes. Our weekends are dominated by games and preparation for those games," Myers explains.
As for her short time here at Whitman, Myers has definitely left a lasting impression on many, both on and off the court.
"I am proud of how far I have come and rest-assured when I am standing up on stage at graduation this spring I will be experiencing pure bliss," Myers said.