Athlete Spotlight: Ananda Gupta
Ananda Gupta is a sophomore on the Men's Soccer Team. As a student and athlete it can become difficult to balance one's schoolwork and athletic obligations. Gupta explains how he handles roles as both Whitman student and athlete.
"Being an athlete has surprisingly had a positive effect on my school work,"Gupta said."Balancing soccer and work is tough but definitely manageable and so worth it."
Having a fall season and playing during the first semester of the year can be quite difficult in terms of time management.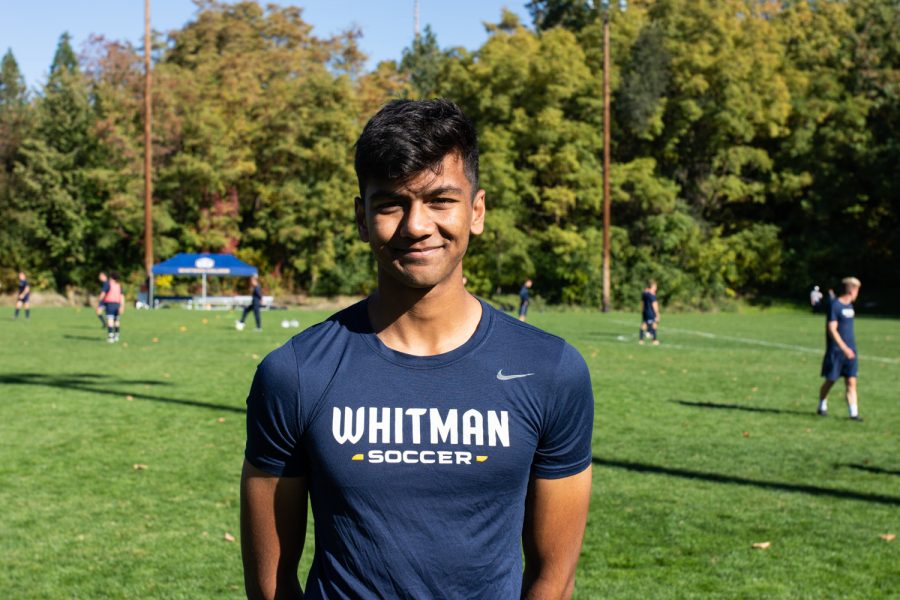 "During season, we have practice every weekday from about 4-6:30p.m., and we play matches every Saturday and Sunday. On top of that we have a full day of classes during the day, so it's a very busy time of the year," Gupta explains.
As the Soccer team has both home and away games Gupta utilizes his time to the maximum in order to be prepared.
"I have lots of time on bus rides or in hotel rooms which is normally a great time to catch up on any school work that I missed or am behind on," Gupta explains. "Our coach is very particular about our roles as student athletes and makes sure that we are doing well academically."
Ananda Gupta has shown tenacity and team spirit while recovering from dislocating his patella (kneecap), tearing his M.C.L, damaging his patella tendon and probably also his A.C.L, which will take him out for the rest of the season. Gupta reflects on his past weeks after his unfortunate events.
"When I got injured I was very emotional, for the first day or two I struggled to focus on anything other than my injury. Since then however, my teammates and coaches have helped massively in making sure I maintain a positive and healthy state of mind," Gupta said.
In order to feel like a contributing member of the team Gupta says he, "[gives] younger players advice or [helps] coaches with putting away equipment."
As a sophomore Gupta has yet to declare a major but is leaning towards majoring in psychology and minoring in sociology. In the future, it will be a tough journey after healing from his surgery, but Gupta has "no doubts that [he] will come out stronger and better on the other side."
Despite Gupta's game halting injuries that will put him out for the rest of the 2018-2019 soccer season, he still has the spring to look forward to academically as he moves towards declaring his major.